Additional 1,500 troops to deploy to NYC this week as coronavirus pandemic there climbs toward peak
by
Rose L. Thayer
April 6, 2020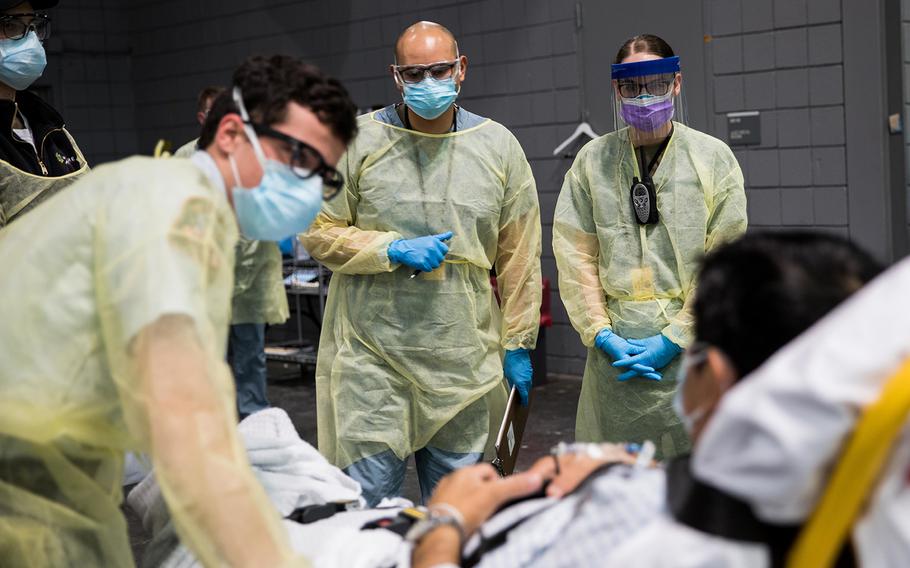 Stars and Stripes is making stories on the coronavirus pandemic available free of charge. See other free reports here. Sign up for our daily coronavirus newsletter here. Please support our journalism with a subscription.
About 1,500 additional medical personnel began deploying Monday to New York City in response to the coronavirus pandemic that has pummeled the region, the Defense Department announced, as the federal government's coronavirus task force warned some of the worst days of the pandemic are expected this week.
The troops will join about 1,000 service members already working in the region, primarily at Jacob K. Javits Convention Center, located near the Lincoln Tunnel in Manhattan, where the military and the Federal Emergency Management Agency transformed the space into a 2,500-bed hospital slated to begin caring for coronavirus patients as of Friday.
About 355 troops will be deployed among 11 area hospitals to augment their staffs, chief Pentagon spokesman Jonathan Hoffman said Monday during a news conference.
New York is the epicenter of the U.S coronavirus outbreak with more than 122,000 confirmed cases and more than 4,100 deaths, according to the New York State Department of Health. Much of that is concentrated within New York City.
Nationwide, there are more than 338,000 confirmed coronavirus cases and more than 9,600 deaths, according to the Johns Hopkins Coronavirus Resource Center. U.S. Surgeon General Jerome M. Adam warned Sunday that this could be "hardest, saddest week of most Americans lives."
Just 44 patients have been treated at the Javits Center as of Monday. Air Force Brig. Gen. Paul Friedrichs, the Defense Department's Joint Staff surgeon, said military officials are working with the local emergency medical services.
"We are ready to take patients if they need us to," he said.
Of the 1,500 troops, 775 have already arrived in New York, and 225 are expected Tuesday, Hoffman said. The remaining 500 should arrive later in the week.
This new push of military medical personnel includes more than 120 Air Force reservists – the first mobilization from the Air Force Reserve Command in response to the coronavirus pandemic, said Lt. Col. Jon Quinlan, spokesman for the Reserve Command, based at Robins Air Force Base, Ga.
The deployment includes more than 40 doctors, more than 70 nurses and about 13 respiratory technicians who departed their various home stations Monday for Joint Base McGuire-Dix-Lakehurst, N.J., where they will undergo further in-processing with the U.S. Northern Command's Joint Forces Land Component Command, based out of New Jersey, according to a news release from the command.
This week's deployments are in addition to the 350 doctors and 500 nurses sent to aid coronavirus-related efforts that Hoffman announced Friday.
The Javits Center has soldiers from Fort Campbell's 531st Hospital Center and Fort Hood's 9th Hospital Center providing support, as well as the New York National Guard.
The Air Force reservists were called through the volunteer process and members were screened for impact to their civilian communities and professions, according to the news release.
The mobilization was made possible through an executive order signed March 27 by President Donald Trump. The order authorized the activation of Reserve troops and others in the Individual Ready Reserve, which includes personnel who have left or retired from the military.
None of the troops in Monday's mobilization were in that ready Reserve status, Quinlan said. All are members of the selected Reserve, which means they participate in unit and annual training.
"We did not want to pull a doctor or nurse out of their community clinical practice or hospital if already ensconced in coronavirus operations," said Col. Teresa Bisnett, surgeon general of the Reserve Command.
"It was truly a team effort with our units to ensure the right reservists were selected to provide this surge capability to our nation," she said.
Though this is the first push to mobilize Air Force reservists, the command stands "ready to do more and we think there will be more opportunities coming down the road," Quinlan said.
thayer.rose@stripes.com Twitter: @Rose_Lori