Active-duty troops could deploy on Washington streets to stop protests
by
Rose L. Thayer
June 2, 2020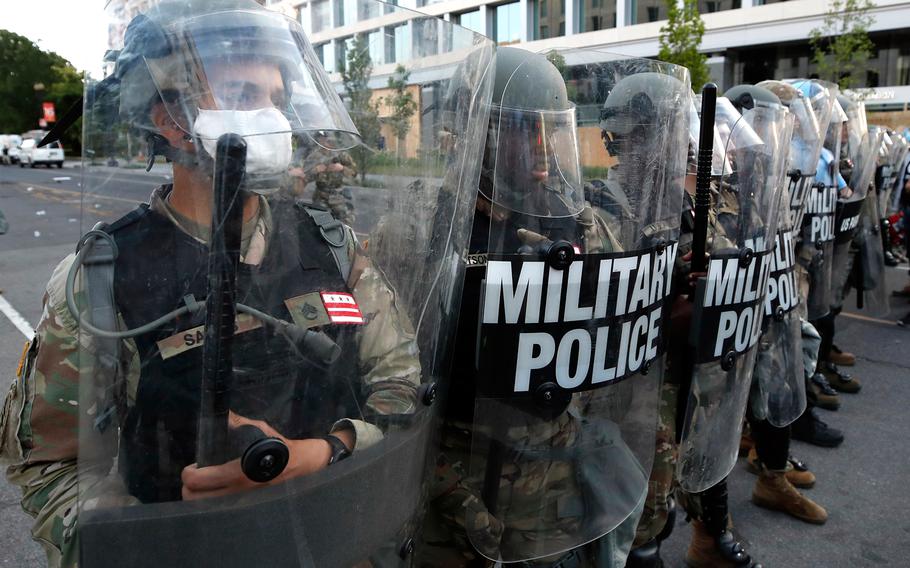 President Donald Trump on Monday night pledged to mobilize all available federal resources — including the military — to Washington, D.C., to quell protests that have at times turned violent and destroyed property over a Minnesota man who died in police custody.
"What happened in this city last night was a total disgrace. As we speak, I am dispatching thousands and thousands of heavily armed soldiers, military personnel and law enforcement officers to stop the rioting, looting, vandalism, assaults and the wanton destruction of property," Trump said, speaking from the Rose Garden as protesters packed together in front of the White House and others took to the streets of other major cities throughout the country.
Though Trump only specified the response would include civilian and military enforcement, he said the goal is "to stop the rioting and looting, to end the destruction and arson, and to protect the rights of law-abiding Americans, including your Second Amendment rights."
An unspecified number of active-duty troops comprising of military police and engineers also were moved Monday to the "national capital region," but are not yet in Washington, according to a senior defense official speaking on background about the situation.
"We are not identifying units, numbers or bases from which those units came," according to the official.
The protests began in Minneapolis in response to the death of a George Floyd, a black man who died a week ago while being detained by several Minneapolis police officers. The protests have led to more than 17,000 Guard members to be activated in 23 states and the District of Columbia as of Monday morning, according to the National Guard Bureau.
"My administration is fully committed that for George and his family justice will be served. He will not have died in vain," Trump said. "We cannot let the righteous cries of peaceful protesters to be drowned out by an angry mob. The biggest victims of the rioting are peace-loving citizens in our poorest communities, and as their president, I will fight to keep them safe."
Speaking to governors earlier Monday, Trump demanded they take further action with their National Guard troops, asking them to deploy troops in "sufficient numbers" that will "dominate the streets."
"Mayors and governors must establish an overwhelming law enforcement presence until the violence has been quelled," Trump said. "If a city or state refuses to take the actions that are necessary to defend the life and property of their residents, then I will deploy the United States military and quickly solve the problem for them."
All 1,200 members of the D.C. National Guard were activated as of Monday and another 600 to 800 Guard members from five states are on their way to the nation's capital, according to the senior defense official. The five states sending National Guard troop are Delaware, New Jersey, New York, Ohio and Utah, according to the official. Those troops will be funded using federal Title 32 funds.
During his speech, Trump did not mention the Insurrection Act, which would allow him to deploy active-duty forces to perform some law enforcement duties without a governor's request. The 1807 law has been used twice in the last 30 years — when federal troops were sent to Los Angeles in 1992 to aid in the response to the Rodney King riots and following the 9/11 terrorist attacks.
Corey Dickstein contributed to this report.
thayer.rose@stripes.com Twitter: @Rose_Lori