Acting Navy secretary says service wants to increase fleet to about 390 ships
by
Caitlin M. Kenney
February 29, 2020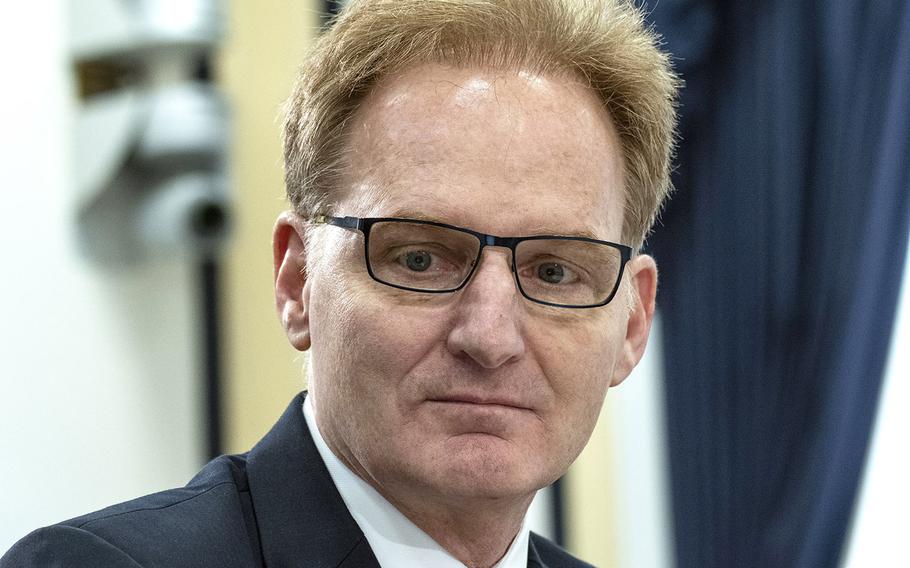 WASHINGTON — Acting Navy Secretary Thomas Modly said Friday that the service wants to increase the fleet to 390 manned ships, or 435 ships including unmanned vessels.
That would dramatically increase the number of combat ships in the Navy at a time when shipbuilding funds in the proposed budget for fiscal year 2021 has decreased and some appropriated money for ships has been diverted to pay for building more barriers along the U.S.-Mexico border. Modly did not say how soon the Navy needed to attain that many ships.
During a House Armed Services Committee hearing Thursday, Modly told lawmakers that the goal for the Navy is to reach 355 ships by 2030. That ship count is based on the 2016 Force Structure Assessment that has since become a requirement for the sea service. Attaining that many ships in 10 years is a goal for President Donald Trump's administration. The Navy is expected to have 297 ships this year.
On Friday, Moldy said he's been calling for a fleet of "355 plus" ships since he was sworn in as undersecretary in 2017.
The new ship total is in the yet to be released Integrated Force Structure Assessment that has been sent to Defense Secretary Mark Esper to be approved. Modly's remarks Friday were made during a discussion at the Brookings Institute, a Washington-D.C. based think tank, on Navy modernization and competing against China and Russia.
Modly emphasized the number of ships or unmanned ships in the fleet was not as crucial as the capability of the ships. Unmanned vessels will be part of the future mix of ships in the fleet, he said, but the question remains whether they will be counted as part of total battle force.
"So our force structure is probably, if you include unmanned in the [force structure assessment] that we just did, the number is like 435 with unmanned in there. And it's like 390 without unmanned in there," he said.
The Navy is investing in two unmanned surface vessels in the 2021 budget proposal. But the value of the ships still must be determined, Modly said.
Navy officials did not provide further information Friday on Modly's comments about the new fleet numbers.
Congress is still waiting on the Pentagon to submit its 30-year shipbuilding plan, which is required by law. It's being held up because Esper wants time to consider it with the new force structure assessment, Modly said. The assessment details the Navy's plan for its future fleet, such as how many aircraft carriers, submarines and destroyers that the service needs to compete against Russia and China.
Esper was called out Wednesday by Rep. John Garamendi, D-Calif., about the plan's delay during a House Armed Services Committee hearing on the Defense Department's proposed budget.
On Thursday, Esper responded to the committee's concerns by sending a letter to Rep. Adam Smith, D-Wash., who is the chairman of the committee. Esper wrote that based on the need to build a fleet that meets the demands set out in the National Defense Strategy, he wanted to "take a fresh look" at determining the composition of the future Navy force. He also wrote he has ordered Deputy Defense Secretary David Norquist to lead a comprehensive review and analysis of the force structure assessment, which informs the Navy's future shipbuilding plan. The review is expected back to Esper by summer.
During Thursday's House Armed Services Committee hearing with Modly, Rep. Elaine Luria, D-Va., questioned the necessity for 355 ships.
"I've been struggling to do your math because you said we could get to 355 ships by the end of this decade," she said. "I mean, do you have proof that our industrial base can even do that if we threw all the money that the taxpayers had at it? Would it even be physically possible?"
"I think it's possible," Modly said.
"So it's possible in the plan that we haven't seen yet. It tells us how to get to 355 in a decade?," Luria asked.
"I will be able to tell you how I think we can get there, yes ma'am," Modly replied.
kenney.caitlin@stripes.com Twitter: @caitlinmkenney