A bittersweet victory: Veteran behind Blue Water case sees its resolution after 13 years
---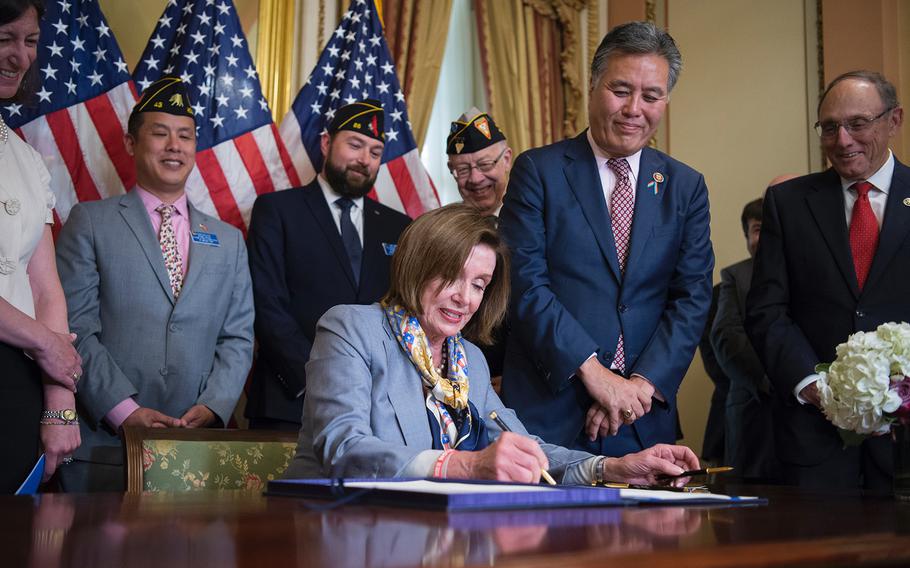 WASHINGTON – Alfred Procopio Jr. said he learned perseverance from his parents, who "never took no for an answer."
"He was very tenacious," Procopio said of his father. "He didn't give up. My mother, she was a fighter, too. I was raised that way — to stand up for what you believe."
It's that spirit that kept Procopio pursuing his case, through years of rejection, to prove to the federal government that his chronic illnesses were caused by exposure to Agent Orange during his service in the Vietnam War. Procopio, a so-called Blue Water Navy veteran, worked aboard the USS Intrepid, an aircraft carrier that went into the territorial seas off the coast of Vietnam.
Blue Water veterans — who served on open sea ships off the shore of Vietnam but did not step foot on land — have been blocked for decades from the same Department of Veterans Affairs benefits afforded those who served in Vietnam or its inland waterways. The government argued there wasn't enough evidence that poisonous herbicides contaminated the water used on their ships.
That changed in January, when Procopio won his case.
The Department of Justice decided in May to not challenge the Federal Circuit Court of Appeals ruling in favor of Blue Water veterans. Congress approved legislation last week clarifying that those veterans are eligible for VA disability benefits. Lawmakers sent the bill to the White House, and President Trump signed it on Tuesday.
The name "Procopio" now represents a major victory for tens of thousands of Vietnam War veterans thanks to the case, Procopio v. Wilkie.
The man himself is happy about the court decision but unsure whether he'll be around long enough to witness much of its payoff. He was 61 when this process began. Next month, he'll be 74.
"They appealed it so many times, I thought, 'How long are they going to deny it? Until we're all gone?'" Procopio said. "There were a lot of guys who I served with who were older than me, and I know they're not around."
Aboard the Intrepid Alfred Procopio Jr., a Boston native and the son of an Italian immigrant, finished an electrical apprenticeship in 1963, when American's role in Vietnam was steadily growing. That year, at 18, he decided to join the Navy rather than wait to be drafted.
"I thought I might as well go in and get it over with," he said.
He served as a ship electrician on the USS Intrepid starting in 1964, and in 1966, the aircraft carrier was deployed to the waters off Vietnam.
Procopio worked on the lighting on the ship's upper deck. His shop was right below the arresting gear systems used to rapidly decelerate aircraft, and he remembers the loud screech of the pulleys whenever a plane landed.
When he returned home, he marveled that the noise didn't cause permanent hearing loss. Later, he would be surprised to learn that his military service caused other damage.
About 15 years ago, he developed diabetes. Not long after, he was diagnosed with prostate cancer.
After his diagnoses, Procopio began to research Agent Orange, a chemical known to cause heart disease, Parkinson's, diabetes and several types of cancer.
Along with other Blue Water veterans, Procopio came to believe his illnesses were caused by tactical herbicides that washed into the sea, where ships distilled water for drinking and other uses. The Institute of Medicine reported in 2011 that it was a "plausible pathway of exposure."
"We drank it. We bathed in it. They cooked our food in it. We washed our clothes in it," Procopio said.
A decade of denials Procopio filed his first Agent Orange-related claim with the VA in October 2006 for diabetes. In October 2007, he filed another claim, this time for prostate cancer.
The VA denied both in April 2009.
He sought a reversal from the Board of Veterans' Appeals but was denied twice – the first time in March 2011.
In 2014, John Wells, an attorney and retired Navy commander, took Procopio's case.
By that time, Wells, executive director of Military-Veterans Advocacy, had been fighting in the courts and lobbying Congress for years to extend benefits to Blue Water veterans. When he reviewed the facts of Procopio's case, he realized its potential effects.
"It was just like, 'Wow, this is the case we've been waiting for," Wells said. "We thought it was a perfect storm, a perfect case, and that's why I pushed his as hard as I did. We figured if we won this one, it would have the largest impact."
Part of the reason was that the USS Intrepid recorded when it entered and exited the territorial seas around Vietnam – something that wasn't required of ships, Wells said.
Wells took Procopio's case back to the Board of Veterans' Appeals, which denied him for the second time in July 2015.
The Court of Appeals for Veterans Claims, which reviews VA decisions, ruled against Procopio in November 2016.
"I appealed and appealed and appealed," Procopio said. "I had a doctor who told me if I didn't keep fighting, they weren't going to listen – to keep on pushing. That's been good advice."
So, he kept going.
Procopio and Wells began a multiyear process through the Court of Appeals for the Federal Circuit.
"I believed him from the get-go that he was going to win eventually," Procopio said of Wells. "It was just a matter of time."
On Jan. 29, the court decided the case in Procopio's favor.
At issue was interpretation of the current law, which allows easier access to disability benefits for veterans who "served in the Republic of Vietnam" and suffer from one of a list of illnesses presumptively linked to Agent Orange.
The court determined territorial seas should be included in the definition of "Republic of Vietnam" –- a point the government disputed.
Kathleen M. O'Malley, one of the circuit judges who sided with Procopio, wrote that the VA failed to give deference to Blue Water veterans, which Congress had intended when it wrote the law.
"Congress recognized that veterans should not have to fight for benefits from the very government they once risked their lives to defend," O'Malley wrote. "We ignore this purpose when we fail to apply the pro-veteran canon to resolve ambiguities in ... regulations that provide benefits to veterans. The practical result is that veterans like Mr. Procopio, even after returning home, are still fighting."
The wait continues The Department of Justice took months to decide whether to appeal the decision to the Supreme Court. VA Secretary Robert Wilkie encouraged the justice department to drop the case, reversing course from last year when he opposed extending benefits to Blue Water veterans because of high costs and insufficient scientific evidence.
On May 28, the justice department decided not to continue the court battle.
For Procopio and other Blue Water Navy veterans, the decision could result in hundreds of dollars of disability benefits each month. At one point, the Congressional Budget Office estimated the change would cost taxpayers about $1.1 billion over 10 years. The VA has estimated the true total could be five times that amount.
VA Press Secretary Curt Cashour said earlier this month that the VA is finalizing plans to comply with the court ruling and would release details when they were complete. As of Tuesday, plans hadn't yet been made public.
While the case incited action from Congress and sent VA leaders in Washington scrambling to comply, Procopio's life has remained relatively unchanged.
He's a retired railroad worker, a job he held for 31 years and six months. He lives with his wife, Joan, in a suburb of the Twin Cities, and the couple has a son and daughter, who each have two children.
Procopio is cancer-free. However, in the time since his 13-year battle with the VA began, he developed a heart condition that he assumes is also related to his Vietnam War service. He was recently discharged from a four-day hospital stay and is undergoing daily outpatient rehabilitation.
As he waits for the VA to comply with the ruling, he's unsure how much time he has left.
"I don't know how much I'm going to enjoy it; I'm not exactly the picture of health," Procopio said. "But I figure, whatever money I get ... maybe it will help put my grandkids through college."
He hopes it helps other veterans, too.
"I hope I helped a lot of guys," Procopio said. "I know a lot of people get so frustrated, they just give up because it's not worth beating your head against the wall. It was a fight all the way."
wentling.nikki@stripes.com Twitter: @nikkiwentling
---
---
---
---