7 Marines killed in helicopter crash are identified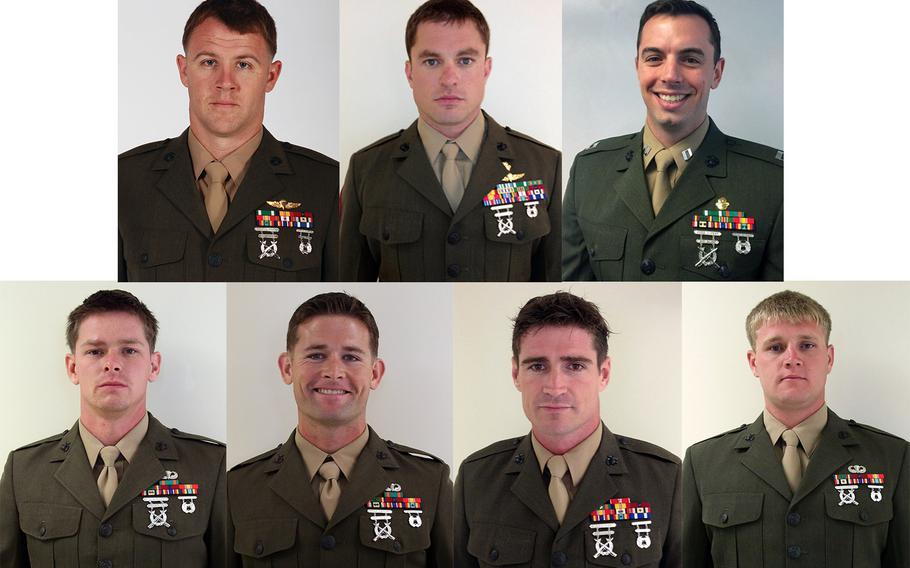 Marine Corps officials on Friday released the names of the seven Marines killed in Tuesday's helicopter crash. The four Louisiana Army National Guard members have not yet been identified by officials. The families and friends of some of the victims are sharing information.
Marines
Staff Sgt. Kerry Kemp, 27, who was based at Camp Lejeune, N.C., is among the dead. His sister-in-law, Lora Waraksa of Port Washington, Wis., said Marines notified her and her sister, Jenna Kemp, on Wednesday that his remains had been found. Kemp was a "proud Marine, a loving husband and most wonderful father," with a year-old child, she said. He loved taking his nephews out to hunt for seashells, Waraksa said. Born in Memphis, Tenn., Kemp met his wife, Jenna, at Port Washington High School in Wisconsin, where he was voted "best smile" by his senior class. Kemp earned the Navy and Marine Corps Achievement Medal with Valor, Combat Action Ribbon and Good Conduct Medal.
Staff Sgt. Marcus Bawol, 26, of Warren, Mich., was to be married in October to his high-school sweetheart, according to the Macomb (Mich.) Daily. Bawol was part of a U.S. Marines special operations regiment from Camp Lejeune who had completed two tours in Afghanistan. Bawol's sister, Brandy Peek, said that military officials identified her brother from remains recovered after the crash. On Thursday, the Warren mayor ordered flags in the city, just north of Detroit, flown at half-staff. Justin Manford, who once served with Bawol, posted on Facebook: "He was a phenomenal Marine and an even better man."
Staff Sgt. Andrew Seif, 26, of Holland, Mich., was awarded the Silver Star, the Marine Corps third highest award for valor, on March 6. Seif, a critical skills operator with 2nd Marine Special Operations Battalion, U.S. Marine Corps Forces, Special Operations Command, was awarded the medal for his actions against the enemy in Badghis province, Afghanistan.
"I think sometimes the worst situations bring out the best in people, and that day a lot of people showed their worth," Seif said during the ceremony, recalling the day he faced enemy fire to save a mortally wounded friend in July 2012.
As a child, Seif played soldier in his backyard, fighting cousins and friends armed with stick rifles, according to a military press release. He joined the Marine Corps just weeks after he graduated high school.
Staff Sgt. Trevor Blaylock, 29, was a husband and father of two young children who grew up in Lake Orion, Mich. In 2006, he enlisted in the Marine Corps and was previously stationed at Camp Pendleton in California. He served in Operation Iraqi Freedom in Anbar province. He earned the Navy and Marine Corps Commendation Medal with Valor, Navy and Marine Corps Achievement Medal and Combat Action ribbon.
His family has been involved members of the United Methodist Church of Lake Orion. "I watched him grow up in this church. He was always very near and dear to my heart," Donna Waite, the children's ministries director, told the Detroit Free Press. "He had a love for life and people that was just contagious."
Friend Chris Lagona told WDIV-TV that Blaylock was the ultimate family man. "Once he joined the Marines, that became his life, besides his wife and daughters. ... Nothing meant more to him than those three," he said.
Capt. Stanford H. Shaw III, 31, of Basking Ridge, N.J., was student government president and captain of the varsity lacrosse team in high school. He graduated from the U.S. Naval Academy in 2006 and became a commissioned Marine officer. He was assigned to the 1st Battalion, 7th Marines. He served two tours of duty in Iraq. He earned the Navy and Marine Corps Commendation Medal, Navy and Marine Corps Achievement Medal, Navy Unit Commendation, Navy Meritorious Unit Commendation, National Defense Service Medal, Iraq Campaign Medal, Global War on Terrorism Service Medal and the Sea Service Deployment ribbon (with two stars).
His career took him to Japan, where he became the deputy camp commander of a jungle warfare training center on Okinawa in 2011. He graduated from the Malaysian army's jungle warfare course and then joined the Marine special forces.
Master Sgt. Thomas A. Saunders, 33, of Williamsburg, Va., was team chief for 2d Marine Special Operations Battalion, U.S. Marine Corps Forces, Special Operations Command. He earned the Joint Service Commendation Medal, two Navy Marine Commendation Medals, five Navy and Marine Corps Achievement Medals, the Combat Infantry Badge and five Good Conduct Medals. He was promoted to the rank of master sergeant in September 2013.
Staff Sgt. Liam A. Flynn, 33, of Queens, New York, was born in Reading, England. He enlisted in the Marines in 2002, and was assigned to Camp Lejeune. He served in Iraq and Afghanistan, earning three Navy and Marine Corps Achievement Medals with Valor, the Bronze Star with Valor and Combat Action Ribbon.
National GuardsmenDavid Strother, of Pineville, La., a National Guardsman who was one of two pilots on the helicopter, had served overseas tours in Iraq and Afghanistan, said Pastor Darryl Hoychick of Trinity Baptist Church in Pineville, according to USA Today. "My heart breaks," the longtime family friend said. "They're just excellent people."
The Associated Press and USA Today contributed to this report.