34 nuclear launch officers involved in Air Force cheating scandal
by
Jon Harper
January 15, 2014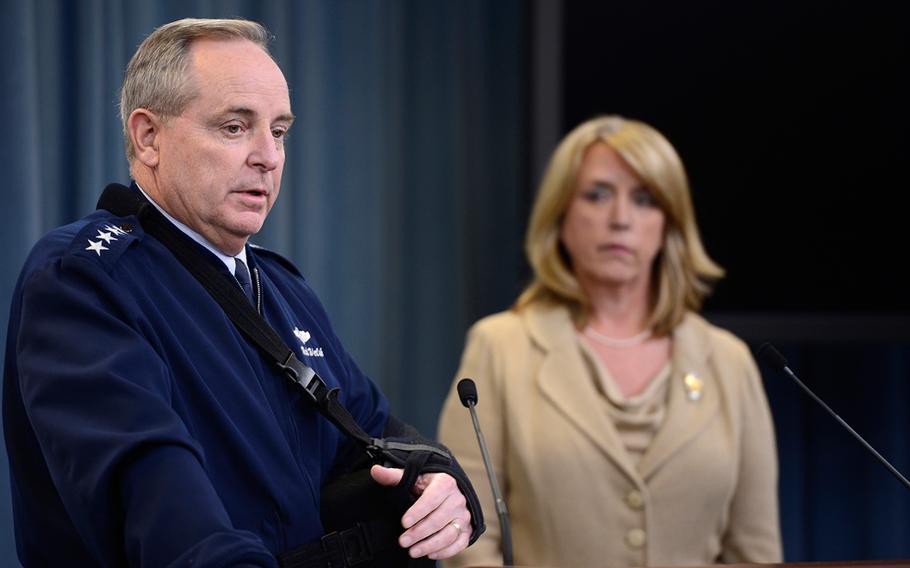 WASHINGTON — On Wednesday, the Air Force's top civilian and military leaders revealed that 34 nuclear missile launch officers were involved in a cheating scandal surrounding proficiency tests conducted last year at Malmstrom Air Force Base, Montana. The 34 personnel constitute about 18 percent of the missile officers stationed there.
"There was cheating that took place with respect to this particular test. Some officers did it. Others apparently knew about it, and it appears that they did nothing, or at least not enough to stop it or to report it. Now this is absolutely unacceptable behavior and it is completely contrary to our core values in the Air Force," new Air Force Secretary Deborah James told reporters at the Pentagon.
"Cheating or tolerating others who cheat runs counter to everything we believe in as a service. People at every level will be held accountable if and where appropriate," Air Force Chief of Staff Gen. Mark Welsh said.
Over the weekend, the Air Force's Office of Special Investigation found evidence that a missile launch officer from the 341st Missile Wing at Malmstrom texted answers to monthly missile launch officer proficiency tests to 16 other officers.
"We subsequently approached the entire missile crew force at Malmstrom and 17 other officers who self-admitted to at least being aware of material that had been shared. We don't yet know how or if each of those officers used that material, but we do know that none of them reported the incident to their leadership," Welsh said.
Welsh said he is not aware of a cheating scandal this large in the entire history of the missile force.
All 34 involved have been decertified as launch officers. They are restricted from missile crew duty and their security clearances have been suspended. The OSI investigation into their individual involvement and the overall cheating scandal will continue, Welsh said. The officers vary in rank from second lieutenant to captain.
The Malmstrom wing failed a nuclear security inspection last August due to "a problem in a security scenario," but the failure was not related to carrying out operational procedures, Welsh said.
On Wednesday, the commander of Global Strike Command, which oversees the Air Force's nuclear enterprise, ordered a proficiency test be administered to all missile crewmembers in all three of the nation's nuclear missile wings in the wake of the cheating at Malmstrom. As of Wednesday afternoon, about 20 percent of the entire missile crew force had taken the test, and 97 percent of them passed. There were three failures. The 97 percent pass rate matches historical averages, according to Welsh.
James said the testing of the entire force will be completed by the end of the day Thursday.
When asked about the motivation behind the cheating, Welsh said, "It's hard to cover up incompetence cheating one time on a test. When you're going to have a monthly simulator with two instructors watching you actually conduct the practical application of this knowledge in a simulator, you can't hide that. And so whether it's to get a better score on a test or — I just — I'd be speculating as to what it is, but I don't believe it's incompetence."
The cheating took place in August and September, according to officials.
"We have no indications or evidence that it has occurred since then; the investigation has just started," Welsh said.
James and Welsh will now travel ahead of schedule to all of the ICBM bases next week. The other two are located at F.E. Warren Air Force Base, Wyoming and Minot Air Force Base, North Dakota.
"Secretary James and I will personally visit all of our missile bases … next week to ensure that our airmen have no question about our expectations of those who perform this vital mission," Welsh said.
Last week, Defense Secretary Hagel visited F.E. Warren to talk to ICBM launch officers following reports of low morale and poor performance among the nation's missile crews.
"I want to talk also about continuing to hone our skills — our personal skills, our institutional skills, on focusing on our professionalism and how we handle our day-to-day responsibilities," Hagel told the airmen Jan. 9. "You've … chosen a profession where there's no room for error. In what you do every day, there is no room for error. None."
This cheating scandal comes on the heels of revelations in recent days that three missile launch officers at Malmstrom and F.E. Warren were implicated in an illegal narcotics investigation. Eight personnel at other Air Force bases have been implicated as well. The cheating at Malmstrom came to light during the course of the ongoing narcotics investigation this past weekend, Welsh said. Two of the 34 launch officers involved in the cheating scandal at Malmstrom are also involved in the drug scandal, Air Force officials said.
The narcotics scandal first came to light during Hagel's visit to F.E. Warren.
James acknowledged that the missile force faces personnel problems.
"I've heard that we have quality concerns about people. I'm also hearing that there are top-notch people. And my guess is the truth is somewhere in between, but this is a force that needs attention. It is a top priority," she said.
But the Air Force leaders told reporters that the personnel issues don't pose a threat to the nuclear enterprise.
"I have great confidence in the security and the effectiveness of our ICBM force," James said. "This was a failure of some of our airmen. It was not a failure of the nuclear mission."
"This is not about the compromise of nuclear weapons. It's about compromise of the integrity of some of our airmen," Welsh said.
Hagel was briefed on the cheating scandal Wednesday.
"Secretary Hagel was deeply troubled to learn of these allegations, and he strongly supports the aggressive steps the Air Force is taking in response to them," Pentagon Press Secretary Rear Adm. John Kirby said in a statement Wednesday.
Welsh suggested that punishment will continue to be meted out to those who violate standards of conduct.
"Our actions as we move forward will be about making sure that every member of our Air Force understands that we will not accept or allow that type of behavior, that there is nothing more important to the nation than the integrity and the trustworthiness of the people who defend it, and that anyone who doesn't understand that should find another line of work," Welsh said.
harper.jon@stripes.com Twitter: @JHarperStripes
---
---
---