3 US soldiers killed, 2 wounded in Niger ambush
by
John Vandiver Chad Garland
October 5, 2017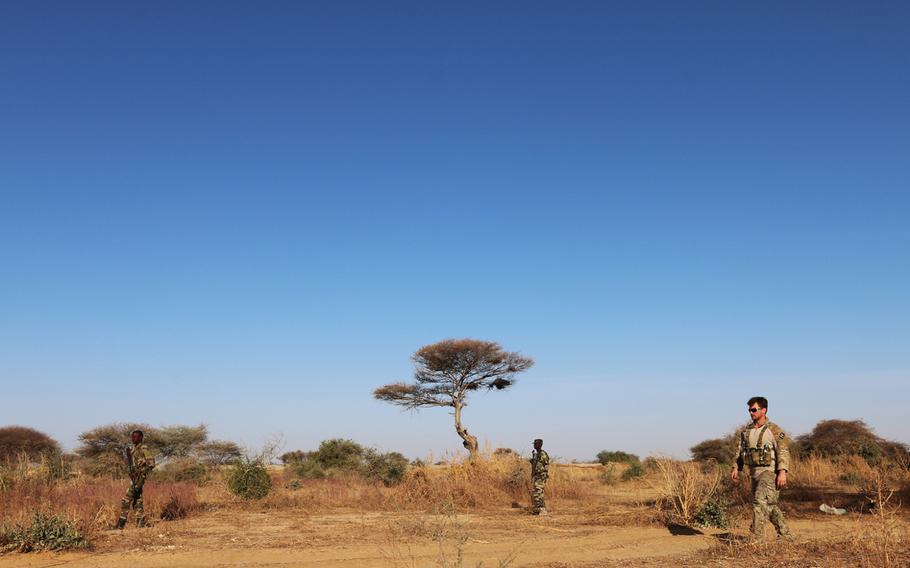 Three Green Berets were killed in an ambush Wednesday in Niger, and two injured servicemembers were transported to a military hospital in Germany for treatment, U.S. Africa Command said Thursday.
The names of the servicemembers are being withheld pending notification of next of kin. The injured troops are now in stable condition as they receive treatment at Landstuhl Regional Medical Center in Germany, AFRICOM said.
"Our thoughts and prayers are with the families and friends of the fallen service members," AFRICOM said in a statement.
The soldiers were attacked on a joint patrol while training troops inside Niger, a country where U.S. forces have been a fixture for many years as part of an effort to bolster the fighting capabilities of regional partners.
"U.S. Africa Command can confirm reports that a joint U.S. and Nigerien patrol came under hostile fire in southwest Niger," AFRICOM said.
The injured soldiers were initially taken to Niger's capital city of Niamey, unnamed officials told The Associated Press.
The attack reportedly occurred 120 miles north of Niamey, near the Mali border, where al-Qaida in the Islamic Maghreb militants have conducted cross-border attacks before. The Nigerian-based Boko Haram terrorist group also conducts frequent attacks inside Niger.
About 30 men from a Nigerien security and intelligence battalion and eight American escorts in five vehicles were responding to an attack near the village of Tongo Tongo when the patrol was lured into the ambush, Radio France Internationale reported, citing an unnamed military source.
Namatta Abubacar, an official in Niger's Tillaberi region, told Reuters that five Nigerien soldiers were among the dead.
Niger is a key strategic location for Western counterterrorism efforts in West Africa.
The U.S. has about 645 military personnel in Niger to support partners in counterterrorism operations, according to a June White House letter advising Congress of various troop deployments. In neighboring Cameroon, 300 military personnel are also deployed, the "bulk of whom are supporting United States airborne intelligence, surveillance, and reconnaissance operations in the region," the letter stated.
The U.S. operates surveillance aircraft out of both Niger and Cameroon.
Other Western forces, including Germany, are deployed to the region to support local troops with training, advice and assistance, including with intelligence operations, in their battle against extremists.
"One aspect of that is training, advising and assisting the Nigeriens in order to increase their ability to bring stability and security to their people," AFRICOM said.
The U.S. is building a base in the city of Agadez in central Niger, from which it plans to launch drone flights. The military has long used a separate facility near Niger's capital to conduct unmanned surveillance flights.
The death Wednesday marks the first American combat fatality in the mission with the Nigerien armed forces. Warrant Officer Shawn Thomas, 35, a soldier assigned to 3rd Special Forces Group at Fort Bragg, N.C., was killed in a noncombat vehicle accident in the country in February.
In May, a Navy SEAL was killed during operations in Somalia, marking the first combat death in that country since the 1993 Black Hawk Down incident that killed 18 servicemembers.
As military operations have picked up in Africa, the military commander overseeing those efforts has raised concerns about insufficient resources that could put personnel at increased risk.
In March, AFRICOM chief Gen. Thomas Waldhauser warned of inadequate surveillance, poor supply chain networks and an inefficient personnel-rescue system. In testimony submitted to Congress, Waldhauser said only 20 percent to 30 percent of the command's intelligence, surveillance and reconnaissance requirements are being met.
AFRICOM relies heavily on contracted search-and-rescue assets because of a lack of resources.
The ambush in Niger comes as the White House considers further loosening criteria for carrying out airstrikes against terrorist targets. If implemented, such a change could expand the number of places where U.S. forces can conduct strikes and enable missions targeting lower level "foot soldier" terrorist targets.
While the U.S. routinely conducts airstrikes against militants in Somalia and Libya, such attacks so far have not been conducted against groups operating in western Africa.
In Niger and surrounding countries, AFRICOM efforts have largely centered on attempts to bolster indigenous forces leading the fight against Boko Haram and al-Qaida affiliates.
garland.chad@stripes.comTwitter: @chadgarland
vandiver.john@stripes.comTwitter: @john_vandiver