2 detainees transferred from Guantanamo in 1st release since January
---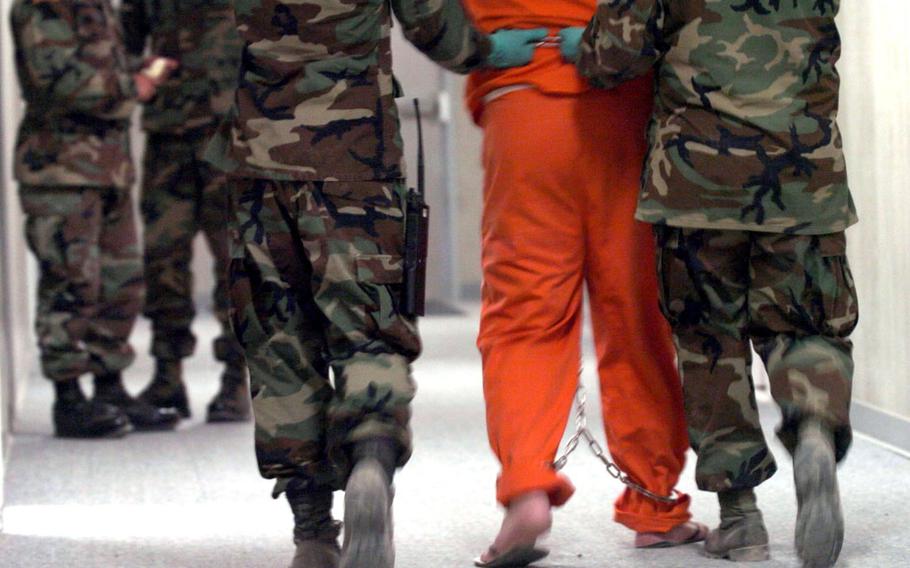 WASHINGTON — The Pentagon on Monday sent two Libyans linked to al-Qaida from Guantanamo Bay to West Africa, leaving the controversial U.S. detention facility in Cuba with 89 detainees.
Salem Abdu Salam Ghereby and Omar Khalif Mohammed Abu Baker Mahjour Umar, members of the Islamist militant group the Libyan Islamic Fighting Group, were transferred from the detention facility to Senegal, the Pentagon announced Monday in a statement. This is the first transfer since the Defense Department released 14 detainees during January.
Ghereby was captured alongside al-Qaida and Taliban fighters by Pakistani troops in November 2001, according to information in the New York Times Guantanamo docket. He was transferred to U.S. custody the next month, suspected of fighting against American troops near Tora Bora, Afghanistan. He has been held at Guantanamo since May 2002.
Ghereby, 55, was suspected of receiving advanced explosives training from al-Qaida in the mid-1990s and later teaching in a Taliban-run school after moving to Afghanistan. He fought for jihadi groups in several countries throughout the Middle East and southwest Asia, according to a Pentagon security assessment of his past.
Ghereby was unanimously approved for transfer after "a comprehensive review of his case" by the Guantanamo Review Task Force, which includes the departments of Defense, Homeland Security, Justice and State; the Joint Chiefs of Staff; and the Office of the Director of National Intelligence.
Umar was captured by Pakistani police in a March 2002 raid on a suspected al-Qaida safe house in that country's east, according to the New York Times docket. He was transferred to U.S. custody in May 2002 and has been held at Guantanamo since August 2002.
According to Defense Department information, Umar, who is 43 or 44, was a senior member of the Libyan Islamic Fighting Group, an explosives trainer and an arms dealer. He traveled to Afghanistan in the mid-1990s for training and later helped establish al-Qaida training camps. He's also accused of fighting against U.S. and coalition forces in eastern Afghanistan after the U.S. invasion in October 2001.
In August, Umar was approved to transfer from Guantanamo by unanimous vote of members of the Periodic Review Board — made up of national security delegates — which "determined continued law of war detention of Umar does not remain necessary to protect against a continuing significant threat to the security of the United States," according to the Pentagon statement.
Neither of the men was formally charged with a crime.
Senegal is the second West African country to accept Guantanamo detainees. In January, Ghana agreed to take in two Yemenis.
The U.S. said security and humane treatment measures were included in their agreement with Senegal.
"The United States is grateful to the Government of Senegal for its humanitarian gesture and willingness to support ongoing U.S. efforts to close the Guantanamo Bay detention facility," the statement read.
In February, the Pentagon sent its plan for closing the Guantanamo Bay detention facility to Congress, charging that it is expensive and provides propaganda material to terrorists. The about 20-page plan called for the detainees deemed unsafe for release to be moved to a prison on American soil, but it did not provide specifics about potential locations. It was criticized by Republican lawmakers, who banned moving any detainees to the United States in the 2016 National Defense Authorization Act.
President Barack Obama, who has vowed to close the facility since he was first a presidential candidate in 2008, announced at the time he opposed that provision of the law, but he signed the bill.
dickstein.corey@stripes.com Twitter: @CDicksteinDC
---
---
---
---