White House says troops are leaving Syria, claims victory over ISIS
by
Corey Dickstein John Vandiver
December 19, 2018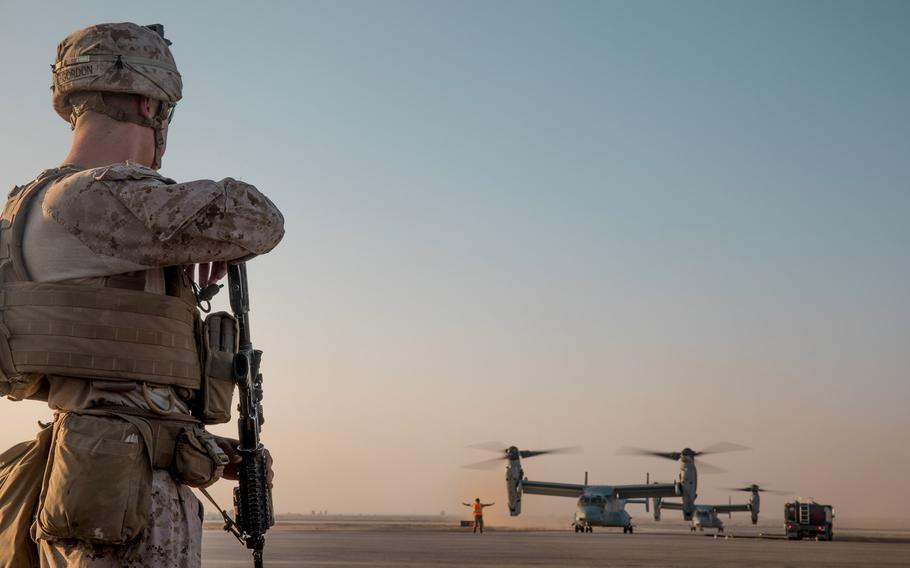 WASHINGTON — President Donald Trump has begun withdrawing U.S. forces from Syria, the White House announced Wednesday, declaring victory over Islamic State fighters in the country despite ongoing skirmishes and concerns from others in Washington that the terrorist group might mount a comeback.
"Five years ago, ISIS was a very powerful and dangerous force in the Middle East, and now the United States has defeated the territorial caliphate," White House Press Secretary Sarah Sanders said in a statement. "We have started returning troops home as we transition to the next phase of this campaign."
In a conference call with reporters Wednesday afternoon, a senior administration official said the Pentagon would work out the logistics of the drawdown. The official, who spoke on the condition of anonymity, referred questions to the Pentagon about the next stages of the counter-ISIS campaign and whether the United States would continue to provide air power against the terrorist group or support to its partner forces in Syria.
However, Defense Department officials said they could not immediately provide answers to such questions, even hours after Trump's decision was made public, indicating they were not prepared for the White House announcement.
Earlier Wednesday, Dana White, the Pentagon's top spokeswoman, said in a prepared statement that all territory once held by ISIS in Iraq and Syria has been liberated, though "the campaign against ISIS is not over." She declined further discussion of the mission, citing "protection and operational security reasons."
Officials at the Pentagon have spent recent days trying to convince Trump to leave at least some troops in the eastern portion of Syria where they have been supporting a mostly Kurdish militia, which has been fighting ISIS since 2014, a defense official said Wednesday. The official, who spoke on condition of anonymity, warned at least some fighting continued in the area, and a rapid, full withdrawal of troops could hurt the progress of the U.S.-backed Syrian Democratic Forces.
"There's still fighting. There's still ISIS fighters on the ground fighting hard," the official said, pointing out U.S. and anti-ISIS coalition forces have conducted airstrikes against ISIS targets in Syria's Middle Euphrates Valley as recently as Monday.
The coalition reported Wednesday that it conducted more than 200 strikes against ISIS in Syria last week.
Neither Sanders nor White indicated whether all 2,000 U.S. troops would be removed from Syria or what the next phase of the mission would be. However, the defense official said the White House planned to remove all American troops from the fight, confirming reporting by multiple new organizations including Reuters and the Wall Street Journal. It was not clear how quickly they would be removed, the official added.
A Trump tweet Wednesday seemed to confirm that he intended a complete pullout.
"We have defeated ISIS in Syria, my only reason for being there during the Trump Presidency," Trump tweeted.
The decision was likely to be welcomed by NATO ally Turkey, but also casts uncertainty over the fate of U.S.-backed Kurdish troops in the region.
Syria and its allies Russia and Iran have repeatedly denounced the U.S. military presence as illegal because it was undertaken without permission from the government in Damascus.
Trump has said he wants to pull U.S. troops out of Syria at some point and the country was not a place where U.S. forces would be permanently camped.
However, his own top military and national security advisers have long indicated the United States would have to maintain troops in eastern Syria to ensure the region was stable enough to thwart an attempted reconstitution of ISIS after its defeat.
In the last three weeks, Marine Gen. Joseph Dunford, the chairman of the Joint Chiefs of Staff, National Security Advisor John Bolton and Brett McGurk, the U.S. special envoy to the counter-ISIS campaign, have insisted publicly much work was left to be done by U.S. troops in Syria.
For example, Dunford said on Dec. 6 that U.S. troops completed only about 20 percent of their mission to train 35,000 to 40,000 local forces to provide security in areas cleared of ISIS.
"I'm not at all complacent about the work that remains to be done," Dunford said at the time. "… I would say we're well along in clearing ISIS from the ground that they've held in Syria, and we still have a lot of work to do in terms of the stabilization phase."
McGurk told reporters on Dec. 11 at the State Department that the stabilization effort would likely take years.
"It would be reckless if we were just to say, 'Well, the physical caliphate is defeated, so we can just leave now,'" he said. "I think anyone who's looked at a conflict like this would agree with that."
The White House on Wednesday afternoon pushed back against assertions that Trump's own senior national security leaders expected U.S. troops to remain in Syria.
The senior administration official told reporters that Trump had been "100 percent consistent" in his commitment to move troops out of Syria once ISIS was defeated.
"The notion anyone within the administration was caught unaware – I'd challenge that," the official said. "The president's views have been well known. I don't see this as a surprise."
However, members of Trump's own political party railed against the decision in the hours after it was reported.
Sen. Marco Rubio, R-Fla., told reporters that the advisers who helped Trump make the decision to withdraw troops from Syria have done a "great disservice" to the country.
Sen. Lindsey Graham, R-S.C., a member of the Senate Armed Services Committee, called Trump's plan "a huge Obama-like mistake," likening it to the former president's withdrawal of U.S. servicemembers from Iraq in December 2011, which has been blamed in part for the rise of ISIS.
"A decision to withdraw will also be viewed as a boost to ISIS' desire to come back," Graham wrote on Twitter, adding it also puts "our allies, the Kurds at risk."
However, Sanders indicated the work was largely done for troops on the ground.
At least one Republican applauded Trump's decision.
Sen. Rand Paul, R-Ky., wrote on Twitter that he was "happy to see a President who can declare victory and bring our troops out of a war. It's been a long time since that has happened."
The pullout comes as Turkish President Recep Tayyip Erdogan said he intends to launch an offensive against the Kurdish forces in Syria's north. Such an offensive would risk bringing U.S. troops into conflict with the Turkish military.
Prior to White's statement in response to reports of the pullout, the Pentagon issued a short statement earlier Wednesday that troops continue to work with their partners in Syria.
U.S. troops in northern Syria has been a source of great tension with Turkey.
Ankara has long regarded Washington's Kurdish partners as terrorists and the main threat to Turkey. While the United States has drawn a distinction between its Kurdish partners and the Kurdistan Workers Party, a U.S.-designated terrorist group, Turkey has remained unpersuaded.
U.S. Special Representative for Syria James Jeffrey, speaking at an Atlantic Council event in Washington on Monday, said the aim of the U.S. partnership with Kurdish Syrian Defense Forces was connected to the battle against ISIS.
The United States isn't interested in helping the Kurds carve out autonomous territory, he said.
"That is not the policy of this administration and has not been the policy of other administrations," Jeffrey said.
Trump's call for leaving Syria isn't the only policy reversal with implications for the U.S. relationship with Turkey. On Tuesday, Washington announced it was willing to sell Patriot missiles to Turkey, which has long sought them.
Sanders also said Tuesday that Trump was willing to consider the possible extradition of U.S.-based cleric Fethullah Gulen, who lives in exile in America, but is blamed by Erdogan for the failed 2016 coup attempt in Turkey. Gulen has denied any involvement.
In a phone call this week with Erdogan, "the only thing (Trump) said is that we would take a look at it," Sanders said Tuesday.
In Syria, the prospect of a U.S. withdrawal raises questions about whether ISIS will be given a chance to regroup in the country. Military leaders have warned ISIS, while pushed out of virtually all of its former strongholds, still poses a threat.
In September, Defense Secretary Jim Mattis said the "fighting is ongoing. As we forecasted, it's been a tough fight, and we are winning."
Graham added in another tweet on Wednesday that "with all due respect, ISIS is not defeated in Syria, Iraq, and after just returning from visiting there — certainly not Afghanistan."
vandiver.john@stripes.com Twitter: @john_vandiver
dickstein.corey@stripes.com Twitter: @CDicksteinDC