US: Weekend airstrikes killed some 150 Islamic State fighters in Syria
by
Corey Dickstein
January 23, 2018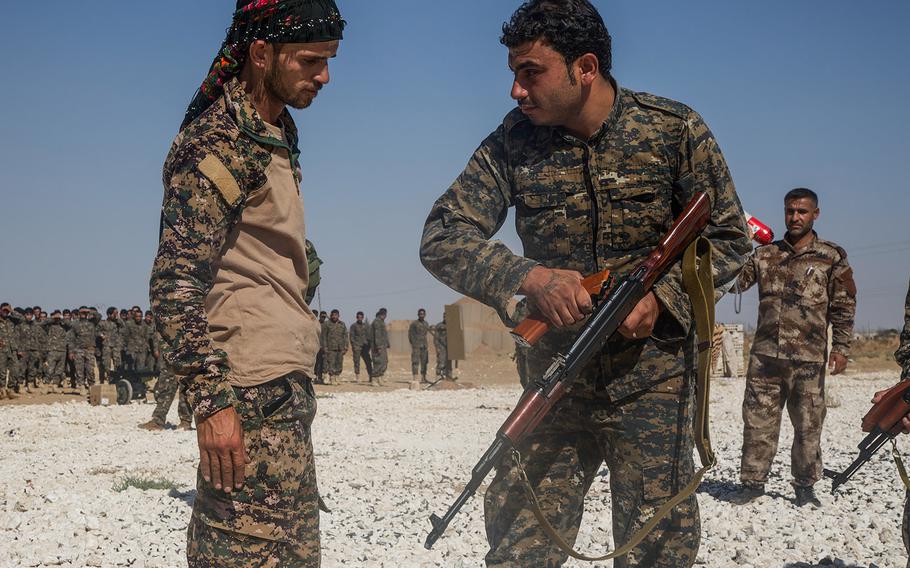 WASHINGTON – Airstrikes against an Islamic State headquarters in eastern Syria killed some 150 militants on Saturday, the U.S.-led Operation Inherent Resolve coalition announced Tuesday, underscoring the continuing fight against the terrorist group.
The ISIS fighters in the town of As Shafah appeared to be massing for a movement when the strikes occurred, according to coalition officials. As Shafah, about 10 miles from Syria's eastern border with Iraq, is one of a few remaining towns in the middle Euphrates River Valley controlled by ISIS.
Heavy fighting between ISIS and the U.S.-backed Syrian Democratic Forces has continued in that part of Syria, the coalition said in a statement, even after some military leaders have declared the terrorist group defeated.
U.S. officials describe the less than 1,000 remaining ISIS militants as "hard core" fighters who are seeking to regroup after losing about 98 percent of the land they once controlled across Syria and Iraq. At its height in 2014, the ISIS caliphate included more than 40,000 fighters who controlled some 34,000 square miles of land.
The strikes Saturday were monitored and guided by SDF fighters on the ground and they highlight the ongoing fight against ISIS, said Army Maj. Gen. James Jarrard, the commander of special operations forces for the coalition.
"Our SDF partners are still making daily progress and sacrifices, and together we are still finding, targeting and killing ISIS terrorists' intent on keeping their extremist hold on the region," he said in a statement.
The latest attacks come as Turkey, a NATO ally of the United States, has launched an offensive in northwestern Syria to clear areas along its border of Kurdish groups, including members of the YPG, U.S.-backed Kurds who are members of the Syrian Democratic Forces and have proven indispensable in the fight against ISIS.
The Turkish offensive has focused on the Kurdish region of Afrin near its border. The Turks consider the YPG an extension of the PKK, a group recognized by Turkey and the United States as a terrorist organization.
American officials have urged Turkey to use caution. Defense Secretary Jim Mattis called Turkey's offensive disruptive, just days after telling reporters that the country has "legitimate security concerns" along its border.
"The violence in Afrin disrupts what was a relatively stable area of Syria," Mattis said Tuesday in Indonesia, according to The Associated Press. "It distracts from the international efforts to ensure the defeat of ISIS, and this could be exploited by ISIS and al-Qaida, obviously, that we're not staying focused on them right now."
Meanwhile, U.S. military officials have urged the SDF, which includes the YPG and some 25,000 Arab fighters, to retain its focus on ISIS until the group is entirely dismantled in eastern Syria.
"We cannot take our focus off our mission, and we must not lose our momentum in taking these terrorists off the battlefield and preventing them from resurfacing somewhere else," Jarrard said.
dickstein.corey@stripes.com Twitter: @CDicksteinDC
---
---
---