US troops 'returned fire' at Syrian loyalists; state media say a civilian was killed
by
Chad Garland
February 12, 2020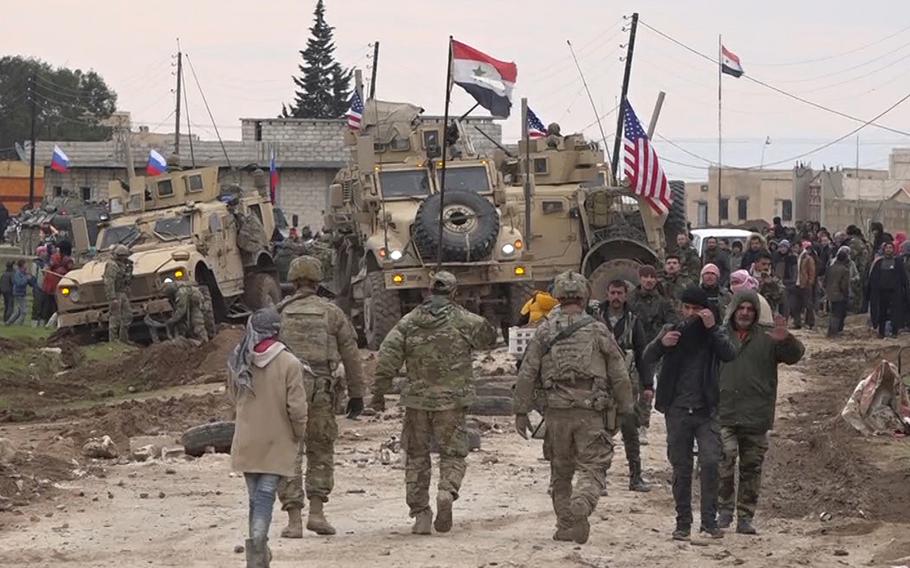 American troops returned fire after being shot at by militiamen and civilians in northeastern Syria on Wednesday, the U.S. military said, in a fight that the Assad regime said left one civilian dead.
One civilian also was wounded after Syrians loyal to President Bashar Assad tried to block a convoy of several American vehicles at an army checkpoint near the town of Qamishli, state media and observers reported.
"After Coalition troops issued a series of warnings and de-escalation attempts, the patrol came under small arms fire from unknown individuals," said Col. Myles B. Caggins III, a military spokesman for the U.S.-led coalition that is aiding local Kurdish and Arab forces battling Islamic State.
The Americans defended themselves, Caggins said in a statement posted online. The statement did not say whether anyone was killed or injured, but a later statement said one American was slightly wounded and has returned to duty.
"The situation was de-escalated and is under investigation," Caggins said. "The Coalition patrol returned to base."
The U.S. patrol was "besieged" by a crowd of civilians and armed militiamen who "fired in the air," the London-based Syrian Observatory for Human Rights reported, citing local sources. The Observatory maintains a network of activists on the ground.
After U.S. forces fired "smoke bombs," they opened fire, the Observatory said, but it was unclear whether the person killed was a civilian or militia member.
U.S. jets ripped through the air above the villages after the incident, the Observatory reported. Photos and videos circulated on social media show an F-15 fighter jet firing a flare over the area.
The man killed was a civilian from Khirbet Ammu village, Syria's state-run SANA news agency said. Four American vehicles were damaged, it said, and five more were sent as reinforcements.
A cellphone video from the scene shows American troops standing outside several Oshkosh M-ATVs on a rural road and beside a concrete building. The video was posted to Twitter by Syrian Kurdish journalist Kamiran Sadoun, who said regime supporters attacked first.
A second video, posted to Twitter by journalist Mohammed Hassan, shows the same area, where Hassan says one U.S. vehicle was "destroyed." Syrian and Russian forces and "a lot of civilians" gathered, and the Syrian checkpoint was emptied, he reported. Hasan later tweeted photos of an F-15 fighter jet firing a flare over the area.
A Russian convoy arrived on the scene, apparently to defuse tensions, the Observatory reported. Moscow backs Assad in Syria's civil war, now in its ninth year.
The U.S. and Russia have for years worked to deconflict their operations in the country, but a top American diplomat has warned of increased complexity in northeastern Syria, where U.S. troops are deployed and have had "minor dustups" with Russian patrols. The Americans occupy austere outposts in the provinces of Hassekeh, where Wednesday's incident took place, and Deir al-Zour, and where Turkey has also entered the fray.
U.S. troops withdrew from northern Syria in October, ahead of a Turkish incursion to fight Kurdish forces that Ankara views as terrorists. Turkey backs rebel forces in the country but also conducts joint patrols with Russia.
The situation has led to "much more detailed ground deconfliction rules" along the road network, Ambassador James Jeffrey, the U.S. envoy to the anti-ISIS coalition, told reporters in January.
Qamishli is where all those roads converge, Jeffrey said, and "there is a lot of patrolling there," a small number of which have led to the "dustups."
"Nothing serious, nothing particularly threatening," he said.
In a small but increasing number of occasions the Russians and Syrian regime forces have tried to come "deep into the areas" where the U.S. and Kurdish-led Syrian Democratic Forces patrol, he said in a later briefing.
Wednesday's incident could lead to increased tensions in the area. Other cellphone video showed men in civilian attire firing on the U.S. convoy with Kalashnikovs. The video was posted to a channel on the online app Telegram run by Syria's Radio and Television General Authority.
As several vehicles flying American flags attempted to pass through the area around Qamishli, locals pelted them with stones and blocked their way. Some people mounted the vehicles and ripped down a flag, SANA also reported.
garland.chad@stripes.com Twitter: @chadgarland