US military delivers emergency food, medical aid to Beirut
by
Chad Garland
August 12, 2020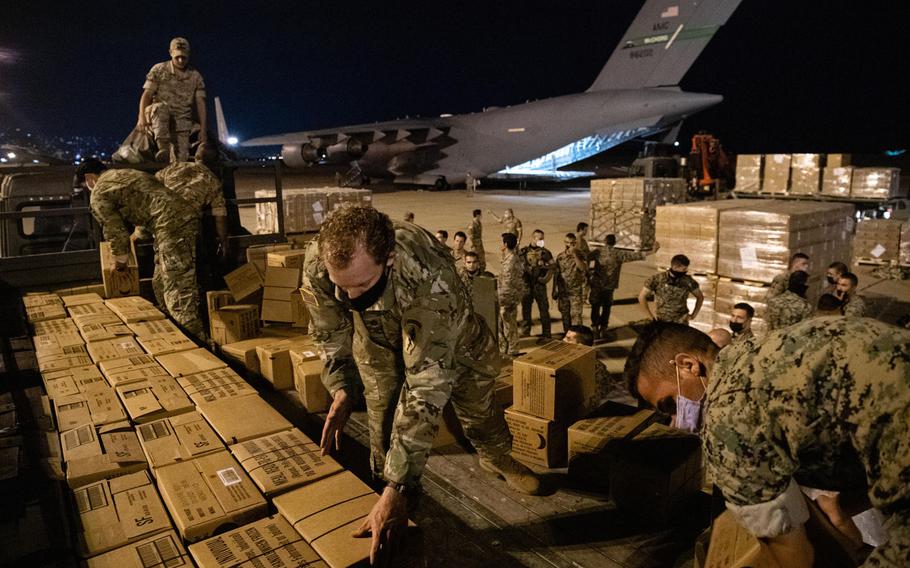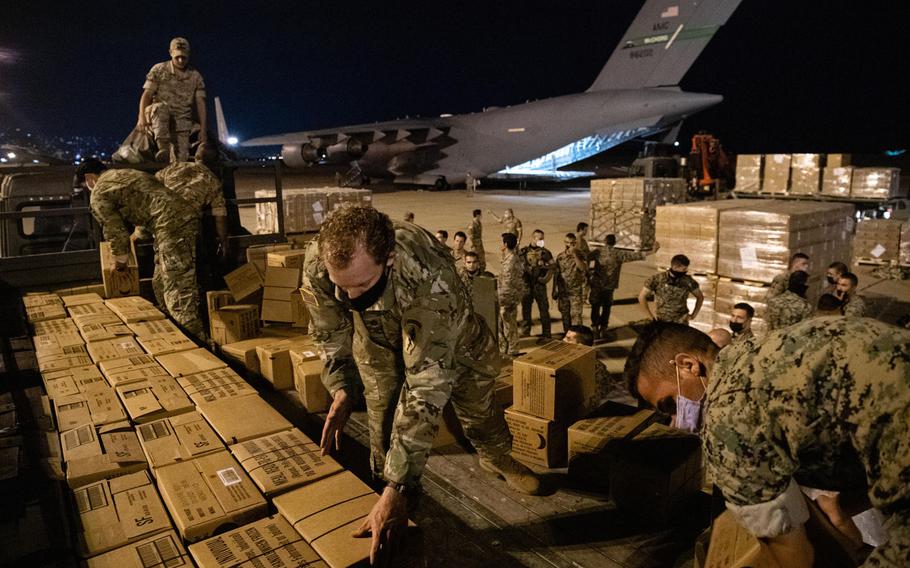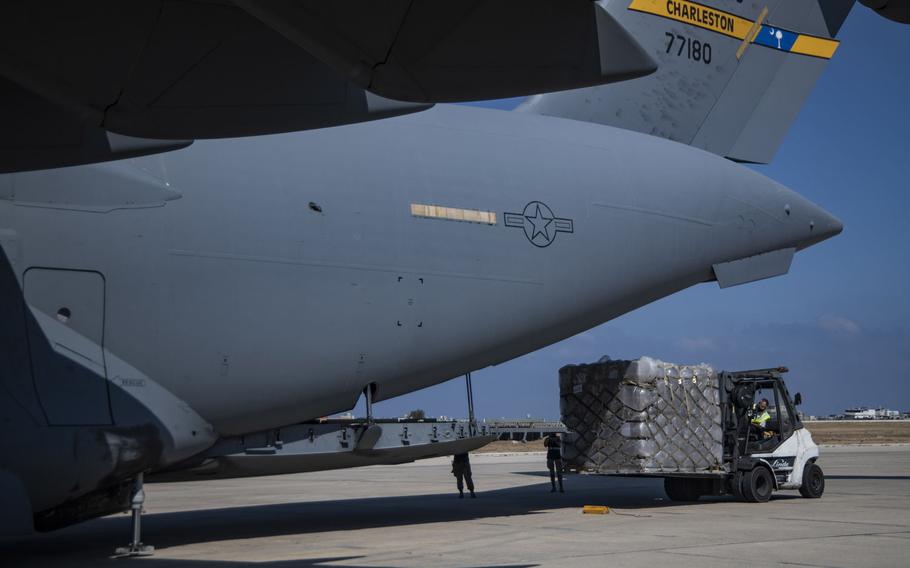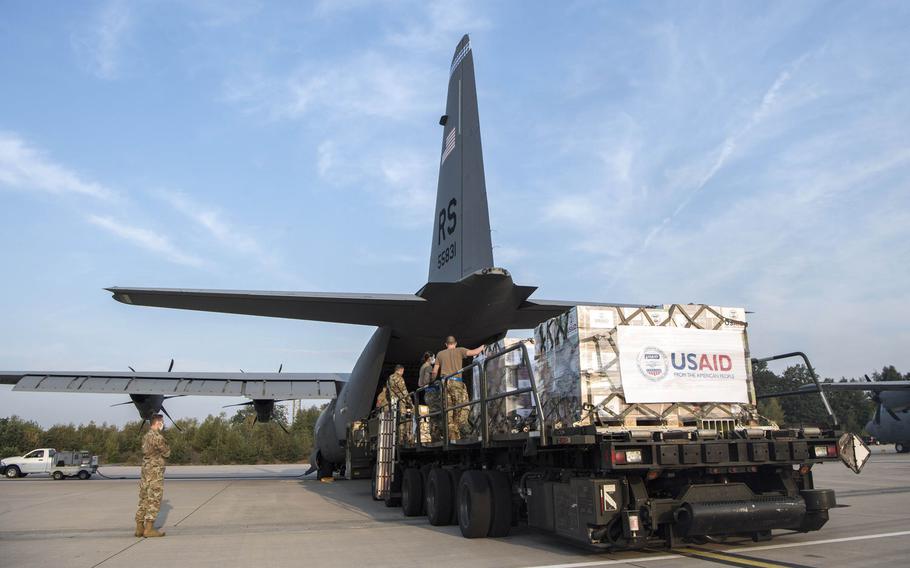 KAISERSLAUTERN, Germany — The U.S. military has delivered some 260 tons of humanitarian aid to Lebanon since an explosion damaged much of the capital city and left more than 200 people dead or missing last week.
U.S. Air Forces Central Command and Air Mobility Command delivered the more than a half-million pounds of food, water and medical supplies in four days since Thursday, when the first C-17 transports brought 11 pallets of aid from Qatar to Lebanon following the Aug. 4 explosion, the military said.
Also on Tuesday, U.S. soldiers and airmen in Europe helped deliver about 12,000 pounds of emergency medical kits to Beirut via Ramstein Air Base, U.S. Army Europe said in a statement.
The kits are "designed to help local hospitals address critical medical needs," USAREUR said.
International donors have pledged some $300 million in aid after the blast that wounded some 6,000 people, overwhelming hospitals in the capital.
The explosion, which rattled windows more than 150 miles away on Cyprus, dug a 460-foot crater at the port, leveled surrounding buildings and left some 300,000 residents homeless.
Hospitals had already been struggling to pay staff and secure medical supplies before the blast, as the country faced the worst economic crisis in its history following the collapse of its government in October and the spread of COVID-19 this year, a Congressional Research Service report said last week.
The extensive damage at the port, including a grain silo and other food storage facilities, is likely to exacerbate the crisis, analysts say.
The blast is believed to have been caused by a fire that ignited a store of about 2,750 tons of ammonium nitrate that had been left in a port warehouse for several years, despite repeated warnings about the danger.
Economic losses were estimated up to $15 billion, The Associated Press reported. In a speech on Monday, Prime Minister Hassan Diab said he and his government were stepping down, following weekend clashes between security forces and demonstrators.
The U.S. last week said it would send $17 million in emergency aid to Lebanon on top of more than $400 million provided since September.
As the largest provider of development, humanitarian and security assistance to the country, the U.S. also has in place measures meant to prevent aid funds from being transferred to Hezbollah, an Iran-backed political party that the U.S. has sanctioned as a foreign terrorist organization.
After the initial shipment of supplies from Al Udeid Air Base in Qatar, U.S. Ambassador to Lebanon Dorothy Shea said in a video statement that some 30,000 Meals, Ready to Eat and other assistance would be distributed through "our trusted partner," the Lebanese Armed Forces.
The U.S. works closely with the country's military, which it views as a counter to Hezbollah. It has provided more than $2 billion in aid to the armed forces since 2006.
Since the initial aid delivery, more supplies were sent from Camp As Sayliyah in Qatar and Ali Al Salem Air Base in Kuwait, AFCENT said this week in a video.
"U.S. Central Command will continue to work with the Lebanese Armed Forces, U.S. Embassy in Beirut and (U.S. Agency for International Development) to provide support to the Lebanese people," the AFCENT video said. "We are in this together."
garland.chad@stripes.com Twitter: @chadgarland