US deploys Bradleys, mechanized infantry to Syria to ensure 'freedom of movement' for coalition forces
by
Chad Garland
September 19, 2020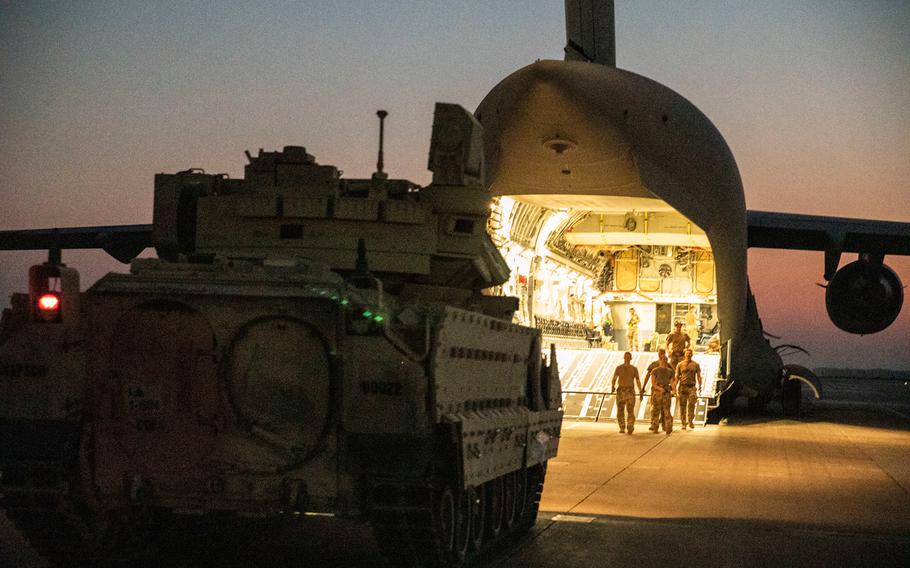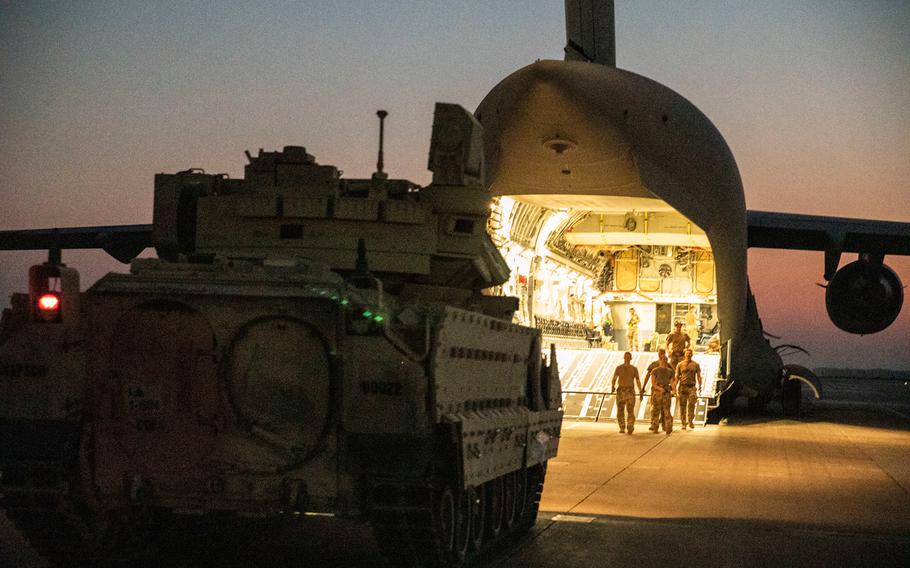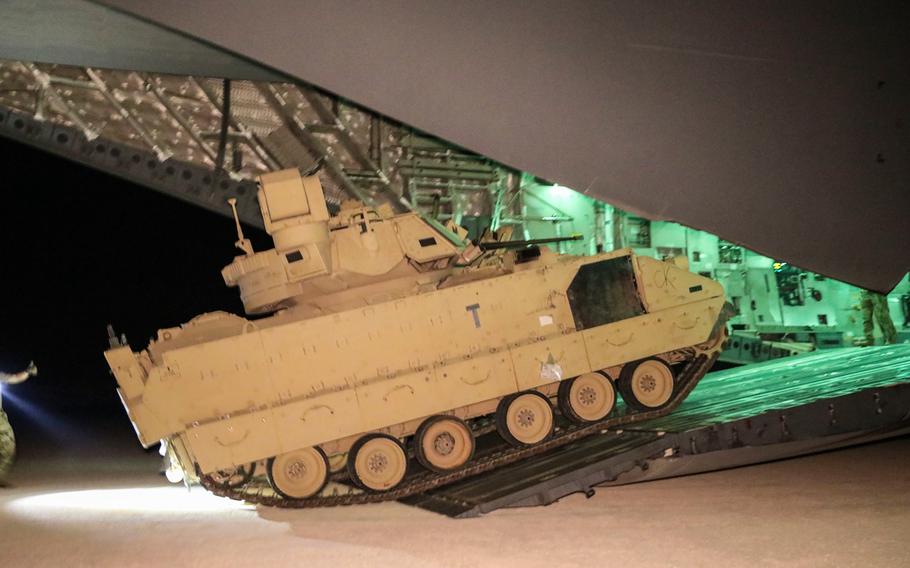 The U.S. is positioning M2A3 Bradley Infantry Fighting Vehicles in eastern Syria to bolster security for troops there nearly four weeks after seven American troops were injured in a crash with a Russian military vehicle there.
The combat vehicles will "ensure the protection of Coalition forces and preserve their freedom of movement" in the fight against the Islamic State, said Col. Wayne Marotto, a spokesman for the U.S.-led Operation Inherent Resolve, in a statement Friday.
"Despite the territorial defeat of ISIS, the degradation of its leadership, and the widespread refutation of its ideology, this violent Islamist extremist group still poses a threat," Marotto said in the statement, posted on Twitter.
Several Pentagon photos showed the Bradleys being offloaded from a C-17 on Friday night in northeastern Syria.
The mechanized forces are from the 2nd Brigade Combat Team, 1st Armored Division, deployed to Kuwait from Fort Bliss, Texas, Inherent Resolve said in a separate statement.
U.S. Central Command has also deployed Sentinel radar and increased the frequency of fighter patrols over U.S. and allied forces in the area, command spokesman Capt. Bill Urban said in an email.
"These actions are a clear demonstration of U.S. resolve to defend Coalition forces in the [Eastern Syria Security Area], and to ensure that they are able to continue their Defeat-ISIS mission without interference," Urban said.
The U.S. statements made no mention of encounters between U.S. and Russian soldiers.
About 500 U.S. troops are serving at austere bases in an area in the country's northeast to aid Syrian Democratic Forces battling ISIS. That's the area where a Russian vehicle hit a coalition vehicle that was on a joint patrol with the SDF on Aug. 25, injuring the American crew. A Russian helicopter also reportedly buzzed low and fast over the area.
Russian officials blamed the Americans for last month's crash, saying the U.S.-led coalition had been notified in advance that a Russian convoy would be passing through the area and that the Americans attempted to block their path.
The incident led to a call between Gen. Mark Milley, the chairman of the Joint Chiefs of Staff, and his counterpart in Moscow, Gen. Valery Gerasimov.
U.S. officials have said for months that coalition troops helping battle ISIS have had near daily contact with Russian troops, who are in the country backing President Bashar Assad's forces in a civil war that began with anti-government protests in 2011.
Last month's crash came after several other reported encounters and stand-offs between the two country's militaries in northeastern Syria, some of them caught on video shared online.
There is another contingent of several hundred Americans further south at Tanf, a remote garrison inside a 55 km deconfliction zone near the borders with Iraq and Jordan.
The deployment of mechanized infantry to northeastern Syria on Friday also comes a little less than a year after the Pentagon sent Bradleys into the country in late October 2019 to assist the largely Kurdish-led SDF in the fight against ISIS, and to provent the terrorists from exploiting the area's oil fields to fill their war chest.
Those Bradleys from the South Carolina Army National Guard were M2A2 variants. The ones airlifted to Syria this week appeared to be the M2A3, a more sophisticated variant, based on photos showing upgrades such as the commander's independent viewer atop the vehicle turret.
Last year's deployment, which military officials in January said lasted less than two months, came after U.S. forces hastily pulled back from the northern border area amid a Turkish military incursion. The withdrawal allowed Russia to expand its influence in the country, critics have said.
"The Defense Department has previously deployed Bradleys to northeast Syria" aimed at protecting coalition forces and continuing the anti-ISIS mission, Urban said. "The United States does not seek conflict with any other nation in Syria, but will defend Coalition forces if necessary."
garland.chad@stripes.com Twitter: @chadgarland