US commander: Afghan forces called in Kunduz airstrike
---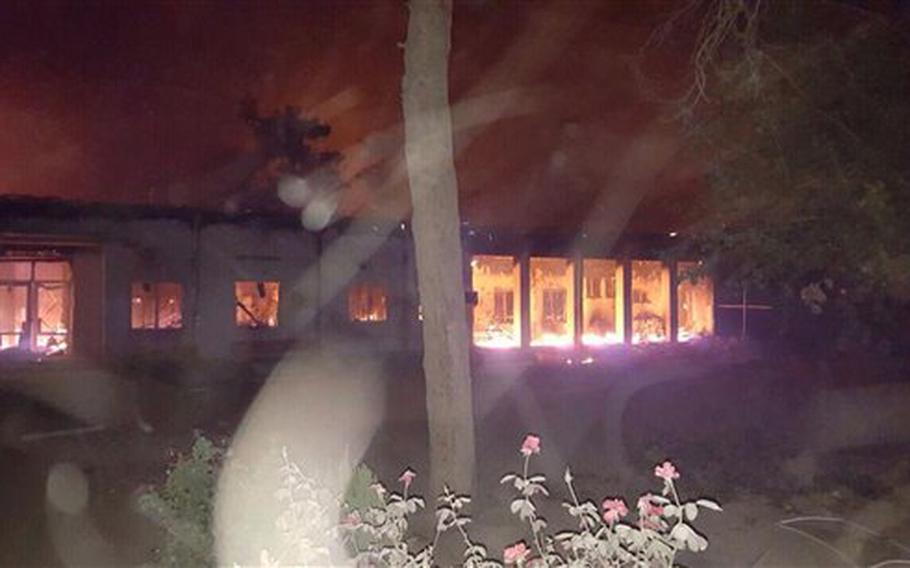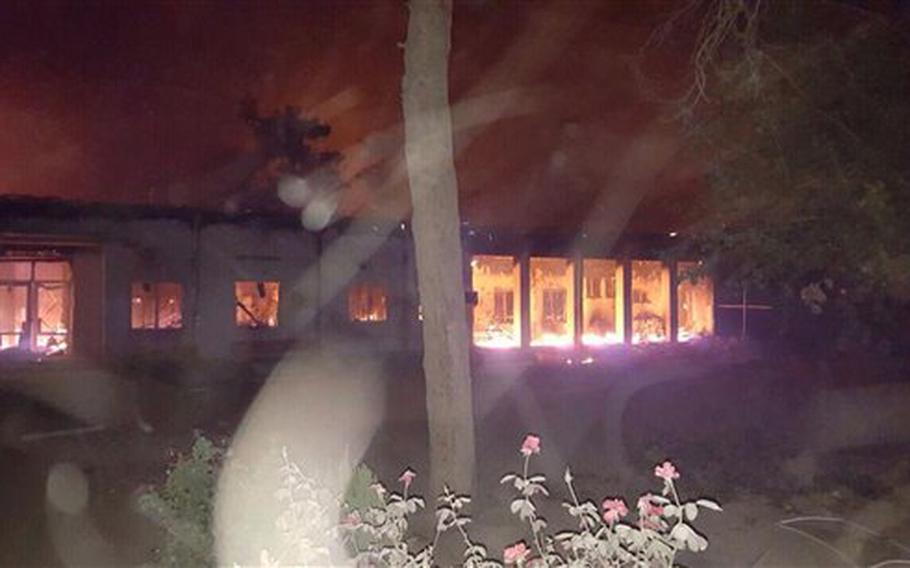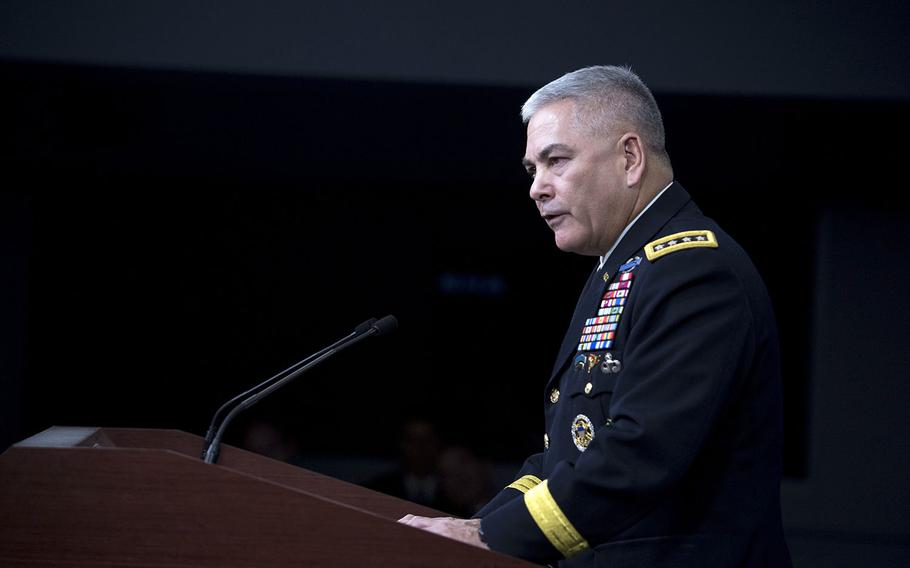 WASHINGTON — Afghan forces requested the airstrike in Kunduz on Saturday that killed 22 at a hospital, Army Gen. John Campbell said Monday, reversing initial reports that U.S. special operations forces were under attack.
Campbell, speaking at a Pentagon news briefing, said the airstrike was intended to aid Afghan security forces battling Taliban fighters, who have entrenched themselves in the northern Afghanistan city since Sept. 28.
Initial reports stated the airstrike was intended to protect U.S. special operations forces under attack. However, the U.S. military-led investigation has determined that was not the case, Campbell said.
"We have now learned that on Oct. 3, Afghan forces advised that they were taking fire from enemy positions and asked for air support from U.S. forces," said Campbell, who is in charge of American and NATO forces in Afghanistan. "An airstrike was then called to eliminate the Taliban threat, and several civilians were accidentally struck."
Defense Secretary Ash Carter said Sunday he would hold personnel accountable if an investigation showed U.S. culpability in the airstrike at the hospital.
"This is a tragic loss of life," said Carter, who is traveling in Europe for five days to work on what a senior defense official described as a "southern strategy" for NATO. "Your hearts can only go out to innocent people caught up in this kind of violence."
But he said the situation was "confused and complicated' and the investigation could take some time.
"But we will get the facts, and we will be full and transparent about sharing them," Carter said.
Citing that investigation, which is in its early stages, Campbell declined to provide specifics about what led to the strike on the medical facility by a U.S. AC-130, a four-engine turboprop plane designed to attack targets on the ground.
The U.S. under most circumstances does not target sensitive sites such as hospitals, mosques and schools. Campbell did not say who authorized the strike or whether the hospital was considered a restricted zone.
The general said he expected a preliminary report in the coming days from the investigating officer, Army Brig. Gen. Richard Kim, who is onsite in Kunduz. That should provide "a very detailed explanation of what we know (and) what we don't know."
Campbell also said NATO and the Afghan government would conduct their own investigations.
Doctors Without Borders, the aid agency known by its French initials MSF that ran the hospital, has repeatedly called for the investigation to be completed by an independent third party. In a statement Monday after Campbell's news conference, Christopher Stokes, the organization's general director, criticized the U.S. for changing its characterization of the bombing and said it was "attempting to pass responsibility to the Afghanistan government."
"The reality is the U.S. dropped those bombs," Stokes said in the statement. "The U.S. hit a huge hospital full of wounded patients and MSF staff. The U.S. military remains responsible for the targets it hits, even though it is part of a coalition. There can be no justification for this horrible attack. With such constant discrepancies in the U.S. and Afghan accounts of what happened, the need for a full transparent independent investigation is ever more critical."
Stokes had called the incident a "war crime" and said the Doctors Without Borders staff reported fighting inside the hospital.
"It is 12 MSF staff members and 10 patients, including three children, who were killed in the attack," Stoke said. "We reiterate that the main hospital building, where medical personnel were caring for patients, was repeatedly and very precisely hit during each aerial raid, while the rest of the compound was left mostly untouched."
Campbell, whose headquarters is in Kabul, was in Washington on Monday to testify before two congressional committees this week. He said the investigation would be "open and transparent."
"If errors were committed, we will acknowledge it," he said. "We will hold those responsible accountable, and we will take steps to make sure those mistakes are not repeated."
Afghan security forces are fighting to remove the Taliban from the city, Campbell said. U.S. advisers are continuing their mission to assist Afghan forces on the ground.
"The Taliban have purposely chosen a fight within a heavily urbanized area, purposely placing civilians in harm's way," Campbell said. "We will continue to take all necessary steps in the future to avoid future civilian casualties."
dickstein.corey@stripes.com Twitter: @CDicksteinDC
---
---
---
---