VIDEO
US and allied forces attack Syrian chemical weapons facilities
by
Corey Dickstein dickstein.corey@stripes.com
April 14, 2018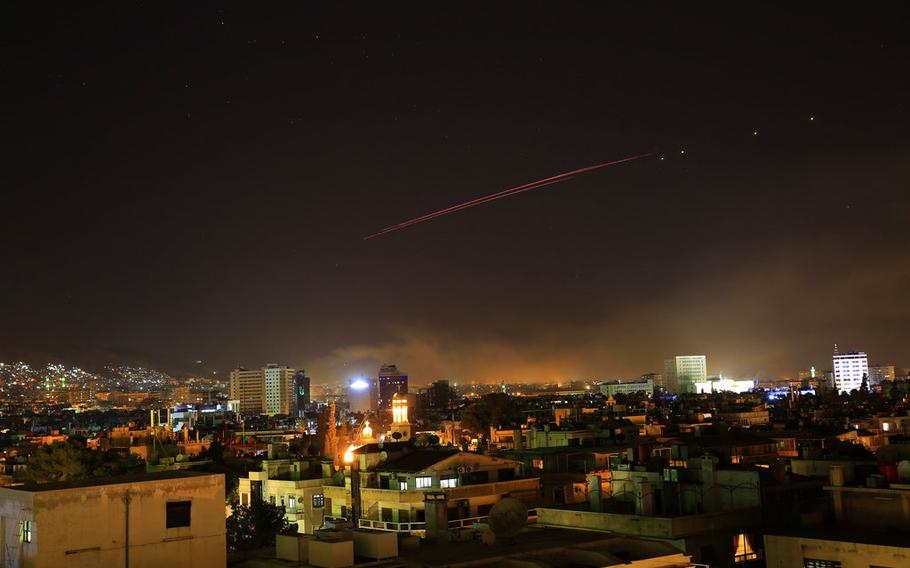 WASHINGTON — U.S. and allied forces bombarded three Syrian chemical weapons facilities late Friday night with more than 100 missiles, an assault launched in retaliation for a recent chemical weapons attack U.S. officials contend was carried out by President Bashar Assad's regime.
President Donald Trump ordered the highly anticipated strikes earlier Friday, after securing support from British and French allies to punish Assad's repeated use of banned chemical weapons against civilians. It was the second time that Trump has ordered limit strikes against the Syrian regime for their use of banned chemical agents.
"This massacre was a significant escalation in a pattern of chemical weapons use by that very terrible regime," Trump said. "The evil and the despicable attack left mothers and fathers, infants and children, thrashing in pain and gasping for air. These are not the actions of a man. They are crimes of a monster, instead."
The U.S., British and French bombs fired from ships and manned warplanes targeted a military research facility near Damascus used to produce and test chemical weapons, a storage facility near Homs, where illegal sarin gas was produced, and a nearby weapons storage facility and command post, Marine Gen. Joseph Dunford, the chairman of the Joint Chiefs of Staff, told reporters at the Pentagon.
Those targets were carefully selected to avoid collateral damage and the risk of hitting Russian or Iranian troops, an act that Dunford and other Pentagon officials worried could draw the United States into a brutal face off with near-peer enemies, the general said.
"Targets that were struck and destroyed were specifically associated with the Syrian regime's chemical weapons program," Dunford said. "We also selected targets that would minimize the risk to innocent civilians."
Dunford said the Syrian military fired surface-to-air missiles as bombs traveled toward their targets. He said he had heard no reports of any damage to U.S. weapons or planes during the attack.
Pentagon officials declined to release detailed information about what units carried out the strikes on Friday, citing security concerns. They were expected to provide more clarity on the operation Saturday morning.
Much like Trump's first strike ordered against Assad's forces last April, Dunford indicated Friday night that this strike was a one-off action. However, he, Defense Secretary Jim Mattis and Trump all indicated the United States and its allies were committed to punishing the Assad regime with more attacks if it uses chemical weapons again.
"The purpose of our actions tonight is to establish a strong deterrent against the production, spread and use of chemical weapons," Trump said. "Establishing this deterrent is a vital national security interest of the United States."
Friday's attack comes just more than a year after the president ordered a one-off strike against a Syrian air field. That attack was also in retaliation for a chemical attack on civilians in a rebel held town by Assad's forces.
The U.S. military on April 7, 2017 launched 59 Tomahawk cruise missiles into Shayrat air base from the guided missile destroyers USS Ross and USS Porter from the Mediterranean Sea.
The U.S. military took special care to avoid hitting any Russian aircraft or personnel in that strike, Pentagon officials said at the time. It resulted in the destruction of some 20 Syrian warplanes and killed seven Syrian troops, U.S. and Syrian officials said at the time.
Friday's attack included "a little over double the number" of weapons than the assault last year, Mattis said.
"It was a heavy strike," he said.
Unlike the 2017 strike when U.S. officials alerted Russia that missiles were incoming, the United States and its allies did not alert Moscow of the impending attack Friday, Dunford said.
In fact, Trump took direct aim at the roles of Russia and Iran in aiding the regime, calling the chemical attack and the retaliatory strikes the "direct result of Russia's failure" to ensure Assad did not use chemical weapons.
"To Iran, and to Russia, I ask: What kind of a nation wants to be associated with the mass murder of innocent men, women, and children?" Trump said. "The nations of the world can be judged by the friends they keep. No nation can succeed in the long run by promoting rogue states, brutal tyrants and murderous dictators."
Assad and his Russian backers have denied responsibility for the April 7 attack, which the World Health Organization concluded killed dozens of people. Russia's Defense Ministry on Friday accused the United Kingdom of staging the attack, according to The Associated Press.
Mattis on Friday said he had seen enough evidence to conclude definitively that Assad's forces were behind the attack. On Thursday, he told lawmakers the United States had not yet reached that conclusion.
"I am confident the Syrian regime conducted a chemical attack on innocent people last week," he said. "Absolutely confident. We have the intelligence level of confidence we need."
But Mattis said the United States had not determined precisely what chemical was used in the attack.
"We are very confident chlorine was used," he said. "We are not ruling out sarin."
Assad has a pattern of denying the use of banned weapons. He denied his military was responsible for the sarin attack last April, but groups including the United Nations and The Hague-based Organisation for the Prohibition of Chemical Weapons concluded his regime was responsible.
In 2013, Assad reached an agreement with former President Barack Obama to turn over his chemical weapons to international bodies and join the Chemical Weapons Convention, an international agreement that prohibits the development, production, acquisition, stockpiling, retention or transfer of chemical weapons. But his regime has been accused multiple times since then of using such weapons.
The United States has largely refrained from interfering in Syria's seven-year civil war. The Pentagon has some 2,000 troops in Syria, but they are focused on fighting the Islamic State in areas in eastern Syria that Assad's government does not control.
On Friday night, Trump, who in recent weeks has mulled the pullout of American troops from Syria, lauded their efforts against ISIS.
"In Syria, the United States with but a small force being used to eliminate what is left of ISIS, is doing what is necessary to protect the American people," he said.
dickstein.corey@stripes.com Twitter: @CDicksteinDC