Two US service members killed in assault on ISIS stronghold in Iraq
---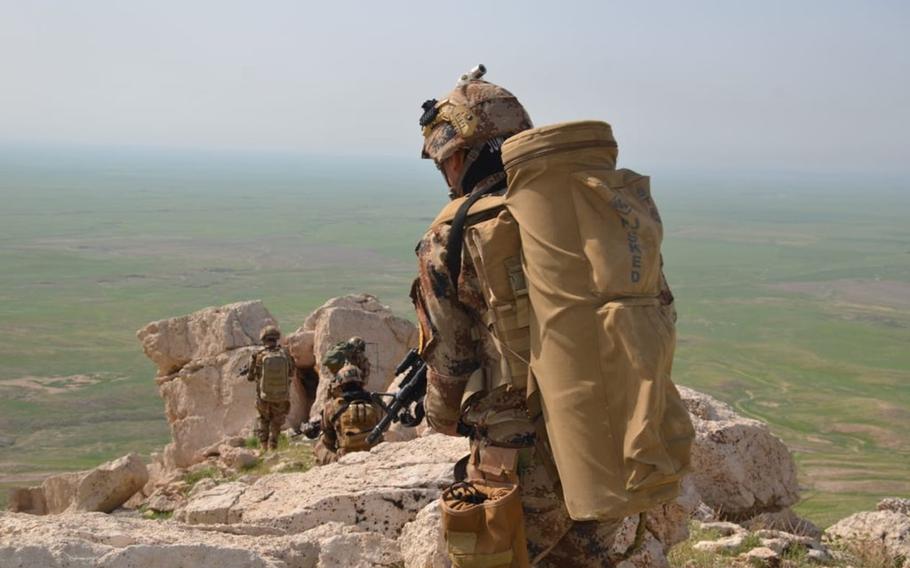 Two U.S. service members were killed during a mission to destroy an Islamic State stronghold in a mountainous area of north-central Iraq, the military said Monday.
They were supporting Iraqi security forces during the operation on Sunday and were killed by enemy forces, the U.S.-led Combined Joint Task Force-Operation Inherent Resolve said in a statement.
ISIS was routed from the swath of territory it controlled in Iraq in December 2018 and from Syria a year ago, but has continued to wage an insurgency in the two countries, where more than 5,000 U.S. troops are deployed to help equip, train and support local partner forces battling the terrorist group.
Iraqi security forces have sought to eliminate ISIS militants who have taken refuge in some of the country's rugged mountain ranges, including the Hamrin and Makhmour mountains west of Kirkuk, where the militants are reported to be training and regrouping.
On Monday, Iraqi Counter-Terrorism Service commandos clashed with militants on Qarah Dagh mountain, part of the Makhmour range, after discovering ISIS tunnels there, the country's security information cell said on Twitter. Several terrorists were killed during the mission, the post said.
Iraqi special operations forces, aided by international coalition aircraft, carried out an air assault in the mountains and destroyed several tunnels, the ICTS said on Twitter Monday in a post that included photos of troops on rocky slopes.
The elite unit was formed with U.S. assistance and its soldiers have been trained and often accompanied into battle by American Green Berets. But it was unclear whether the two Americans were killed in the same assault.
The U.S.-led coalition did not respond immediately to Stars and Stripes' inquiries on the matter, but two unnamed military officials told the New York Times that the Americans were part of a Marine special operations team helping the Iraqis clear a large, well-defended cave complex near Makhmour.
The effort to recover the dead, which took about six hours, required additional coalition troops, who "trekked through mountainous terrain and eliminated four hostile ISIS fighters who were barricaded in the caves," Col. Myles B. Caggins III told the Times in a statement.
The identities and units of the slain American troops were being withheld, pending notification of next of kin, the coalition's initial statement said.
The two American deaths are the first combat fatalities in the country in 2020 and bring to three the number of Americans who have died while deployed as part of the U.S. anti-ISIS coalition in Iraq and Syria this year. Spc. Antonio I. Moore, 22, of Wilmington, N.C., died Jan. 24 during a vehicle rollover accident while conducting route clearance operations in Syria's Deir al-Zour province.
garland.chad@stripes.com Twitter: @chadgarland
---
---
---
---