Trump: More than 8,000 US troops will remain in Afghanistan after peace deal with Taliban
---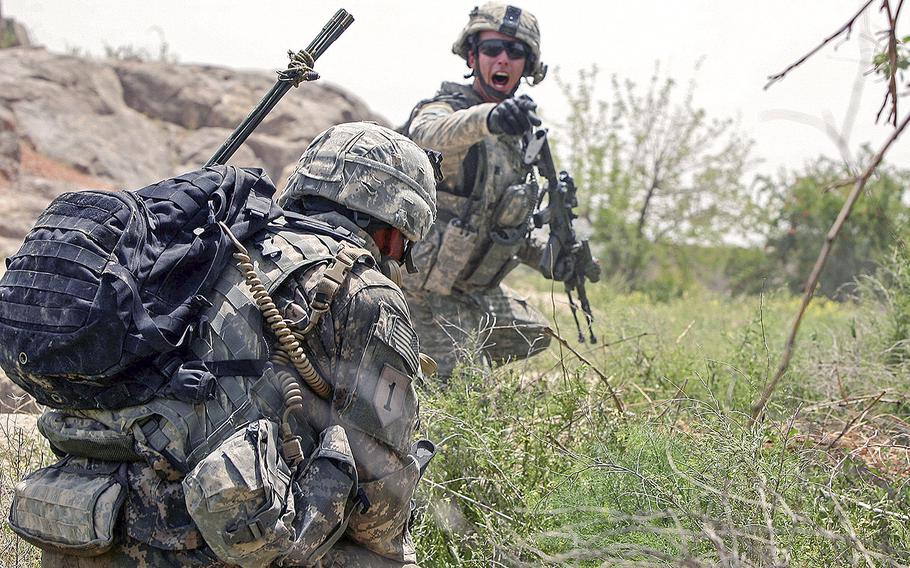 WASHINGTON – President Donald Trump said Thursday that the United States would pull more than 5,000 troops out of Afghanistan once it reaches an accord with the Taliban, though he seemed to rule out a complete withdrawal of American forces from the country's 18-year war.
"We're going to keep a presence there," Trump told Fox News Radio on Thursday morning. "We're reducing that presence very substantially, and we're going to always have a presence. We're going to have high intelligence."
He said the United States would reduce its footprint in Afghanistan – where American troops train and advise Afghan forces and conduct counterterrorism operations – from about 14,000 troops to about 8,600. The Pentagon did not immediately confirm the withdrawal plans, and officials said they were not anticipating such an announcement Thursday.
Trump did not indicate precisely when troops would begin exiting Afghanistan.
The president's statement came just one day after Marine Gen. Joseph Dunford, the chairman of the Joint Chiefs of Staff, told reporters at the Pentagon talks of any withdrawal were premature. The United States' top military officer said removing American forces from Afghanistan would be tied to guarantees of lower levels of violence from the Taliban.
Afghan forces now require American military power to keep from being overwhelmed by the Taliban, Dunford said. However, the general said he was optimistic ongoing U.S.-Taliban negotiations would result in a reduction of violence across the country as well as an agreement for the insurgent group to negotiate a peace deal with the central Afghan government.
Senior State Department and Taliban officials in recent days have indicated the two parties have inched closer to an agreement to end American involvement in the nation's longest war.
"I am not using the withdraw word right now," Dunford said Wednesday during a televised news conference alongside Defense Secretary Mark Esper, the first such briefing held at the Pentagon in a year. "I am using: We're going to make sure that Afghanistan is not a sanctuary (for terrorism) and we're going to try to have an effort to bring peace and stability to Afghanistan."
Trump is a longtime critic of the war in Afghanistan, which top officials have conceded has been stalemated for at least four years. Trump has pledged since he was a candidate in 2016 to bring home American troops. In recent days, he has said any withdrawal would be based on security conditions in the country, but he also decried U.S. forces mission there as a "ridiculous" police operation.
Trump repeated his critique Thursday morning.
"We're not fighting a war over there — we're just policemen," he said. "We could win that war so fast if I wanted to kill 10 million people … but I don't. I'm not looking to kill a big portion of that country."
Nonetheless, 2019 has proven the deadliest year for American troops in Afghanistan since 2014, when former President Barack Obama announced a formal end to the U.S. combat mission there in exchange for a more subdued operations aimed at training and advising Afghan forces. Fourteen American servicemembers have died in combat in Afghanistan this year, including two Green Berets killed last week in a raid on Taliban forces.
Dunford and Esper declined to provide specific details about the ongoing Doha talks, referring questions to the State Department. However, they said until an agreement is reached, the United States would continue to fight the Taliban alongside its Afghan partners.
Their comments came just days after the top State Department official negotiating with the Taliban, Zalmay Khalilzad, strongly denied Taliban-issued statements that the United States could cut ties with the Afghan government as a result of a bilateral agreement between the parties.
"Let me be clear: We will defend Afghan forces now and after any agreement [with] the Talibs," Khalilzad wrote Monday on Twitter. "All sides agree Afghanistan's future will be determined in intra-Afghan negotiations."
The Taliban have publicly denied they are willing to negotiate with the Afghan government, which the group has dismissed as an American puppet regime. However, Khalilzad, Dunford and Esper indicated such dialogue would be a cornerstone of any U.S.-Taliban agreement.
"The key to resolve this conflict is a political agreement" between Afghan factions, Esper said Wednesday. "We're on that path right now."
Dunford, a former top commander in Afghanistan, said his hope is to see peace and prosperity for the Afghan people, even if it means the U.S. mission there continues as it nears the two-decade mark.
He said American concerns in Afghanistan do not end with the Taliban, as terrorist organizations, including al-Qaida and the Islamic State, retain a presence in the country.
The general did not rule out the United States maintaining some level of residual force focused on such terrorist elements even after a peace agreement with the Taliban is reached.
The United States has sought assurances from the Taliban that if the United States were to end its role in Afghanistan, the group would not allow its land to be used to harbor terrorists. The Taliban sheltered al-Qaida terrorists ahead of the 9/11 terrorist attacks, leading to the U.S. military campaign there that began in October 2001.
Dunford pointed to the fact that he led some 144,000 coalition forces in Afghanistan when he was the top general there from 2013 to 2014, while today some 22,000 international forces are supporting Afghan troops as an indication force strength changes over time.
"One thing I am sure of – in the future our posture is going to adjust," he said Wednesday.
dickstein.corey@stripes.com Twitter: @CDicksteinDC
---
---
---
---