Three-day cease-fire begins in Afghanistan
by
Phillip Walter Wellman
July 31, 2020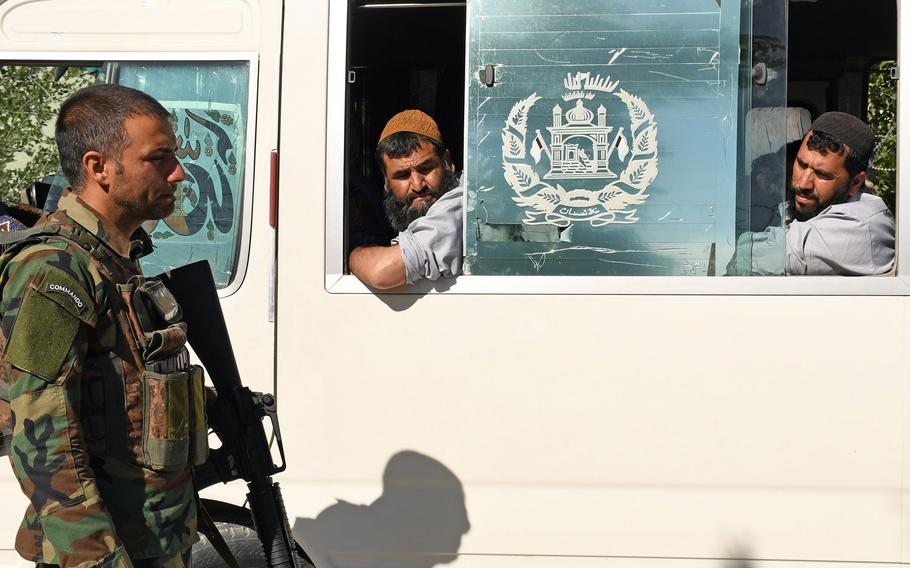 KABUL, Afghanistan — The Taliban and Afghan government forces began a three-day cease-fire Friday, pausing violence that's persisted since the U.S. signed a peace deal with the insurgents earlier this year.
Both sides agreed not to conduct offensive operations to mark the Islamic holiday of Eid al-Adha but would fight back if they were attacked, they said.
Violence has "stayed well above historic norms" in recent months, with the Taliban attacking government forces in a bid to push Kabul past its breaking point, the Special Inspector General for Afghanistan Reconstruction said in a report Friday.
The group perceives the bloodshed to be "within bounds" of the U.S.-Taliban agreement, "probably to encourage a U.S. troop withdrawal and set favorable conditions for a post-withdrawal Afghanistan," a Defense Department assessment referenced in SIGAR's report said.
More than 3,500 government forces have been killed since the U.S.-Taliban deal was inked on Feb. 29 in Qatar, Afghan President Ashraf Ghani said Tuesday. No American troops in Afghanistan have been killed in combat during that time.
The deal paves the way for all international forces to leave Afghanistan by mid-2021 if certain conditions are met, including the Taliban preventing terror groups like al-Qaida from operating in the country, and the beginning of peace talks between the insurgents and the government.
While the deal does not explicitly prohibit the Taliban from attacking Afghan forces, the group made a verbal promise to reduce violence by 80%, which it hasn't kept, U.S. Forces-Afghanistan spokesman Army Col. Sonny Leggett said in May.
Officials had been optimistic in March that a permanent cease-fire could be reached at intra-Afghan talks, but that goal has faced several setbacks.
The biggest hurdle has been a dispute over the release of prisoners. The Taliban have demanded 5,000 specific fighters be freed in exchange for 1,000 government and military detainees.
In a speech Friday, Ghani said his government was still not yet ready to release the 400 remaining Taliban inmates, who are accused of "serious crimes." However, he said he would hold a meeting with a council of elders "shortly" to determine whether the prisoners should be freed.
The comments came after Ghani earlier this week sparked optimism when he said talks with the Taliban could start "within a week's time."
The cease-fire that began Friday was first announced by the Taliban and quickly welcomed by the government. It follows a similar three-day truce in May.
In a tweet Wednesday, U.S. peace envoy Zalmay Khalilzad welcomed the latest pause in bloodshed, saying "our hope is this Eid brings all Afghans together in understanding & mutual respect and one step closer to a sustainable peace."
wellman.phillip@stripes.com Twitter: @pwwellman