Taliban release Kyrgyz chopper crewman
by
Heath Druzin druzin.heath@stripes.com
June 11, 2013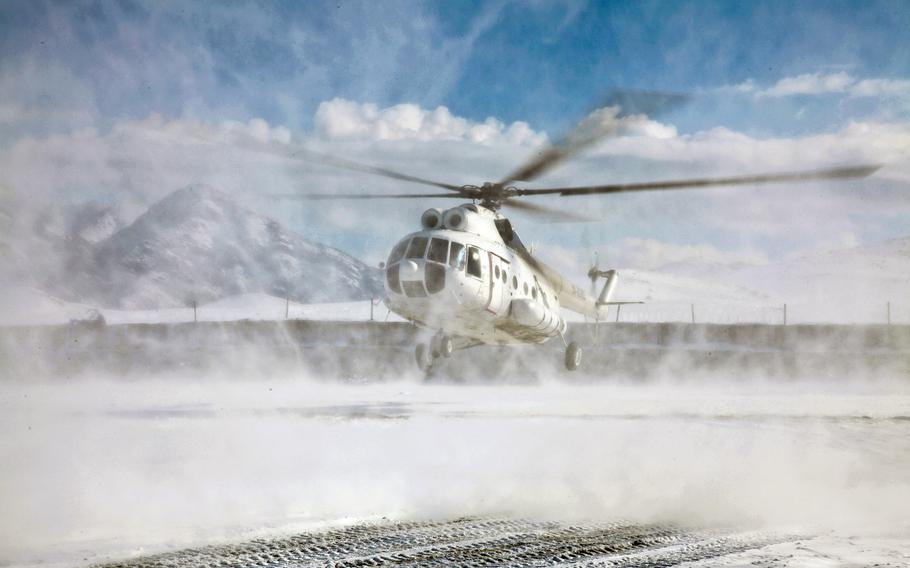 The Taliban released a Kyrgyz man who was captured in April with nine other foreigners and an Afghan translator when their helicopter made an emergency landing in eastern Afghanistan.
The Taliban have released all but two of the hostages they took after the Russian Mi-8 helicopter landed in bad weather in a Taliban stronghold of Logar province on April 21. They previously released all eight Turks being held, calling it a gesture of friendship toward a fellow Muslim nation.
Taliban spokesman Zabiullah Mujahid said the group is still deciding the fate of the last two captives, the Russian pilot and the Afghan translator.
The helicopter was operated by the Afghan company Khorasan Cargo Airlines and was taking construction materials from Khost province, in eastern Afghanistan, to Kabul when it made the emergency landing. Like many civilian helicopters, it did not fly with security, according to a company official. Khorasan, which operates Russian-built Mi-8 and Mi-17 helicopters, flies troops and cargo as well as offering medevac and civilian transport services.
ISAF relies heavily on contracted helicopters and planes to ferry troops and freight around Afghanistan.
Zubair Babakarkhail contributed to this report.
druzin.heath@stripes.comTwitter: @Druzin_Stripes
---
---
---
---