Taliban captures foreigners after weather forces helicopter down
By
Zubair Babakarkhail Heath Druzin druzin.heath@stripes.com
April 22, 2013
---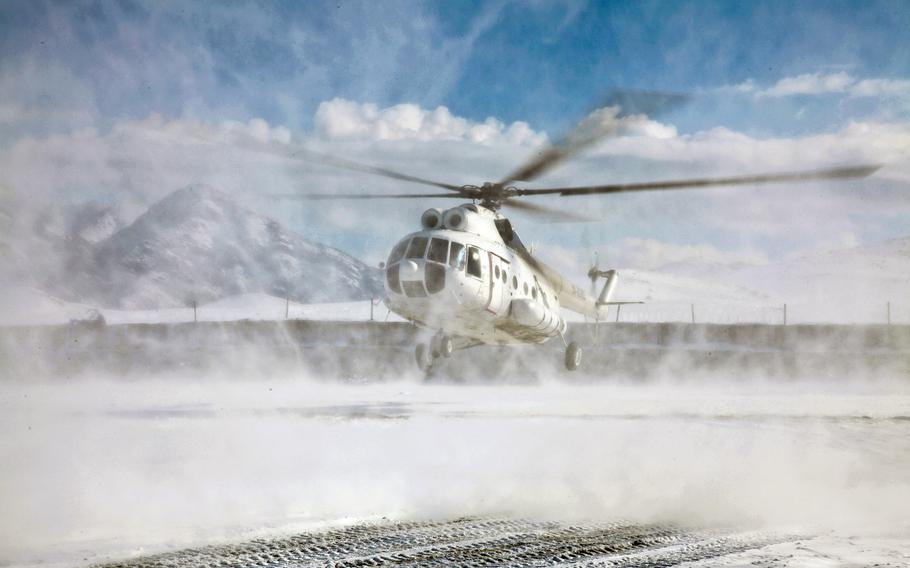 KABUL — Eleven people, including 10 foreigners, have been captured by the Taliban after their helicopter was forced to land in bad weather in a volatile province of eastern Afghanistan, Afghan and Turkish officials said.
The chopper, a Russian Mil Mi-8 operated by the Afghan company Khorasan Cargo Airlines, was carrying eight Turks, two Russians and one Afghan when it had to make an emergency landing Sunday in Azra district of Logar province, officials said.
The crew had the misfortune of landing next to a former medical clinic that is now being used by the Taliban as a military outpost, according to Logar Provincial Council member Dr. Abdul Wali Wakil, who is from Azra district.
A Taliban spokesman said 11 people aboard the helicopter were captured, but said all but two Afghan translators were American soldiers. A spokesman for the NATO-led International Security Assistance Force in Afghanistan said there were no coalition soldiers nor Americans onboard.
Wakil said he and other provincial representatives are working with tribal leaders to negotiate for the hostages' release and warned that it was not the time for military action. He said the Taliban are strong in the area and that no other insurgent groups operate there.
"The Taliban took them to the mountains," Wakil said. "Right now, we are seriously looking into this issue because we are afraid if a military action is taken, maybe it will have negative results, maybe civilian casualties or damage."
Wakil said the helicopter is still on the ground where it landed and appears undamaged.
Asked about the incident at a news conference, ISAF spokesman Gen. Gunter Katz said ISAF was assisting Afghan forces in their response to the incident. Another spokesman said ISAF troops were assisting in the recovery of the helicopter.
The Khorasan company spokesman said everyone onboard was a civilian and that the helicopter was carrying construction materials from Khost province, in eastern Afghanistan, to Kabul. He said the helicopter did not fly with security.
ISAF relies heavily on contracted helicopters and planes to ferry troops and goods around Afghanistan.
The Mi-8 family of medium-lift helicopters has been in service in Afghanistan for decades and is still widely used by both the Afghan security forces and civilian contractors and relief agencies operating in the country. The choppers are popular with pilots and maintenance crews for their good high-altitude performance and their ease of maintenance compared to most Western models.
Stars and Stripes reporter John Vandiver contributed to this report.
---
---
---
---