Taliban attack targets trucks carrying NATO gear from Afghanistan
---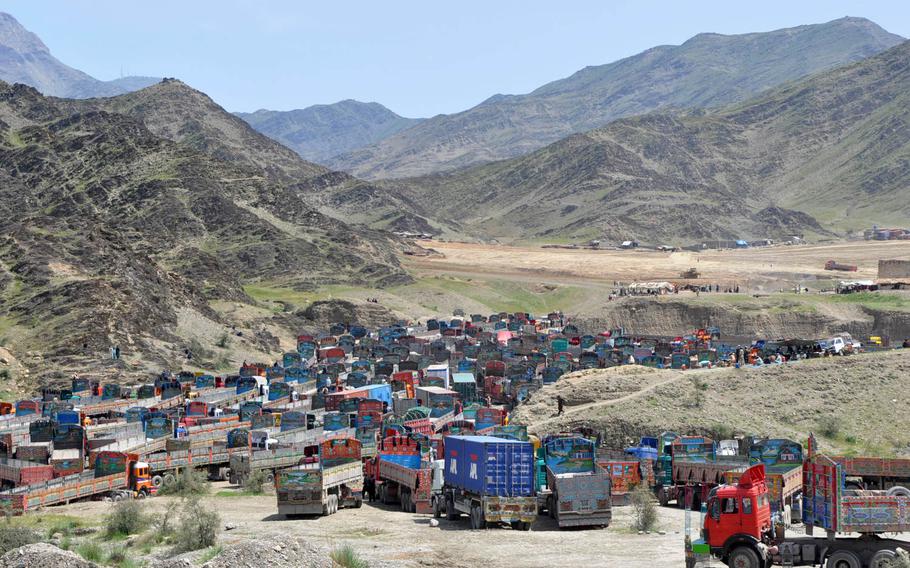 KABUL — Three suicide bombers touched off a battle on the Afghanistan-Pakistan border Thursday that destroyed dozens of trucks carrying NATO military gear out of the country, Afghan officials said.
Insurgents attacked a parking lot at a busy border crossing in Nangarhar province just before 5 a.m., placing magnetic bombs on trucks carrying military vehicles out of the country, according to Ahmad Zia Abdulzai, spokesman for the Nangarhar provincial government. The attack sparked an hours-long gun battle, leaving all three attackers dead and three truck drivers injured.
The trucks were attacked near the Torkham border crossing in eastern Afghanistan, a major transit point for military gear headed out of the country to the Port of Karachi in Pakistan. The attack comes one day after a fuel tanker was blown up on a road in eastern Afghanistan, leaving two civilians dead and six more injured.
The Taliban, who often exaggerate the effect of their operations, claimed responsibility for Thursday's attack, saying they destroyed nearly 50 trucks and more than 90 military vehicles.
Afghan trucking officials have complained that the roads have gotten more dangerous for their drivers in the past year, as the NATO-led International Security Assistance Force (ISAF) pulls troops and materiel from the country ahead of the Dec. 31 deadline for all foreign combat troops to leave Afghanistan.
The attack comes at a time of uncertainty for Afghanistan.
Zubair Babakarkhail contributed to this report
druzin.heath@stripes.com Twitter: @Druzin_Stripes
---
---
---
---