Suspected German national caught with Taliban in Helmand province
by
PHILLIP WALTER WELLMAN
March 1, 2018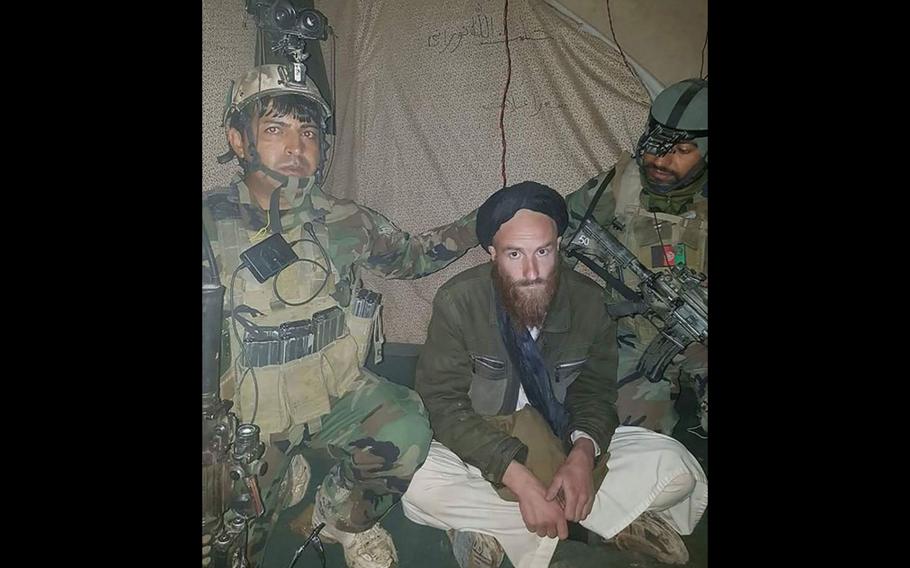 KABUL, Afghanistan — A man believed to be a German national is being questioned at Kandahar Air Field after being caught with a group of Taliban fighters in Afghanistan's restive southern Helmand province, officials said Thursday.
Afghan forces detained the man and three insurgents during a night raid earlier this week in Gereshk district, said Defense Ministry spokesman Gen. Dawlat Waziri. He said weapons, ammunition and four vehicles were also seized.
The man identified himself as German and could not speak Pashto, the local language, or Dari, which is also spoken in Afghanistan, a spokesman for the Afghan army's 215 Corps told Stars and Stripes.
"He said his name is Abdul Wadood," Maj. Abdul Qadir Bahadorzia said. "We have sent him to Kandahar."
NATO's Resolute Support mission said that U.S. forces were involved in advising Afghan forces on the situation but that "the individual currently remains in Afghan custody."
The man did not have any identification when he was arrested, Bahadorzia said, and officials at the German Embassy in Kabul were unable to confirm whether he was German.
Germany's Die Welt newspaper reported that the man could be "Thomas K.," a radical Islamist convert originally from Rheinland-Pfalz. The German province is home to about 50,000 U.S. military personnel and family members, the majority of whom live near Ramstein Air Base.
According to the paper, Thomas K. was radicalized in 2009 and left Germany in 2013. In 2014, Germany's federal police warned that he could carry out attacks in Afghanistan.
Photos purported to be of the detainee, which are circulating on social media, show a Western-looking man with a long beard wearing a black turban.
While foreign nationals are believed to be working with the Taliban, Western fighters are extremely rare.
Marcus Kloeckner and Zubair Babakarkhail contributed to this report.
wellman.phillip@stripes.com Twitter: @pwwellman