Suicide bombing in Kabul kills dozens, destroys shops
---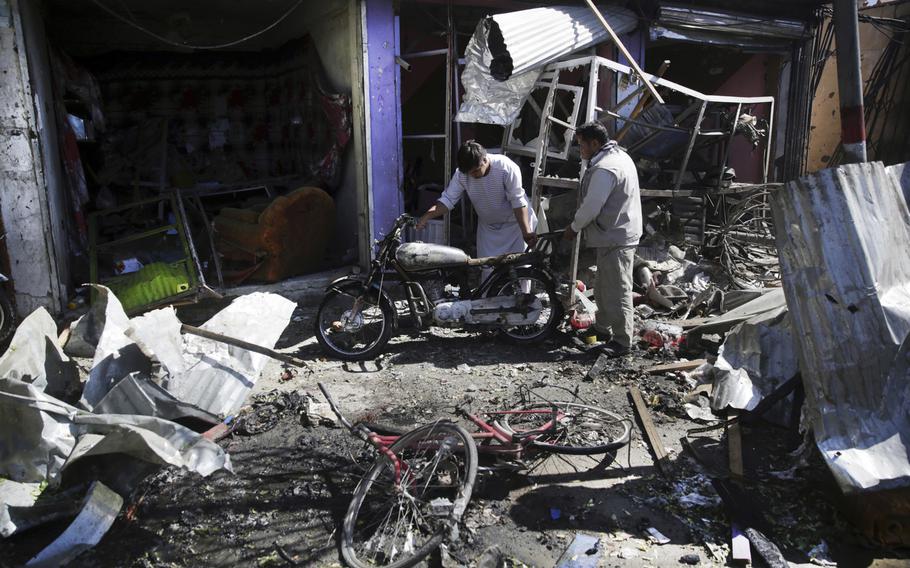 KABUL, Afghanistan — At least 24 people died and more than 40 were wounded when a suicide car bomb exploded here during Monday morning rush hour, government officials said.
The Taliban claimed responsibility for the attack, which occurred in a western area of the Afghan capital where several prominent politicians live.
The militants said that they targeted a bus used by the national intelligence agency's staff, but officials said no vehicle belonging to the agency was in the area and that most of the victims had no government affiliation.
The blast occurred near a private university and destroyed a vehicle rented by employees of the Mines and Petroleum Ministry, Abdul Qadir Mufti, a spokesman for the ministry said.
Fifteen people from the ministry were killed in the attack and another four were injured, Mufti said.
Najib Danish, spokesman for the Interior Ministry, said motorists, pedestrians and shop owners made up most of the casualties.
"The Taliban are not only the enemies of the security forces; they are also the enimies of the Afghan people," Danish said. "They continue to carry out many attacks, which only harm civilians."
Local media, citing unnamed sources, said the death toll could be higher than 30.
The U.S. Embassy in Kabul condemned the attack, saying it showed "blatant disrespect for human life and the rights of all Afghans to live peacefully and free from terror."
Pakistan and the European Union also issued statements of condemnation.
In the past year, the insurgents have increasingly targeted state employees and other officials deemed loyal to the government, whom they see as legitimate targets.
People on Twitter described hearing a deafening blast that shattered windows just before 7 a.m. on Monday. Officials said over a dozen local shops and several civilian vehicles were also destroyed.
The area where the blast hit is home to former warlord and government Deputy Chief Executive Mohammad Mohaqiq, who is a leader of the minority Hazara ethnic group. Many other Hazaras live in the area.
Monday's bombing came after the Taliban seized two districts from Afghan forces in Faryab and Ghor provinces over the weekend. Taliban spokesman Zabihullah Mujahid told Stars and Stripes that the militants were trying to attack "everywhere in the country now."
On Sunday, Taliban fighters stormed a hospital in Ghor, reportedly looking for wounded members of the security forces, and killed patients and staff, NATO's Resolute Support mission said.
The Ghor and Kabul incidents "only serve to strengthen the resolve of the international community to support the Afghan people in the face of these terrorist attacks," NATO said in a statement.
Kabul, which has historically been one of the safest places in Afghanistan, accounted for 20 percent of a record 1,662 civilian deaths documented in the country by the United Nations during the first half of the year. A recent U.N. report highlighted signs of a deteriorating security situation, more than 15 years after a U.S.-led invasion ousted the Taliban from power.
---
---
---
---