Suicide bomber kills three near Afghan commando base in Kabul the day after US general's visit
by
J.P. Lawrence
April 29, 2020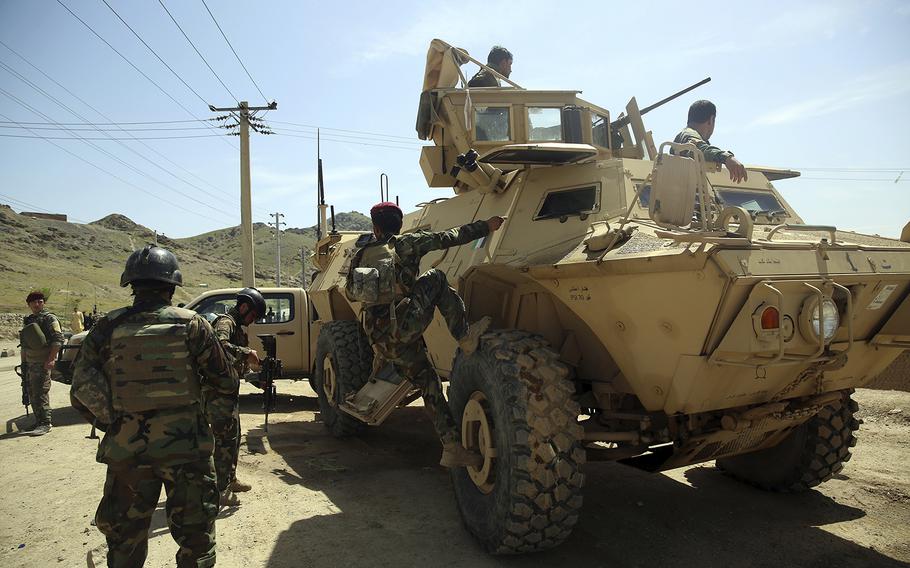 KABUL, Afghanistan — Three people were killed and 15 injured in a suicide bombing near a base housing U.S.-trained commandos in Kabul Wednesday, a day after the top American general in Afghanistan visited the facility and called for less violence in the country.
No commandos were hurt in the attack, which happened near a graveyard about 600 feet from the base, said Ghafar Nooristani, a spokesman for the Afghan Special Operations Corps.
"The target might have been the military base, but instead the attack killed civilians," interior ministry spokesman Tariq Arian told Stars and Stripes.
The commando base is about 10 miles southwest of the U.S. Embassy and Headquarters Resolute Support, the main American base in Kabul.
Gen. Scott Miller, commander of NATO and U.S. forces in Afghanistan, during a visit to the commando base Tuesday with Afghan Defense Minister Gen. Assadullah Khalid, warned the Taliban to reduce the violence they have been blamed for around the country, or face consequences.
"If the Taliban continues attacks, then what they should expect is a response," Miller said. "We need them to reduce the violence and … give political leadership on all sides an opportunity to determine the peaceful way forward."
In a separate attack hours later, three civilians were injured when a bomb attached to a vehicle exploded in a Kabul neighborhood about one mile northeast of the U.S. Embassy, police spokesman Ferdous Faramarz said.
None of the armed groups that operate in and around Kabul, including the Taliban and the Islamic State group, immediately claimed responsibility for either attack.
Violence in Afghanistan soared last month, a U.N. report said Monday. The "acceleration of violence" came despite the deal signed by the U.S. and Taliban on Feb. 29, which was intended to pave the way for talks between the insurgents and government and lead to the withdrawal of U.S. and other foreign forces by mid-2021, to bring peace to the country. The report blamed the Taliban for four in 10 attacks in Afghanistan during the first quarter of the year.
The Taliban last week rejected calls for a cease-fire during the Muslim holy month of Ramadan, despite warnings from U.S. and Afghan officials that the coronavirus outbreak in the country would worsen if violence is allowed to continue.
Zubair Babakarkhail contributed to this report.
lawrence.jp@stripes.com Twitter: @jplawrence3