State Department orders evacuation of non-emergency US government employees from Iraq
---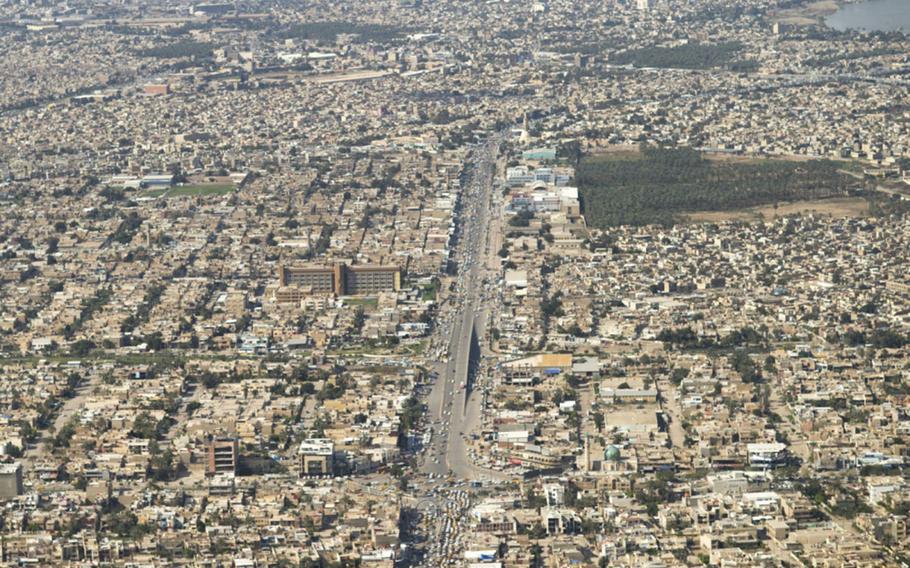 Government employees at the U.S. Embassy in Baghdad and its consulate in Irbil began leaving Iraq following Secretary of State Mike Pompeo's "ordered departure" of nonemergency personnel Wednesday.
Employees were told to "depart Iraq by commercial transportation as soon as possible" and avoid U.S. facilities in the country, a security message posted on the embassy website and distributed via email said.
The departure order was prompted by what U.S. officials have described in recent days as intelligence indicating Iran or its proxy forces were planning attacks on U.S. forces or interests in the region, State Department officials said.
"Given the increased threat stream we are seeing in Iraq, which we shared with the Iraqi government during [Pompeo's] visit on May 7 and in subsequent engagements, the secretary has decided to place Mission Iraq on ordered departure," an embassy spokesperson in Baghdad said by phone, reading prepared language about the matter.
The official declined to discuss the number of employees affected by the order but said they had already begun to depart. The State Department mission in Iraq will have limited ability to provide routine and emergency services for Americans, officials have said, and normal visa services were temporarily halted at both the Baghdad and Irbil posts.
The U.S. Consulate in Basra was evacuated last fall, following what Pompeo described in September as "repeated incidents of indirect fire" from Shiite militias with ties to Iran. Operations there remain suspended, the embassy spokesperson said. Earlier this week, the embassy had warned U.S. citizens in the country to "remain vigilant" and avoid places where Americans were known to gather.
The State Department's ordinary process following an ordered departure calls for a review of the situation every 30 days and a final determination after six months, the embassy spokesperson said.
For more than a week, U.S. officials have said that there is an elevated threat level facing U.S. troops deployed in Iraq and Syria, primarily emanating from Iranian-controlled Shiite militias. U.S. officials have also reportedly observed Iranian-controlled vessels in the Persian Gulf transporting military hardware including missiles.
U.S. Central Command increased its force posture level for the anti-Islamic State coalition in Iraq and Syria and is at a "high level of alert as we continue to closely monitor credible and possibly imminent threats to us forces in Iraq," Navy Capt. Bill Urban, a spokesman, said in a statement Tuesday.
German troops had suspended training of Iraqi forces in the country, Germany's ARD TV channel reported Wednesday.
German Defense Ministry spokesman Jens Flosdorff said Germany was "orienting itself toward our partner countries" though there are "no concrete warnings of attacks against German targets," The Associated Press reported.
Dutch state broadcaster NOS said the Netherlands halted its 50-person military mission training troops in northern Iraq's Kurdistan region "until further orders," quoting a Defense Ministry spokesman as saying he couldn't elaborate on the threats.
Last week, the U.S. sent a bomber group to the Middle East and expedited the USS Abraham Lincoln Carrier Strike Group's transit toward the Persian Gulf in response to the intelligence reports. The U.S. is also sending a Patriot missile battery to the region and directing an amphibious warship carrying Marines, landing boats and helicopters to Central Command waters.
Trump administration officials have also reportedly discussed updated plans that would involve sending 120,000 troops to the region in the event U.S. troops were attacked by Iran-backed forces or the country restarted its nuclear program. President Donald Trump dismissed the report as "fake news," but said he "absolutely" would do that, possibly with more troops.
Trump's administration has steadily increased pressure over the past year since withdrawing from the Obama administration's deal with Iran to halt its nuclear program, a move that reimposed harsh sanctions on the country, which the U.S. views as a sponsor of terrorism in the region.
In the past few weeks, the U.S. has declared Iran's Revolutionary Guard Corps a terrorist organization and stepped up economic pressure by ending waivers from sanctions for major importers of Iranian oil.
Iran has responded by stating it would restart its nuclear program if a new agreement isn't reached. It's also called U.S. troops terrorists and threatened to close the Strait of Hormuz, a strategic energy choke point through which millions of barrels of oil pass each day.
The United States plans to continue its pressure campaign until Iran's leadership "is prepared to return to the ranks of responsible nations that do not threaten their neighbors or spread instability or terror," Pompeo told reporters in Sochi, Russia on Tuesday, speaking about his discussions with Russian Foreign Minister Sergey Lavrov.
Officials in Europe have expressed skepticism about the reported increased threats and have warned the escalations could accidentally spark a military conflict. Both the U.S. and Iran have said they do not want war.
Iranian officials, meanwhile, have said publicly they believe the U.S. efforts will backfire.
"Their plots have usually bounced back at them and ended up being harmful to themselves both politics and securitywise," Iran's supreme leader Ayatollah Ali Khamenei told a meeting of his government's senior officials on Tuesday night, state media reported.
In the same speech, Khamenei also said it wouldn't be difficult for the country to enrich uranium to weapons-grade levels beyond what is allowed by the current nuclear deal, which only the U.S. has backed out of, AP reported. But, he said, "no one is seeking war."
---
---
---
---