Soldier missing, 5 rescued after Black Hawk crash off Yemen coast
by
Chad Garland
August 26, 2017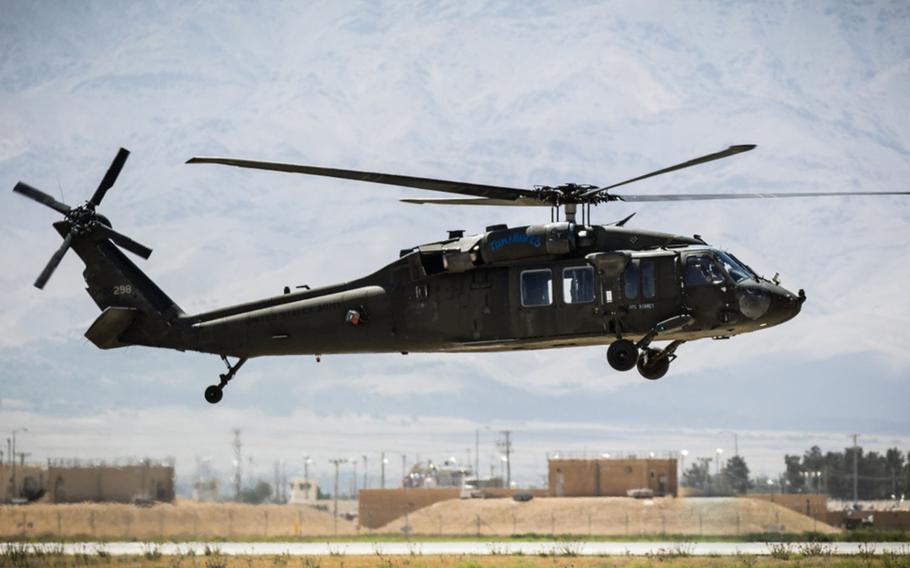 A search is underway for a missing U.S. soldier after an Army Black Hawk helicopter crashed Friday while training off the coast of Yemen, U.S. Central Command said Saturday.
Five others aboard the aircraft were rescued by U.S. forces immediately after the crash, which took place approximately 20 miles off Yemen's southern coast, Central Command said in a statement.
It's unclear what caused the crash, which occurred around 7 p.m. local time, and Central Command said was investigating the incident. Officials did not release the identities of the troops or units involved in the crash, but in an email to Stars and Stripes, a spokesman said it was an Army helicopter and crew.
"This aircraft was based and launched from an overseas location [in support of] U.S. Central Command operations," the email said, declining to name the location due to operational concerns. "U.S. forces were conducting routine helicopter training in order to maintain proficiency within the operational environment."
The U.S. military's Horn of Africa operations are based less than 100 miles across the sea from Yemen's southern coast in Djibouti's capital city, and a small contingent of U.S. forces are also reportedly based in Yemen's port city of Mukalla on the southern coast of the Arabian Peninsula to support operations against an al-Qaida affiliate in the country.
U.S. special operations forces have also conducted ground raids this year, including a controversial operation in late January, one of the first authorized by President Donald Trump, in which Navy SEAL Chief Petty Officer William Owens was killed and an MV-22 Osprey was destroyed. Children were also among the casualties.
Known as al-Qaida in the Arabian Peninsula, the group rose to prominence in 2009 and has taken advantage of a civil war in Yemen to increase its influence in the region.
For more than two years, Yemen's Saudi-backed government forces—with U.S. support and munitions—have been pitted against Iranian-backed Houthi rebels, leading to a devastating humanitarian crisis. In February 2015, fighting forced the suspension of the U.S. Embassy's operations in Sanaa, the Yemeni capital, when the city was taken by Houthis, and the following month U.S. troops who had been conducting counterterrorism operations withdrew from Al Anad airbase in the southern Yemeni city of Aden.
So far this year, the Pentagon has launched more than 80 airstrikes targeting the terrorist group, which has used the instability and conflict in Yemen to carve out territory to train its fighters.
The group is al-Qaida's second largest affiliate and perhaps its most dangerous, U.S. defense officials speaking on condition of anonymity told reporters in a briefing earlier this year. It has claimed responsibility for high-profile attacks in Europe and the U.S., including a 2009 shooting at a Little Rock, Ark., recruiting center.
A small number of U.S. troops were on the ground in Yemen earlier this month to provide "intelligence sharing" with government forces battling al-Qaida loyalists there, the Washington Post reported. The U.S. was also providing midair refueling and overhead reconnaissance support.
Asked if the crash involved another special operations raid, Central Command told The Associated Press that "this was a routine training event specifically for U.S. military personnel."
The crash comes a little more than a week after a U.S. Army Black Hawk helicopter crashed off the coast of Hawaii during training. A search for the five crew members missing in that crash was later suspended.
Also this month, a Marine Corps MV-22 Osprey crashed off the coast of Australia. The Marine Corps announced Friday it had recovered the bodies of three Marines killed in that crash.
Twitter: @chadgarland
---
---
---
---