Several US troops in Syria injured in encounter with Russian military convoy
by
Caitlin M. Kenney
August 26, 2020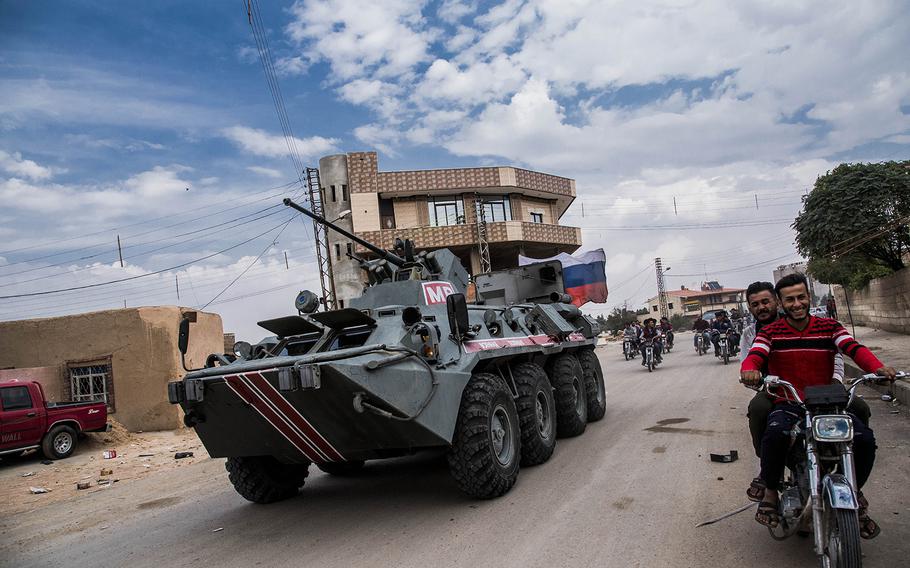 WASHINGTON— Several American troops were injured Tuesday during an altercation with a Russian military convoy in Syria, according to U.S. officials.
During a routine security patrol in northeast Syria, troops with the Defeat-ISIS Coalition encountered a Russian military patrol near Dayrick, John Ullyot, a spokesman for the National Security Council, said Wednesday in a statement. At one point, a Russian vehicle hit a coalition vehicle, which caused injuries to the crew.
Ullyot did not specify who was injured in the vehicle, though CNN reported that as many as four U.S. service members suffered "concussion-like injuries."
The coalition patrol left the area after the encounter with Russian forces to avoid escalating the situation, according to the National Security Council statement.
A Russian military helicopter also flew low and fast over the area in a tactic that is often used by military forces to try to disperse personnel on the ground, U.S. officials told CNN.
"Unsafe and unprofessional actions like this represent a breach of de-confliction protocols committed to by the United States and Russia in December 2019," Ullyot said in the statement. "The coalition and the United States do not seek escalation with any national military forces, but U.S. forces always retain the inherent right and obligation to defend themselves from hostile acts."
One U.S. official told CNN that Tuesday's incident occurred in the established security zone in eastern Syria where U.S. and Syrian Democratic Forces regularly operate and added the Russians are aware they are obligated to notify U.S. troops in the area of their operations.
U.S. military personnel in Syria have found themselves operating in close proximity to Russian troops who are backing the Syrian regime, but this is believed to be the first time U.S. troops have been injured in an encounter with Russian forces, CNN reported.
U.S. Central Command on Wednesday referred a request for information about the incident to the Pentagon. Officials at the Pentagon only forwarded Ullyot's statement, providing no further details about the incident.
Gen. Mark Milley, the chairman of the Joint Chiefs of Staff, spoke on the phone Wednesday with his Russian counterpart Gen. Valery Gerasimov, however they agreed to keep details of their discussion private "in accordance with past practice," Col. DeDe Halfhill, a spokeswoman for the Joint Staff, said in a statement.
About 500 U.S. service members are in northeastern Syria fighting alongside Syrian Democratic Forces against the remnants of the Islamic State in the country to prevent the reemergence of the terrorist organization, according to news reports.
Kenney.Caitlin@stripes.com Twitter: @caitlinmkenney