Rising violence could further stall peace talks, Afghan top official says
by
Phillip Walter Wellman
June 25, 2020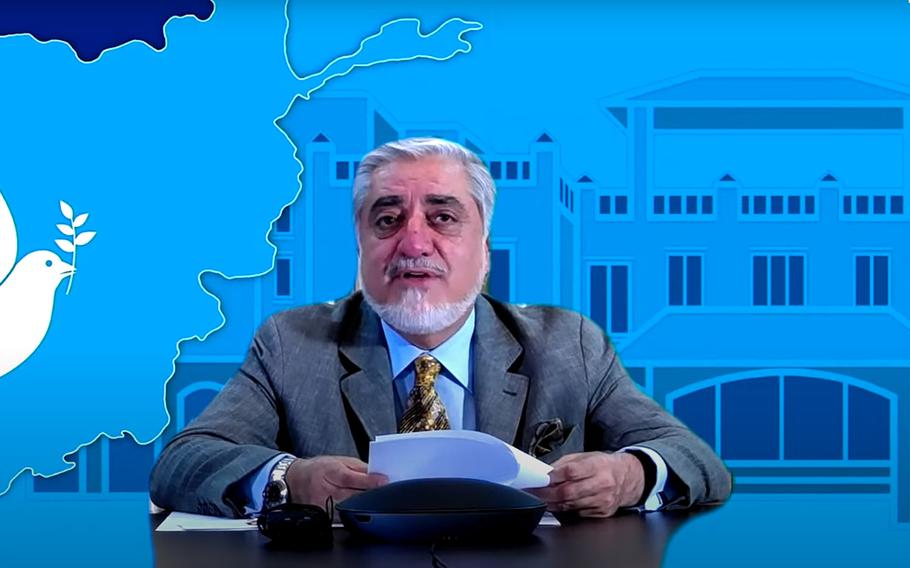 KABUL, Afghanistan — Peace talks with the Taliban are unlikely to start if violence remains high throughout Afghanistan, the head of the country's reconciliation team said this week.
Escalating violence remains "a serious challenge," said Abdullah Abdullah, chairman of Kabul's High Council for National Reconciliation, in an online video conference Wednesday.
"The continuing level of violence, which is not justified at all, it makes the people worry and extremely concerned," he said. "That makes the political environment very difficult. I hope everybody gets that message."
The start of Afghan-Taliban negotiations is a requirement for withdrawal of American and allied forces from Afghanistan under a deal between Washington and the insurgent group signed in late February. Talks were originally supposed to begin within two weeks of the signing.
Other hurdles that have been preventing the talks, including an Afghan political quarrel and disputes over a prisoner exchange, have been worked out or are close to being completed, officials said.
But the high levels of violence do not create "a good environment for the start of negotiations," Abdullah said during the discussion hosted by the Washington-based U.S. Institute of Peace.
His comments came days after Kabul claimed the Taliban had conducted over 420 attacks last week, killing 291 Afghan security forces and wounding 550 others. Stars and Stripes could not independently verify the figures, which officials said marked the bloodiest seven-day period in over 18 years of war.
The Taliban's actions have been "inconsistent with their rhetoric on peace," Afghan National Security Council spokesman Javid Faisal said Monday in a series of tweets about the casualty and attack data.
While the text of the U.S.-Taliban deal doesn't explicitly prohibit the Taliban from attacking Afghan forces, a spokesman for U.S. Forces in Afghanistan said the insurgents had made a verbal agreement to reduce violence by 80%. They'd been failing to keep it, Army Col. Sonny Leggett said in a statement last month.
Under the written deal, the U.S. committed to begin pulling thousands of troops from the country, with a full withdrawal to be completed within 14 months, if certain conditions were met. Those include the Taliban severing ties with al-Qaida and other extremist groups, and preventing such groups from using Afghanistan to attack the U.S. and its allies.
So far, none of those conditions have been met, U.S. Central Command's Gen. Kenneth F. McKenzie said earlier this month.
Nevertheless, the U.S. appears to be keeping up its end of the agreement.
A promised reduction of forces to 8,600 was completed weeks ahead of schedule, McKenzie said last week. U.S. officials have repeatedly called the drawdown to zero troops in the country by mid-2021 "aspirational."
wellman.phillip@stripes.com Twitter: @pwwellman