Report: US military in Afghanistan had little oversight of millions spent on fuel
by
Josh Smith smith.josh@stripes.com
October 2, 2013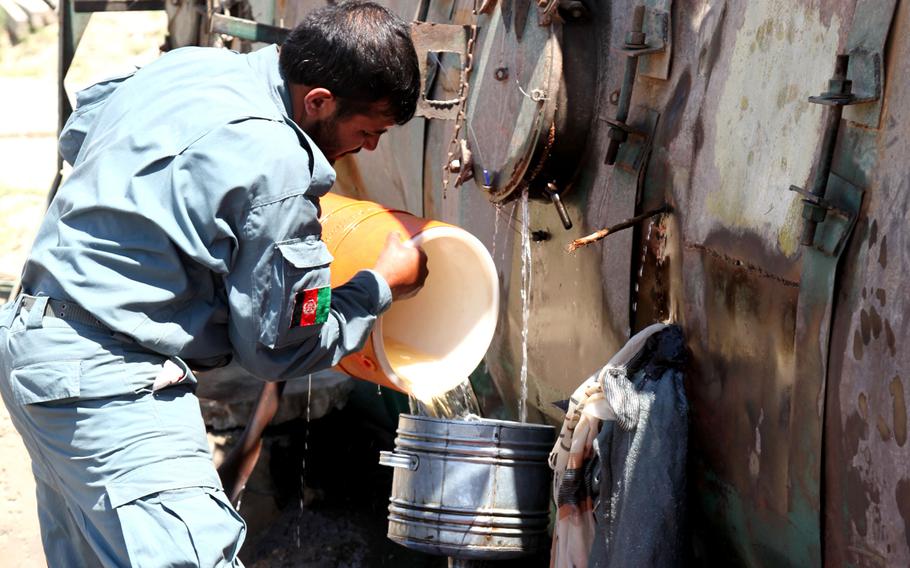 KABUL — The American military organizations that funneled funds to the Afghan National Police had little oversight over millions of dollars earmarked for fuel, according to a report released Wednesday by the Special Inspector General for Afghanistan Reconstruction.
"Poor oversight and documentation of blanket purchase agreements and fuel purchases resulted in the use of higher-priced vendors and questionable costs to the U.S. government," SIGAR investigators wrote.
The report said U.S. Central Command Joint Theater Support Contracting Command and the Combined Security Transition Command-Afghanistan — the U.S. military units that work with NATO to support and train the ANP — had determined that the millions in direct payments for fuel were at "high risk" of waste, fraud and abuse.
Nevertheless, U.S. officials went forward with appropriating $243 million for fiscal year 2014, despite not having a plan to mitigate that risk, SIGAR contended.
Between October 2011 and December 2012, $26.8 million was paid directly to the ANP for fuel, but CSTC-A did not provide evidence that it had conducted risk assessments, investigators reported.
In response to the report, NATO's International Security Assistance Force said it has taken steps to increase oversight and prevent potential abuse, waste, and fraud in the system.
According to the statement, ISAF is working with Afghanistan's Ministry of the Interior to implement a database to make sure the amount of fuel ordered matches the amount delivered. Additionally, ISAF said it worked with the interior ministry to reduce the number of sites that take direct delivery of fuel, making it easier to oversee the system, and the coalition has given the Afghans tools like fuel meters to better track shipments.
Since 2005, the U.S. has appropriated nearly $52.8 billion total to train, equip and sustain the Afghan National Security Forces, which includes the Afghan National Police and well as the army and other forces.
SIGAR's report recommended that the organizations improve oversight by ensuring reasonable prices and compliance with standards.
CSTC-A and C-JTSCC concurred with most of the recommendations, but CSTC-A did not agree that it needs to review whether more fuel is being delivered than can be stored.
"The ANP fuel program managed by C-JTSCC and CSTC-A remains at high risk of loss, theft, or misuse of U.S. funds and purchased fuel and, if not improved, may increasingly place large amounts of U.S. funds at risk of fraud, waste, and abuse," the report concluded. "Until C-JTSCC and CSTC-A improve controls, verify fuel prices, and determine that fuel orders are in line with consumption and storage capacities at ANP sites, neither entity can assure that U.S. funds and fuel are used as intended."