Putting Afghan soldiers in Afghan-made uniforms seen as boost for ailing economy
---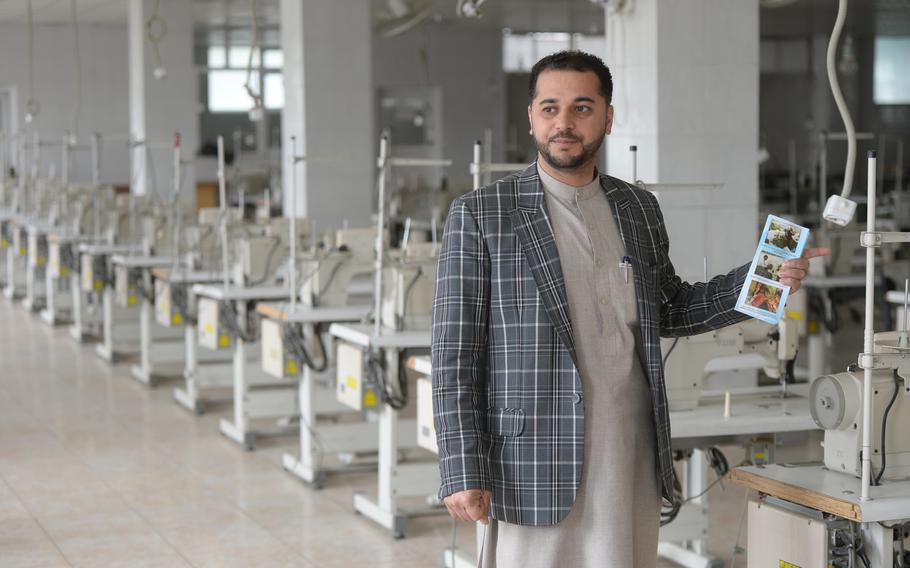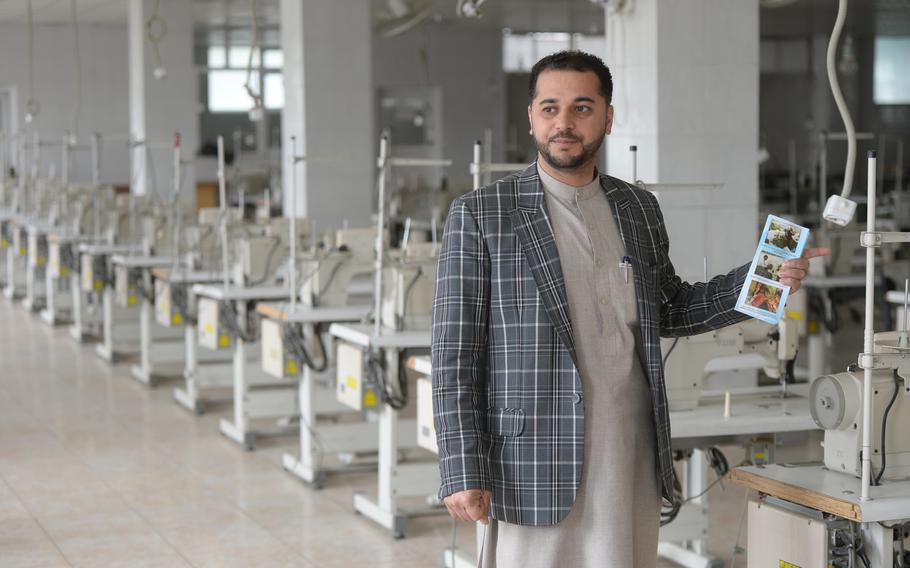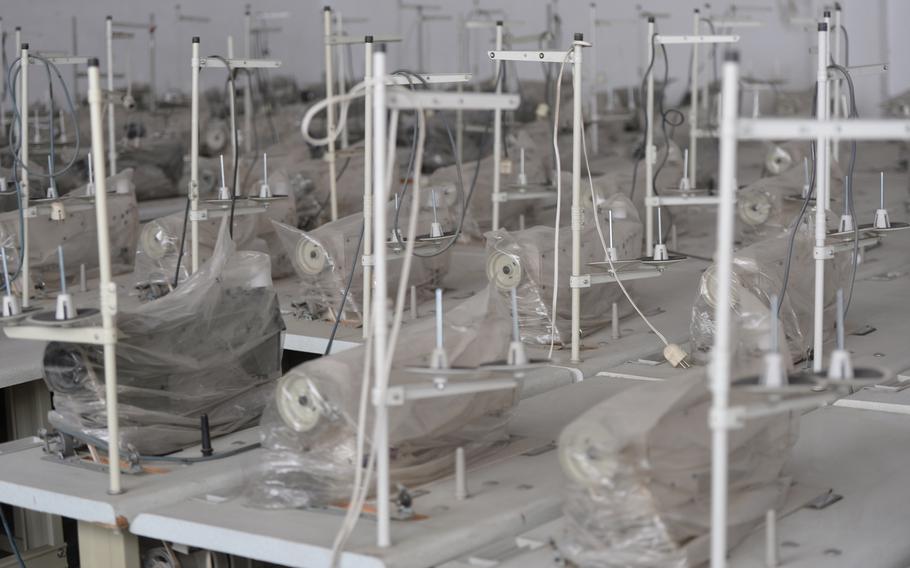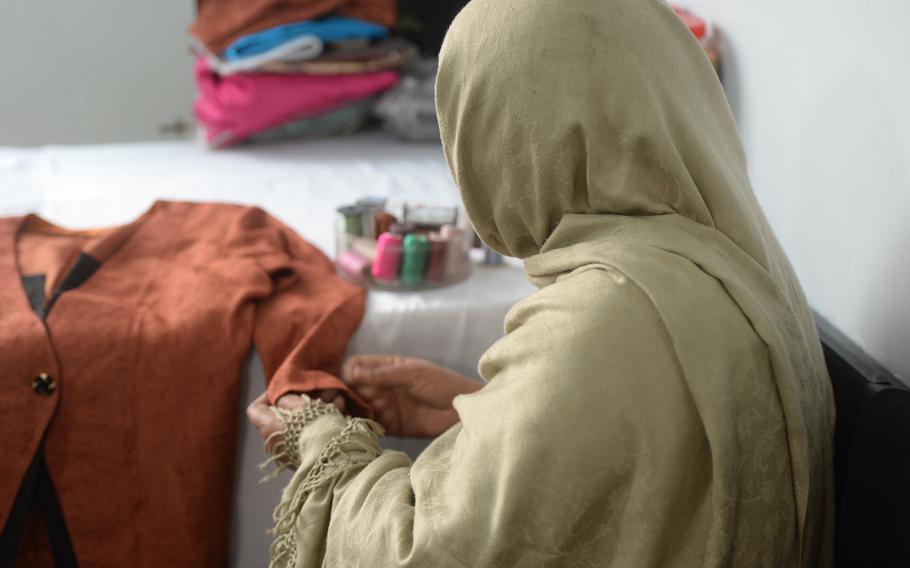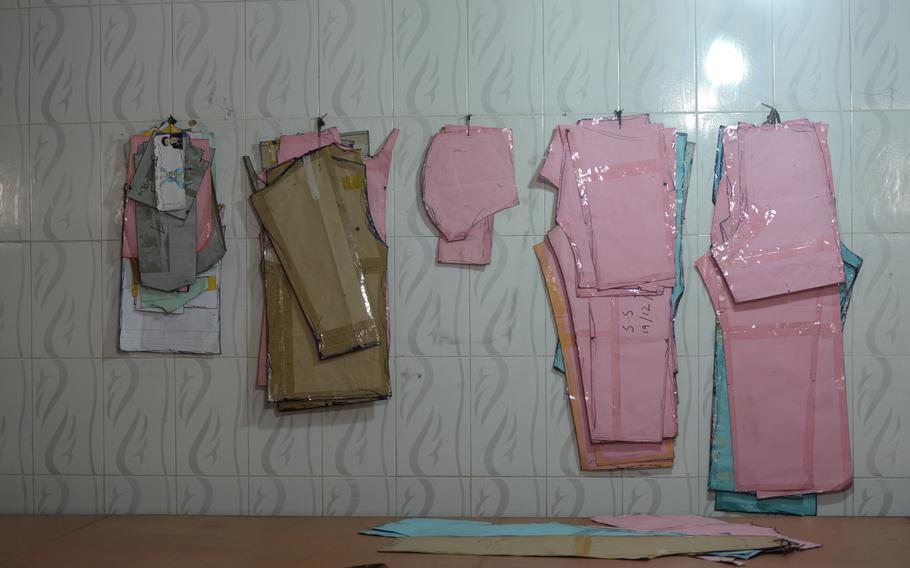 KABUL, Afghanistan — The Afghan government hopes that putting the "Made in Afghanistan" label on military and police uniforms will help create jobs at home and do a small part to stop the exodus of Afghans seeking a better life in Europe.
The move to restart domestic production of the uniforms could transform several nearly idle factories in Kabul into the bustling centers they were three years ago, when the manufacturing was shifted to the United States to meet U.S. Defense Department guidelines.
The Tarsian and Blinkley textiles factory in a large industrial park here was built to make the uniforms, which are paid for with DOD funds. A few years ago, 1,200 workers filled the cavernous rooms of the two multistory buildings. Today, in a quiet corner, just a few veiled women sew garments.
Activity at this and about eight other factories ground to a halt in 2013. Until that time, the Afghans had operated under an exemption to a U.S. law that had allowed them to source materials for the uniforms from outside the United States. When the factories continued to get their raw materials from other countries after the exemption for conflict zones was lifted, the DOD took over uniform procurement and shifted production to the United States.
Now the U.S. is working with the government to revive uniform production in a way that will meet U.S. sourcing requirements.
"Getting people jobs here is a critical part of what we're driving for," said U.S. Army Maj. Gen. Dan Hughes, deputy commander of Combined Security Transition Command-Afghanistan, which trains and develops Afghan security forces.
The initiative is part of an effort to keep procurements in the country. Under a new Afghan law, a number of goods, including textiles, have been designated as having domestic preference. Though current American regulations require that all materials used to make Afghans' uniforms — including cloth, zippers and buttons — must come from the United States, the tailoring can be done in Afghanistan by local workers.
The Afghan Defense Ministry, which is now in charge of procuring the outfits, recently asked local factories for bids on the new contracts. The Defense Ministry is currently analyzing the 13 bids that were submitted and should make a decision soon.
"I don't expect we'll start off with eight or nine companies again, but two or three. We want to make sure it's a smooth transition," said Beth Rairigh, a director of the transition command, who advises Afghanistan's National Procurement Authority.
Rairigh said 195,000 uniforms would initially be made over a period of two years — 60,000 in the first year and 135,000 in the second — which should create hundreds of local jobs.
"I can say that everybody within (the transition command) is very passionate about this," she said.
But the transition may be too slow for some.
Muhibullah Rahmati, finance and administration manager at Tarsian and Blinkley, said if the company's current bid was not successful, it would not be able to wait for a second round, especially if it takes two years.
"We've already been waiting for three years. If we get this contract we will have good production again," he said, standing in a large room with rows of dust-covered sewing machines. "If we don't get any contract, we don't see any other chance. We'll have to close."
Rahmati said the private factory, which cost $1.5 million to build, attempted to make clothes for the local market when the original U.S. contracts were terminated three years ago. But because of cheap imports, especially from China, it could not do so profitably. If the factory shuts down, he joked, he might follow in the footstep of some former employees and move to Europe.
"I recently sent three recommendation letters to past workers in Europe," he said. "Some other workers went to Pakistan or Iran. Others are still jobless."
He blamed the idle factories on corruption and on the administrations of President Ashraf Ghani and his predecessor, Hamid Karzai. He said he could not understand why it took three years to bring some of the lost jobs back to Afghanistan.
"I don't know what happened. It seemed like it kind of went off the radar," said Rairigh when asked about the situation. "I think with the constant turnover (of U.S. officials), with the leadership change, and people only being here for six months or a year at a time, it just never really got started again."
The reduction in coalition forces after the declared end of combat operations in December 2014 has taken a heavy toll on the economy. The United Nations says the country's unemployment rate is about 40 percent, up from 25 percent in 2014, and growing.
Nicholas Haysom, the U.N.'s top official in Afghanistan, said last month that economic challenges were a major threat to the government's survival.
The situation has led to a massive flight of citizens abroad. Afghans currently make up about a third of asylum seekers in Europe. The situation highlights the international coalition's failure to stabilize the nation despite the huge investment in reconstruction, including more than $113 billion by the U.S. alone, according to the Special Inspector General for Afghanistan Reconstruction.
"Everyone knows that creating jobs and enhancing production inside Afghanistan is much needed to empower the local economy," said Saifuddin Saihoon, an economics professor at Kabul University. "The uniform scheme is good, but it won't cure the sickness of the whole population. In the future, Afghanistan needs the full attention of the government and the international community to create jobs for its people."
With the bidding process for contracts underway, many former textile workers are hoping they won't need to wait too much longer for full-time work.
At Tarsian and Blinkley, Maryam Habibi, 46, looks up from her sewing to say she's praying the company's bid is successful.
"We hope that it gets back to the same rhythm here and that not only me, but all those other poor people get their work and they come back here and the factory looks like it used to be," she said. "The workers here, they have waited for years, and if nothing happens they will suffer more, but we hope — almighty God help us — that the work starts again."
Zubair Babakarkhail contributed to this report.
Twitter: @PhillipWellman
---
---
---
---