Popular AAFES gear finds enthusiastic following on Iraq's front lines
by
Chad Garland
January 27, 2017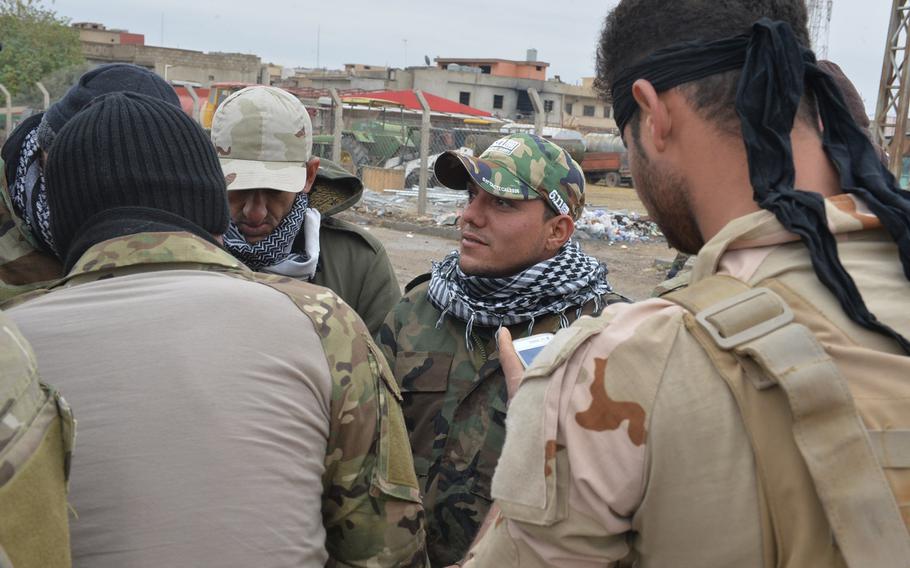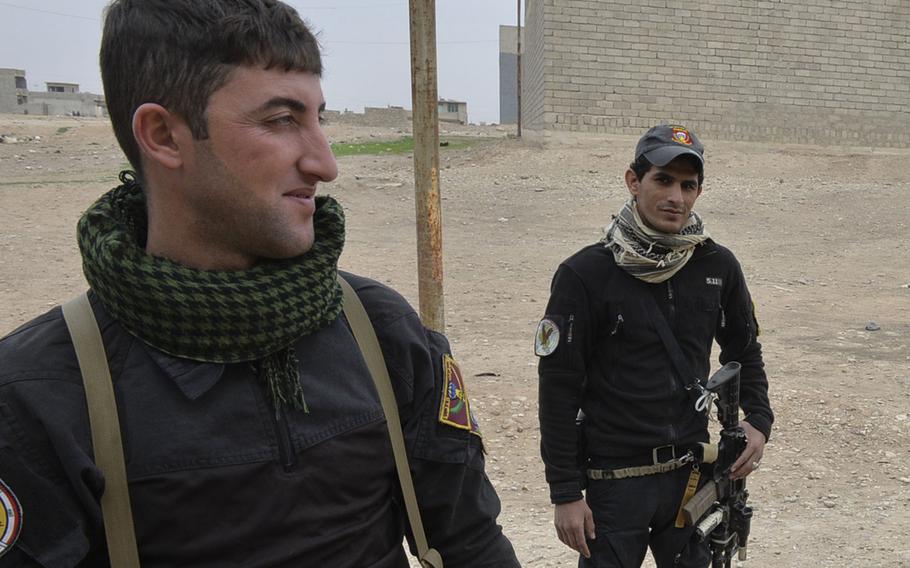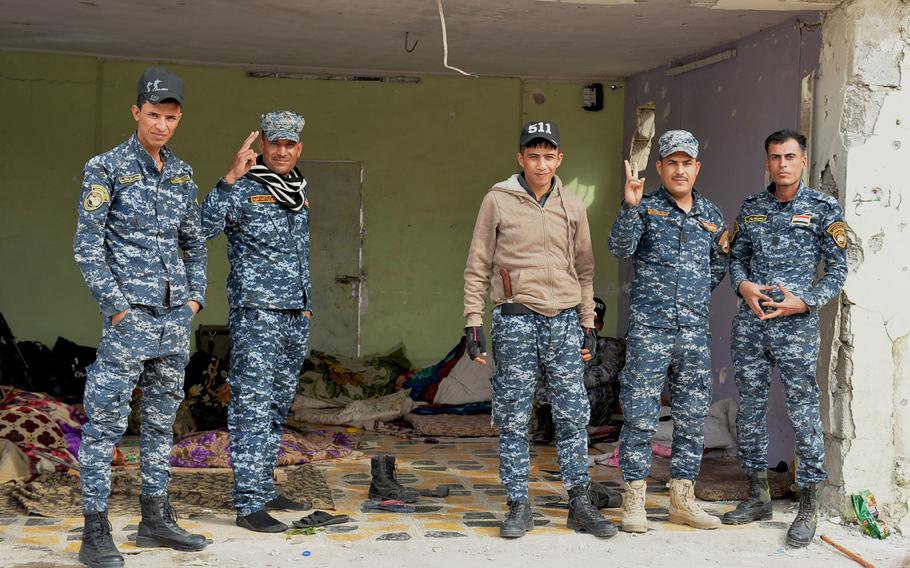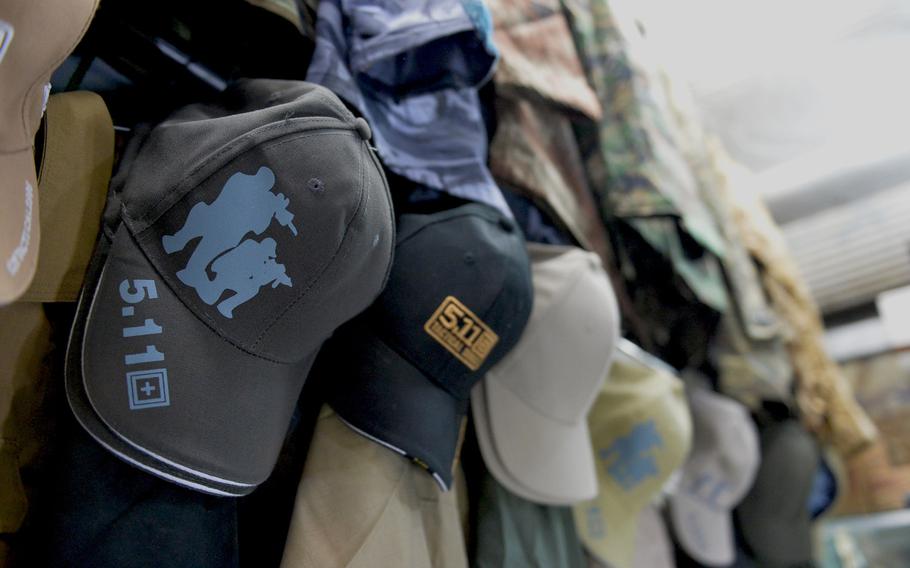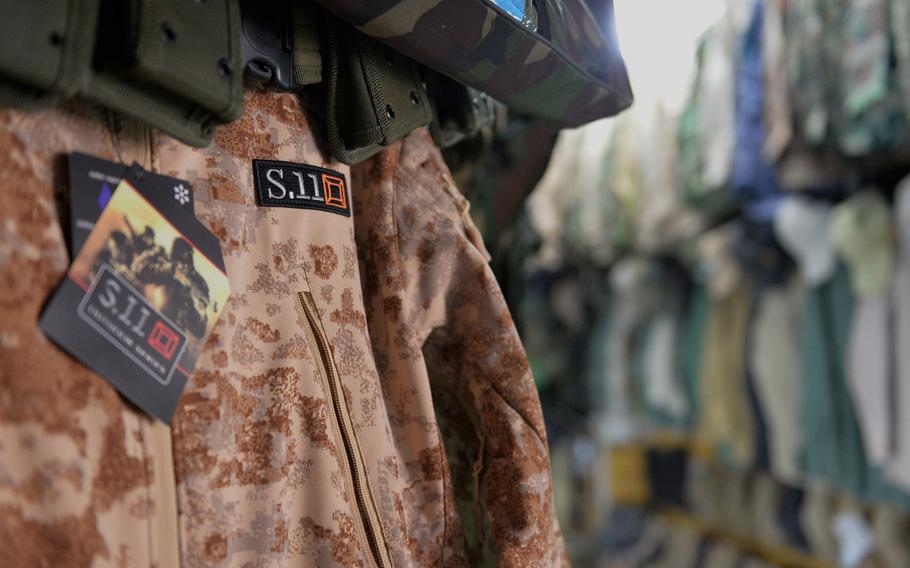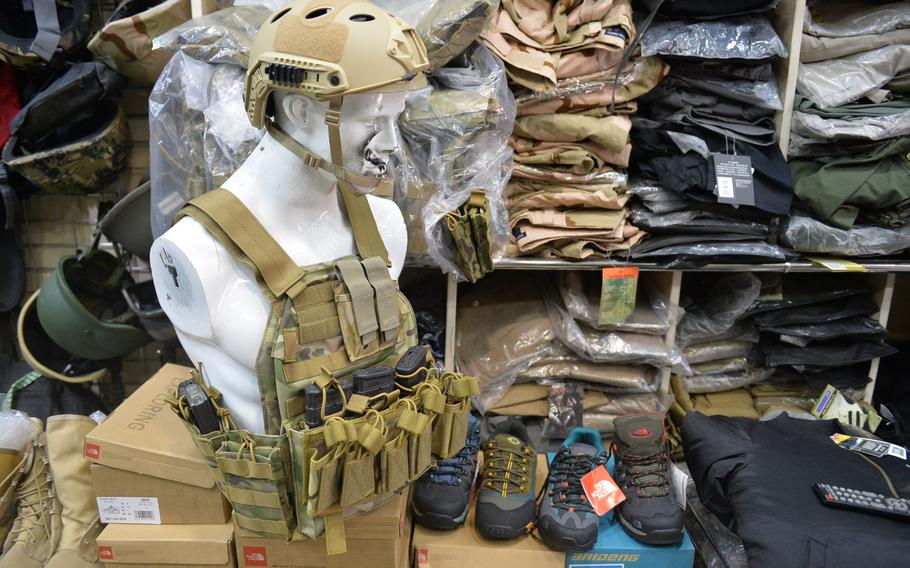 IRBIL, Iraq — One marker of U.S. influence on the front lines of the Mosul campaign is small but recognizable, and seemingly everywhere — the brand insignia for the Irvine, Calif.-based 5.11 Tactical line of apparel and accessories.
The gear, pervasive at U.S. military exchanges, has become so desirable among Iraqi forces that even obvious fakes and cheap knockoffs are common. It's a sign of the brand's niche appeal as gear for "operators" and of its target market's involvement here.
The 5.11 logo — the numerals beside a pair of concentric squares with a cross in their center — and similar marks are emblazoned on T-shirts, hats, pullovers and jackets worn by Iraqi federal police, special operations forces and Kurdish soldiers.
In late December, in the center of the Kurdish region's capital, where a cluster of shops sell body armor and other military gear, Azad Azad, 18, was buying a camouflage microfiber jacket.
"I love the peshmerga," he said, referring to the Kurdish forces. "So for that, I buy this jacket."
Azad doesn't serve, but his father did until he was killed in the line of duty. Azad's new jacket, meant to honor men like his father, bore a deceptively familiar patch with a red box — but this label read "S.11," and the red square lacked 5.11's central cross.
Shopkeeper Mohammed Ismail, 20, said the S.11 and 5.11 gear in his shop, especially the jackets in winter, were popular with peshmerga fighters. Both brands are priced the same, he said, but on 5.11 Tactical's website, a jacket similar to Azad's runs about $250, or about 10 times what he paid.
Ismail held up a pair of combat boots from a U.S. supplier, which he sells for about $180. A similar pair made in China costs about $20, he said.
Other likely counterfeits in stock included rugged-looking gloves with an Oakley logo and boots bearing the mark of Columbia Sportswear, brands whose global sales far surpass 5.11's but whose presence on the shelves here don't seem to match it.
Nearby shops were selling jackets like Azad's, some with authentic-looking 5.11 markings, some with similarly styled S.11 and A.5.1.1 patches. Shopkeepers said the goods came from China, Thailand and elsewhere in Iraq.
A report by the Organization for Economic Cooperation and Development last year estimated that the market for fakes — largely supplied by China — makes up about 2.5 percent of global trade, or more than $450 billion annually.
International counterfeiting affects nearly every brand, and "it's not going down," said Alan Zimmerman, a professor at City University of New York who has written about the problem. The true scale is hard to gauge, he said, partly because so few shipments aresearched and other illicit activities, such as drug-smuggling, human-trafficking and terrorism, are higher priorities for enforcement officials.
The fakes business is attractive because startup costs can be low, profits high and penalties light, Zimmerman said. In fact, some international law enforcement and anti-counterfeiting groups have found that terrorists, including the Islamic State group and al-Qaida, have partially funded their operations through counterfeiting Nike shoes and other goods.
"You didn't invent the brand," he said. "You don't have to do all the marketing."
It's not clear why the 5.11 Tactical brand is so popular among Iraqis, but it was likely introduced through U.S. servicemembers and contractors. An association with the U.S. military could have bolstered its image as premium gear.
Iraqi soldiers around Mosul said they bought 5.11 products because they were tough, functional or specially made for their tactical purposes. A few said they'd knowingly bought fakes because that's what they could afford.
Qusay Jaxer, an Iraqi who has done tactical first-aid training for the Kurdish forces, said he was introduced to the brand through Americans eight years ago, when he was a security contractor. He prefers Oakley, he said, but has several pieces of 5.11 gear.
He admitted buying an S.11 jacket on the cheap once, but he removed the label to avoid embarrassment. The fraudulent goods fall apart after a few months, he said, but the more durable authentic stuff is "Ali Baba expensive" — highway robbery, in other words.
Billed as "purpose-built gear for the most demanding missions" and marketed to first responders and the military, 5.11 Tactical was created from another outdoor clothing brand in 2003, the same year U.S. troops invaded Iraq.
The earlier company's 5.11 cargo pants, designed for mountain climbers and named after the toughest Yosemite Decimal System rating for a climb -- class 5, level 11 -- cost far more than the competition. But law enforcement officials issued the trousers during FBI tactical training preferred them and became early adopters of an expanded line under the new 5.11 Tactical brand.
The company's rapid rise — sales went from $5.7 million in 2003 to about 10 times that in 2006 and more than 50 times that in 2015 — came during years when the Department of Homeland Security was equipping local first responders for potential terrorist attacks; U.S. troops in Afghanistan and Iraq were buying their own specialized battle gear; and government spending on equipment and paramilitary security contracting mushroomed.
"It was just perfect timing," said founder Dan Costa. "The activity in the desert" helped drive demand, he said, particularly from contractors — many with law enforcement backgrounds and tactical training — who needed high-performance gear and weren't constrained by uniform regulations or dependent on government issue.
Not long after that, the brand was introduced to the military. Marine Corps veteran Christine Demorest said she bought 5.11 gear for sniper kits she put together under a contract outfitting U.S. special operations forces 13 years ago. A few years later, the Pentagon was buying directly from the company — mostly bags and jackets — as were the justice and homeland security departments.
The brand is now sold in about 65 percent of Army and Air Force Exchange main stores worldwide, as well as military clothing stores and exchanges downrange, said Julie Mitchell, an AAFES spokeswoman. Sales of 5.11 gear at exchanges the past two years averaged more than $5.5 million annually.
Costa, who sold controlling interest in 5.11 in 2007 and stepped down as chief executive in 2011, said what made the brand a success under his leadership was its commitment to serving those who serve by listening to their needs, using high-quality materials and designing purpose-specific gear. It's a formula he's adopted with a new brand called First Tactical, which he and "refugees" from the original company launched July 4, 2015.
The new brand is sold directly to the consumer to keep products affordable for law enforcement officials and servicemembers, allowing for a quality of material and workmanship he said those customers expect .
"I don't think that our customer — I mean the true operator — buys into the knockoffs."
garland.chad@stripes.com Twitter: @chadgarland