Pentagon: More US fire bases could open in Iraq
by
Tara Copp
April 6, 2016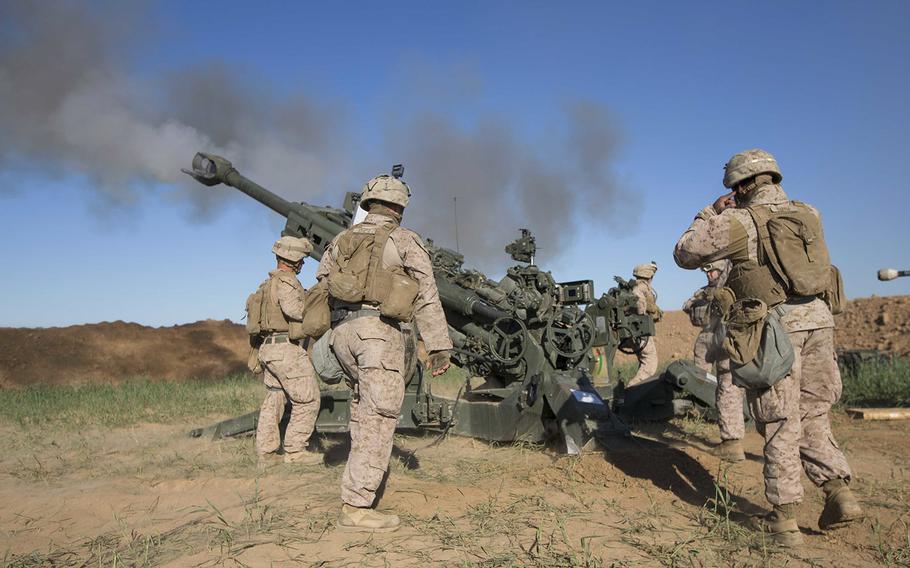 WASHINGTON – Additional U.S. bases might be opened in Iraq as U.S. troops help Iraqi Security Forces advance toward Mosul, the Pentagon said Wednesday.
About 200 Marines are providing fire support out of a new base, formerly known as Fire Base Bell, that the 26th Marine Expeditionary Unit, Task Force Spartan, opened last month just outside the training facility at Makhmour, Iraq.
The Marines are using the base to assist the Iraqi Army 15th Division's advance west and north to retake Islamic State-controlled villages about 45 miles south of Mosul, according to Joint Staff vice director for operations, Rear Adm. Andrew L. Lewis.
"Their mission is to provide fires in support of Iraqi forces, just like we do with airplanes," Lewis said Wednesday about the surface-to-surface fires.
Secretary of Defense Ash Carter and Chairman of the Joint Chiefs of Staff Gen. Joseph Dunford are preparing options at President Barack Obama's request, Lewis said, including how U.S. forces can help accelerate the campaign against the Islamic State group. Dunford said last week in a briefing with reporters that additional U.S. forces could be sent to Iraq for the fight for Mosul, the de facto Islamic State capital in Iraq. Mosul was captured by the Islamic State in summer 2014.
On Wednesday, Lewis said that U.S. forces could establish additional bases in Iraq as part of that accelerated campaign.
"It's dependent upon what's happening on the ground and in the campaign," he said. "As Iraqi forces progress toward isolating Mosul, there may be a situation in which there is another base that is opened or reopened from years past that would be used in the same manner, as a fire-support base."
Fire Base Bell, which the Pentagon recently renamed the Kara Soar Counter Fire Complex, has been repeatedly targeted by Islamic State fire, including a March 19 rocket strike that killed Staff Sgt. Louis Cardin and wounded eight other Marines.
Copp.tara@Stripes.com Twitter:@TaraCopp
---
---
---
---