Pentagon identifies soldier killed in Afghanistan
---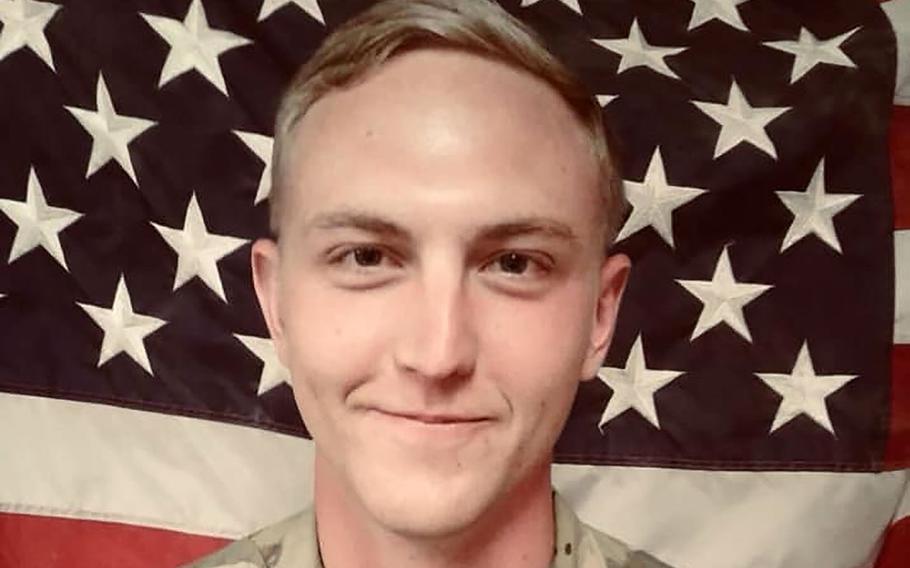 James A. Slape, an explosive ordnance disposal technician who has been posthumously promoted from specialist to sergeant, was fatally wounded Thursday as he worked to clear an area of explosives in southern Helmand province in Afghanistan after a blast had damaged a vehicle.
"He left his vehicle and was working to clear the area when another IED detonated," said Sgt. First Class Debra Richardson, a spokeswoman for the NATO Resolute Support mission Kabul, via email. Slape "was medically evacuated to a medical care facility but despite valiant efforts to save him, his wounds were fatal."
Slape was assigned to 430th Explosive Ordnance Disposal Company, 60th Troop Command, North Carolina Army National Guard, based in Washington, N.C.
The 23-year-old from Morehead City, N.C., had joined the National Guard in 2013 and graduated from the Army's explosive ordnance disposal course in 2015. He deployed with his unit in April and was scheduled to return home in the spring of 2019, said Lt. Col. Matthew DeVivo, a North Carolina National Guard spokesman.
Slape was based at Camp Dwyer in Helmand's Garmsir district in the heart of a region largely controlled by the Taliban. Helmand has been the bloodiest of the country's 34 provinces for coalition troops since 2001.
Using an abbreviation for armored personnel carrier, a Taliban spokesman claimed on social media Thursday that an IED "shred (a U.S.) APC ... to pieces" near Camp Dwyer in Helmand's Garmsir district. Richardson did not say what type of vehicle had been damaged in the blast or how badly it was damaged, other than describing it as "non-mission capable."
On Facebook Friday, several of Slape's friends changed their profile photos to images of the Army's Explosive Ordnance Disposal Badge covered by a black band symbolizing mourning.
"We are deeply saddened by the news of Sgt. James Slape losing his life while serving our country," Maj. Gen. Greg Lusk, North Carolina National Guard adjutant, said in a statement. "We honor his courage, his selfless service and we extend our deepest sympathy to his family, friends, and fellow soldiers as we hold them firmly in our hearts and prayers during this difficult time."
The death marks the seventh combat fatality and eighth overall fatality in Afghanistan this year for U.S. forces, a tiny fraction of the number of deaths at the height of the war in 2010 when about 500 Americans were killed in the country.
Slape, who was supporting the Resolute Support mission to train, advise and assist Afghan forces battling the Taliban insurgency, is the 26th North Carolina Army National Guard soldier to be killed in action since the attacks of September 11, 2001, the military said in a statement.
"National Guard members step up and answer the call to service wherever they are needed, whether at home to help during a natural disaster or overseas to protect our national security," said North Carolina Gov. Roy Cooper, in a statement. "They leave their homes, their families and their jobs and put their lives on the line for us. On behalf of the people of North Carolina, I honor the service and sacrifice of Sgt. James Slape and offer our deepest sympathy to his loved ones and his fellow soldiers."
Sunday marks 17 years since a U.S.-led coalition launched the invasion that would topple the Taliban regime, which had been harboring the al-Qaida terrorist group that had plotted and carried out the attacks on the World Trade Center and the Pentagon.
In all, more than 2,250 Americans have been killed in Afghanistan since then, and another 130 have died elsewhere while supporting the war. Nearly 21,000 have been wounded.
Thursday's incident is under investigation, officials said.
garland.chad@stripes.com Twitter: @chadgarland
---
---
---
---