Pentagon identifies soldier killed in Afghanistan
by
Phillip Walter Wellman
October 30, 2017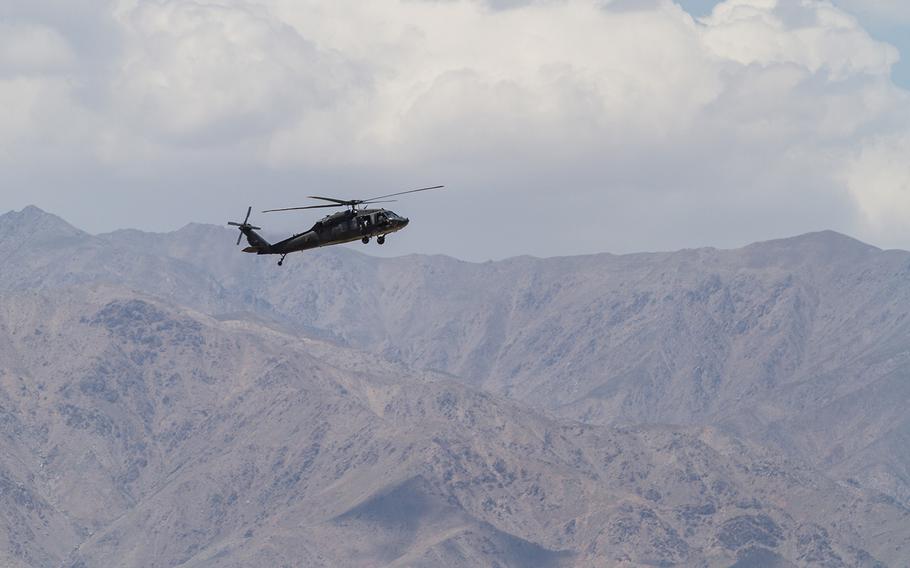 KABUL, Afghanistan — The Pentagon has identified the U.S. soldier killed in a helicopter accident in eastern Afghanistan on Friday as Chief Warrant Officer Jacob M. Sims.
Sims, 36, who was born in Oklahoma but lived in Juneau, Alaska, was assigned to 4th Battalion, 160th Special Operations Aviation Regiment, a unit known as the "Night Stalkers," at Joint Base Lewis-McChord in Washington.
The decorated 18-year veteran enlisted in the Army in 1999 and served in Kosovo, Iraq and Afghanistan. He was trained to fly the UH-60 Back Hawk and CH-47 Chinook, including the special operations variant MH-47G, according to his biography.
The Pentagon has provided few details about the incident in Logar province that took Sims' life.
Salim Saleh, the provincial governor's spokesman, told Stars and Stripes a helicopter was transporting troops for a night raid in the volatile Kharwar district when it hit a tree, forcing an emergency landing.
The U.S. military said six other U.S. crew members were injured in the incident and sent for medical treatment. Saleh said one Afghan servicemember was also wounded.
The joint raid with Afghan forces was part of a broader operation to clear the Taliban from parts of Logar, Saleh said.
The militants, who are believed to control about half of the province, said they shot down the helicopter, killing dozens of Americans — a claim NATO refuted.
"We can confirm the crash was not the result of enemy action," NATO's Resolute Support mission said in a statement. "We have full accountability for all personnel and the crash site has been secured."
Sims' death brings the total number of U.S. servicemembers killed in Afghanistan this year to 12. More than 2,400 have been killed since the war began 16 years ago.
"Jacob lived by a creed that few understand and even fewer embody," Col. Philip Ryan, commander of the 160th Special Operations Aviation Regiment said in a statement. "He will not be forgotten and his legacy will endure through his family, friends, and fellow Night Stalkers."
Sims lived in Alaska with his wife and children, according to reports. The state's governor Bill Walker on Sunday ordered U.S. and Alaska flags to be flown at half-mast in the soldier's honor.
"Chief Warrant Officer Sims and his family made the ultimate sacrifice for the rest of us," Walker said in a statement. "Our military servicemembers put themselves on the line in defense of the values we hold dear. We owe them a debt of gratitude."
NATO said an investigation into the helicopter accident had been launched.
"We are deeply saddened by the loss of our comrade," Gen. John Nicholson, the top U.S. commander in Afghanistan said. "On behalf of all of Resolute Support, our heartfelt sympathies go out to the families and friends of our fallen comrade and those injured in this unfortunate event."
---
---
---