Pentagon and State Department could be compelled to testify on Afghanistan war, House Democrats say
by
J.P. Lawrence
September 1, 2020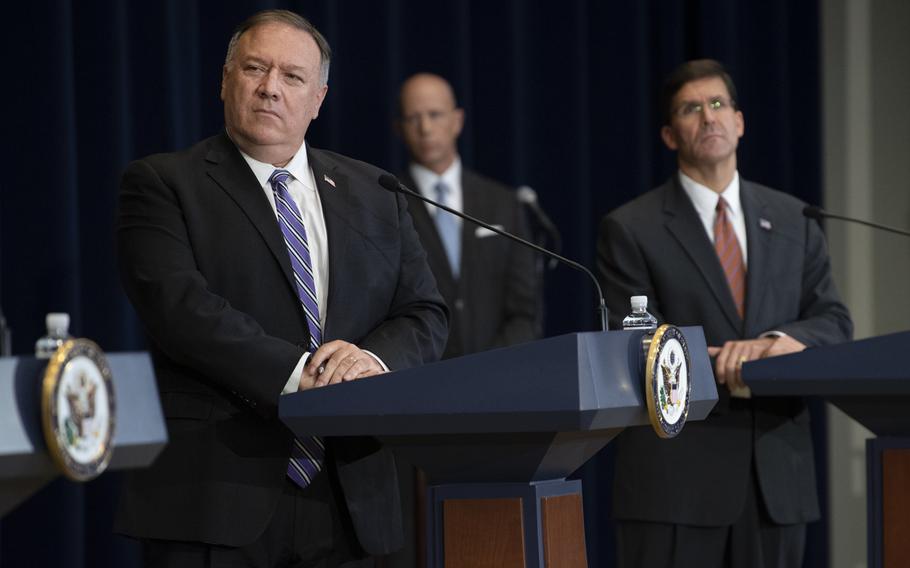 The U.S. military and the State Department must agree to update Congress on the war in Afghanistan and the peace process or they will face subpoenas, House Democratic lawmakers say.
A letter sent Monday to Defense Secretary Mark Esper and Secretary of State Mike Pompeo demanded the two departments provide witnesses to testify at a Sept. 9 hearing in Congress.
"Should your departments refuse to appear voluntarily, the (National Security) Subcommittee will have no other choice but to receive testimony through compulsory process," said the letter, which was signed by 15 Democratic members of the House Oversight and Reform Committee.
The Pentagon has already said it would not attend the Sept. 9 hearing and the State Department's key envoy to Afghanistan, Zalmay Khalilzad, has said he could not testify "due to travel," the letter said.
These decisions are part of a pattern of failing to appear at briefings and hearings on Capitol Hill regarding the war, the letter said.
Last March, lawmakers were told DOD could not attend another scheduled meeting because it was "cutting back our number of Hill engagements" due to the coronavirus pandemic.
During other hearings, DOD refused to testify or said no witnesses were available to speak, the letter said. It accused the White House of having "obstructed the Subcommittee's oversight of the U.S. strategy in Afghanistan."
Lawmakers who signed the letter also raised concerns about the Trump administration's deal with the Taliban, signed on Feb. 29. The accord would draw down U.S. and NATO troops from Afghanistan in exchange for concessions by the militants.
While the U.S. has reduced troop levels in line with the agreement, key aspects of the deal, such as peace talks between the Taliban and the government in Kabul and a prisoner exchange, have been repeatedly delayed amid a surge of violence attributed to Taliban attacks. The letter cites a June Pentagon report which estimates that Taliban attacks on Afghan government forces had increased five-fold since an agreement struck prior to the Feb. 29 deal to quell the fighting.
The letter also called for answers on the roles played by Russia and Iran, which are "seeking to expand their influence in Afghanistan" and possibly paying the Taliban to target U.S. forces, citing media reports in June and August.
"The American people have the right to hear directly from their government about the prospects for peace in Afghanistan after nearly two-decades of conflict, or whether it once again may become a haven for terrorists that could threaten us here at home," the lawmakers' letter said.
While congressmen in both political parties have raised doubts about the White House's Afghanistan strategy, the tight-lipped nature of the administration has only heightened those concerns, said Andrew Watkins, a senior Afghanistan analyst at the International Crisis Group, a Brussels-based think tank.
"The House oversight committee noted that Trump's administration has dodged inquiries on its Afghanistan strategy for a full year," Watkins said. "But this lack of transparency takes on heightened significance, with each new report that emerges of Taliban activity that may violate the terms of the Feb. 29 agreement — as well as each report of dysfunction in the Afghan government."
lawrence.jp@stripes.com Twitter: @jplawrence3