Pathfinders pulled back into war soon after losing six teammates
---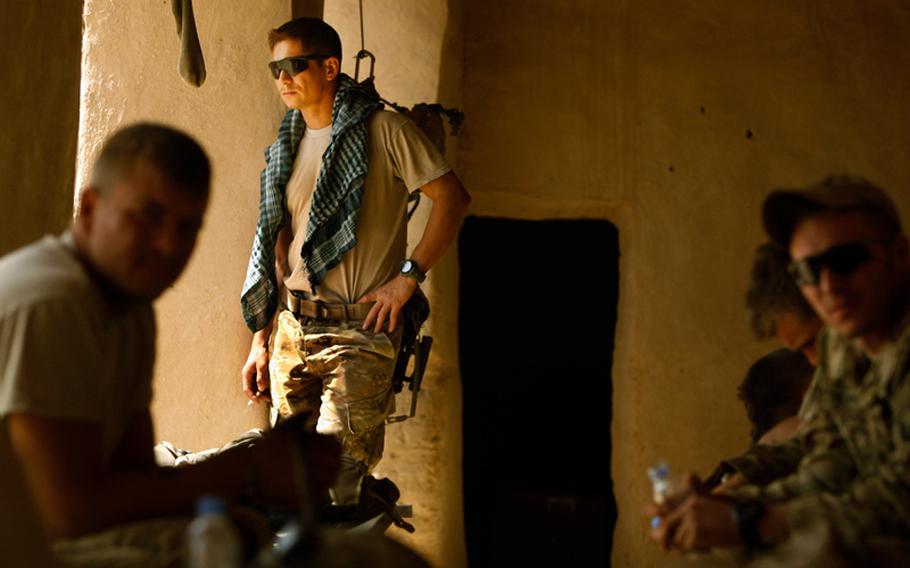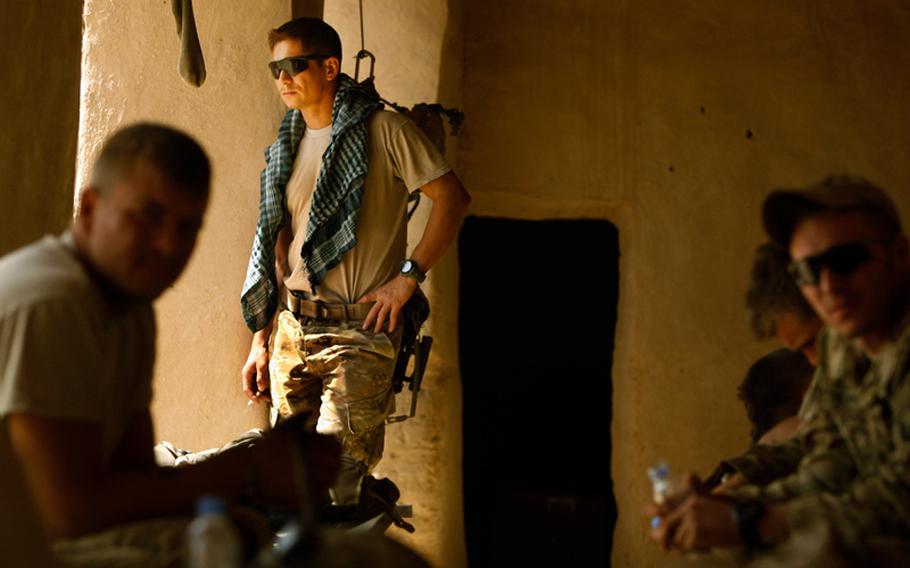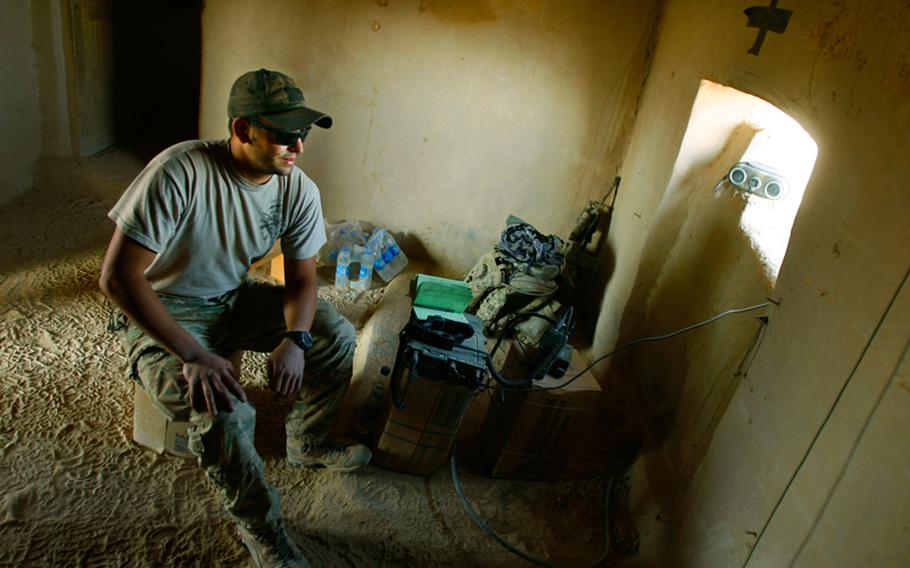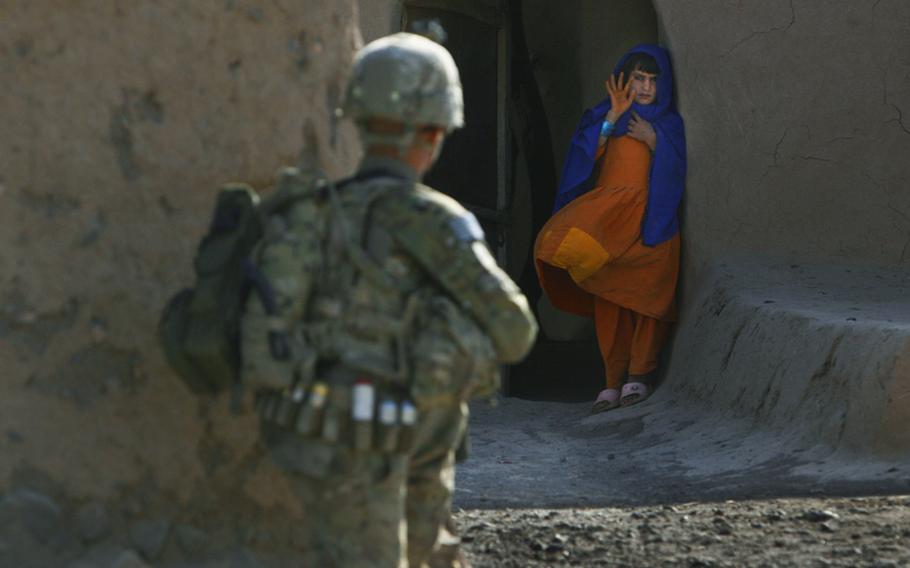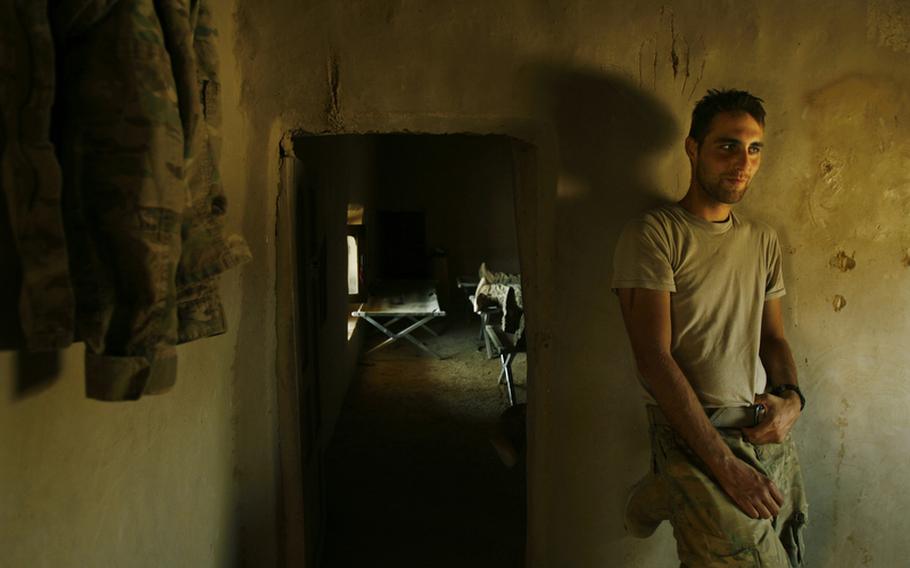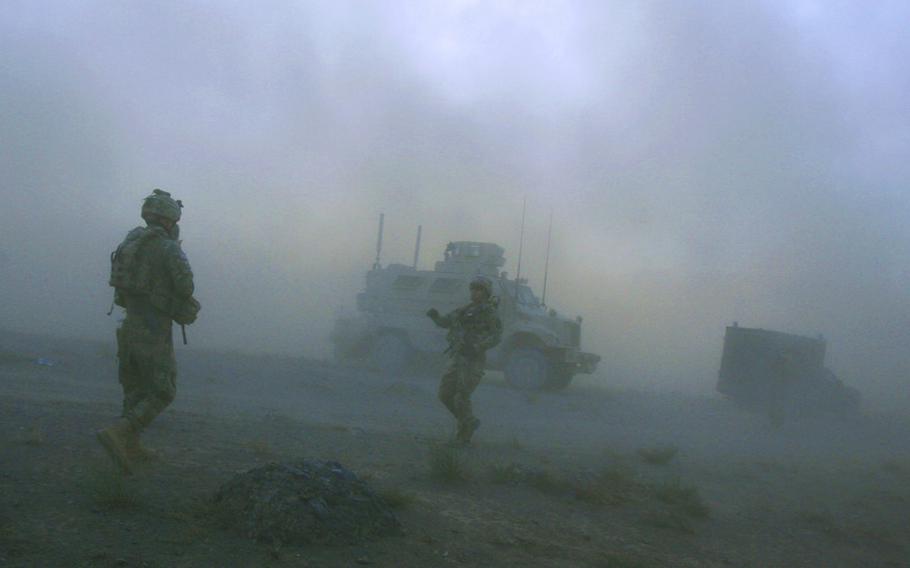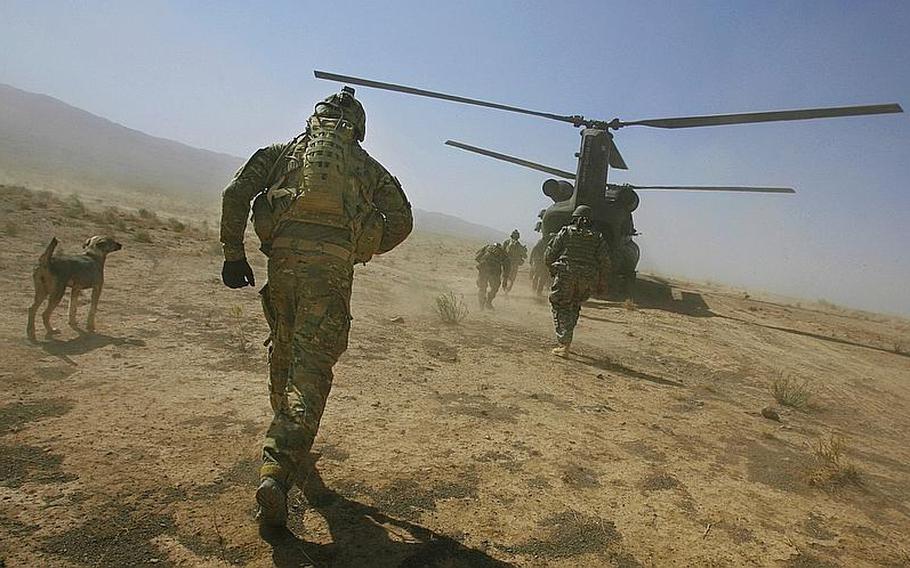 Part two of a two-part Stars and Stripes series, "Devastation and Endurance."
FORWARD OPERATING BASE WOLVERINE, Afghanistan — It was among the deadliest days for U.S. forces in Afghanistan since the war began in late 2001. On May 26, 2011, eight Americans and two Afghans were killed in a series of improvised explosive device attacks in the Shorabak district near the Pakistani border. Six of those killed were from Team 3, in a Pathfinder unit in the 101st Airborne Division's 4th Battalion, 101st Aviation Regiment.
In the days that followed, soldiers grappled with their losses as they looked for solace among themselves. Fighting in southern Afghanistan continued, and they would have little time to grieve before being pulled back into the war.
By the time the deaths were confirmed at the hospital at Kandahar Airfield, it was after midnight, but few of the Pathfinders from Team 3 could sleep. Many spent the night in a hangar on Mustang Ramp, rehearsing for the Dignified Transfer, the ceremony that would load the fallen onto the aircraft that would take them home.
Sgt. Jon McMillen, 22, was among those who volunteered. The day before, he had seen his best friend, Spc. Adam Patton, killed in an IED attack. When it came time to lift him on board, McMillen looked away. He had to carry him, but he couldn't bear to look at his casket.
Nearly 100 miles northeast of Kandahar Airfield, confirmation of the tragedy reached Pathfinder Company headquarters at Forward Operating Base Wolverine in Zabul province. Soldiers with Teams 1 and 2 crowded into the small building to hear the news.
Sgt. Gerardo Ruiz, 36, a medic and veteran of three combat tours, looked down as the names of the fallen were read. When he heard the third name, he went dizzy. Ruiz had lost soldiers before, but Sgt. Louis Ramos was his closest friend. He felt like someone punched him in the chest.
"I'll never forget when I was told. The details. The faces in the room, pale, blood-drained," Ruiz recalled. "People just shaken, not knowing what to say or do."
For many of the Pathfinders, the calls home were tough; they struggled to explain the loss to their parents and friends, even their wives.
"It's hard to open up to the people who haven't been there, who haven't lost like that," Ruiz said. "Those that haven't been to war, they just don't understand."
Nearly three days passed without missions. It felt like weeks to the infantry soldiers, who weren't used to staying still.
The summer fighting season raged, and the war soon came to find them.
On the evening of May 29, a medevac helicopter made an emergency landing in Zabul province. Navy SEALs had been in a firefight nearby and intelligence reports warned there might be an attack on the helicopter. The Pathfinders, whose primary job is the personnel recovery of downed aircraft, went to work.
Around 10:30 p.m., 16 Pathfinders from Team 2 were dropped by a Chinook helicopter into remote field near Combat Outpost Baylough, site of the emergency landing. The medevac crew had been evacuated, so the Pathfinders secured the helicopter and waited through the night for the Downed Aircraft Recovery Team.
When the team arrived at 7 a.m., the sun was blazing; the day would be a scorcher. Other soldiers arrived from Baylough to help with security while the Pathfinders and the recovery team worked in 120-degree heat.
"I was miserable," Spc. Alex Sweredoski said later. "I baked like a lizard on a rock."
A pair of U.S. and Australian Chinooks worked in tandem to carry out the dismantled helicopter and return troops to their nearby bases.
By late afternoon May 30, the Pathfinders were sunburned and nearly exhausted. Most had been up for at least 36 hours, some for much longer since they hadn't been able to sleep after losing their friends. They were low on food and water, and their radio batteries were nearly depleted.
"Well, at least it can't get any worse than this," 1st Lt. Kyle Ryman told his platoon sergeant as they waited for the Chinooks to return to their position near Baylough.
He was wrong.
The U.S. Chinook arrived on its final turn. Soldiers loaded the last of the dismantled helicopter and looked for their ride home, the Australian Chinook.
From the open field, several of the Pathfinders watched in bewilderment as the Australian Chinook dropped from the sky, falling at a 90-degree angle behind a ridge.
"What the hell just happened?" Ruiz asked. No one knew.
Ryman listened as the Kiowa gunship circling overhead radioed the U.S. Chinook: "Varsity, I think your wingman just went down."
'Go, go, go'
Moments later, the crew chief called everyone on board, "Let's go. Let's go." Confusion abounded. Several of the Pathfinders and recovery team hadn't seen the aircraft fall, and the noise from the helicopter's engines and rotors kept them from hearing.
Within minutes, the U.S. Chinook hovered over the downed aircraft.
"It's the worst sight you'll ever see in your life," Sweredoski said later. "Another military helicopter on its side and fully engulfed in flames."
The massive rotors were torn off and lay splintered in a valley. Ryman couldn't see the crew and worried they were burning. "Get us in there," he remembered thinking. "Land this thing now!"
Then he thought of his men. "God, I hope that we don't have to send our guys into that burning thing."
When the U.S. Chinook landed, the Pathfinders stood ready as the ramp lowered. They didn't know what caused the crash and worried the helicopter had been shot down.
"We were staged like track stars. As soon as we felt it touch the ground we were off," Ryman said. "Everyone was running to their positions. It was go, go, go!"
Members of the Australian crew appeared from the smoke and wreckage. They were in shock and bleeding badly, but they could walk.
Ruiz, the only medic, ran toward the burning aircraft.
"He just disappeared into the flames," said Sgt. Sean Yorty. "For a second we thought, 'Doc's not going to make it out of that.' "
Ruiz found Lt. Marcus Case, who had been thrown near the back of the helicopter. He and an Australian crewmember carried Case away from the aircraft, which by then burned so hot the flames were clear.
Ruiz went to work on Case. His left leg was broken and his foot shredded. His face was badly cut and his right eye was swollen shut. He was fading in and out of consciousness.
Flames shot from the windows as a thick cloud of black smoke filled the valley. Within minutes, soldiers were covered in soot.
"Every time I looked up, there was more fire, and it was just engulfed in flames," Ruiz said.
Ammunition rounds started cooking off, and then the helicopter blew. Ruiz watched as it exploded from the inside and became a giant ball of fire.
"I didn't think an aircraft could burn that fast," Yorty said.
Within minutes, the wounded were loaded on to the U.S. Chinook. It charged toward the military hospital in Qalat, leaving the Pathfinders and the recovery team behind.
Back at FOB Wolverine, Pathfinders from Team 3 had flown in from Kandahar and were rehearsing for the memorial service when they received news of the crash. Company commander Capt. Mark Herlick was leaving with most of the Pathfinders to help Team 2. The memorial would have to wait.
When Herlick arrived at the crash site with members from teams 1 and 3, they were a welcomed sight for Team 2, who had been up for nearly 40 hours. Not just because they brought food and water, but because many were seeing their buddies from Kandahar for the first time since the IED attacks.
The Pathfinders were troubled to learn that Case died later that day, but were relieved that the five other crewmembers survived. The cause of the crash remains under investigation by the Australian Department of Defense.
Later that evening, an explosive ordnance disposal team arrived from Wolverine and blew what was left of the aircraft.
Finally, the Pathfinders flew home.
"It was the worst of times, but that moment, that single mission … It kicked us all in the ass a little — telling us to stop wallowing in our sorrow, get up, dust ourselves off, and get back out there and do our jobs," Ryman said.
"That was one of our best moments in the war."
The aftermath
On May 31, 2011, a memorial service was held at Kandahar Airfield commemorating those killed in Shorabak. Gen. David Petraeus, then U.S. Forces Afghanistan and International Security Assistance Force commander, attended.
In the following weeks, the Pathfinders established a battle position near the village of Kuchnay Shur in Zabul province, naming it for Staff Sgt. Ergin Osman, who was killed May 26.
"We went through our period of mourning and got back in the game," Herlick said. "Osman was all about taking the fight to the enemy."
The Pathfinders held BP Osman for more than 100 days before successfully turning it over to Afghan National Security Forces. The strong point was hugely successful, and significantly reduced enemy threat to the surrounding villages and Route Duck, a main road in the province.
The company returned to its specialized mission sets and finished the deployment without losing another soldier. It redeployed to Fort Campbell, Ky., in February with the 159th Combat Aviation Brigade.
Most have done their grieving, and can easily find laughter when they remember the good times shared with those they lost. Though McMillen has made peace with events of May 26, there are still places near Fort Campbell where he won't go — old haunts that he and Patton used to frequent. It is wiser, he figures, to just stay away, at least for now.
On Thursday — almost a year to the day after the blast — the company will host the families of the fallen for a Memorial Day ceremony, dedicating their buildings at Fort Campbell to the six Pathfinders who were killed.
"I think they answered a call, where most people don't," Herlick said. "These six, all of them, came in after 9/11. They knew the country was at war."
---
---
---
---