On Afghan visit, Gates sees a daunting task, but cautious optimism
by
Kevin Baron
September 4, 2010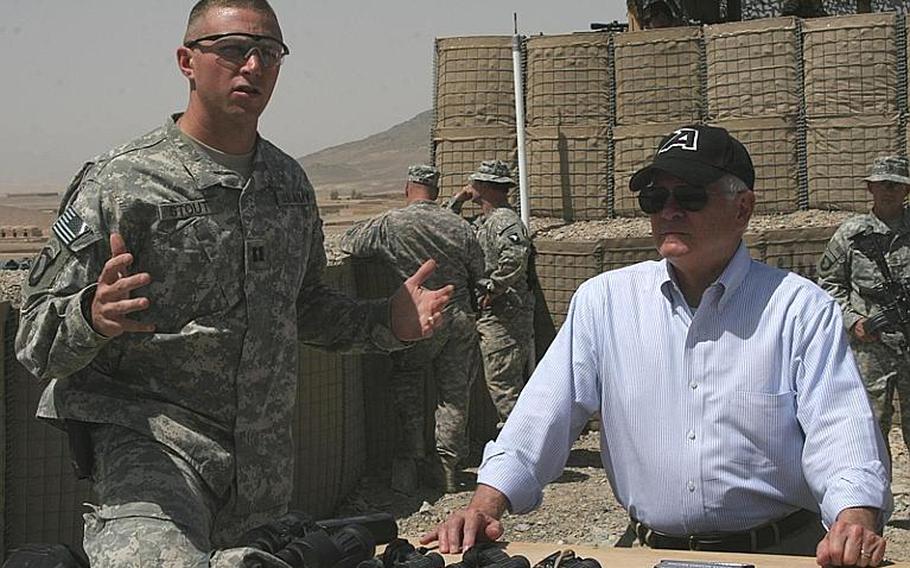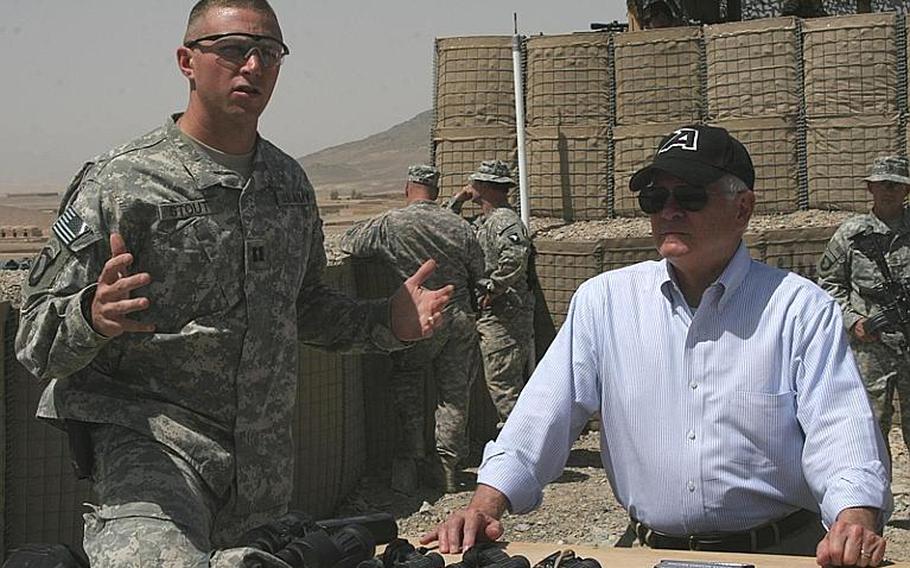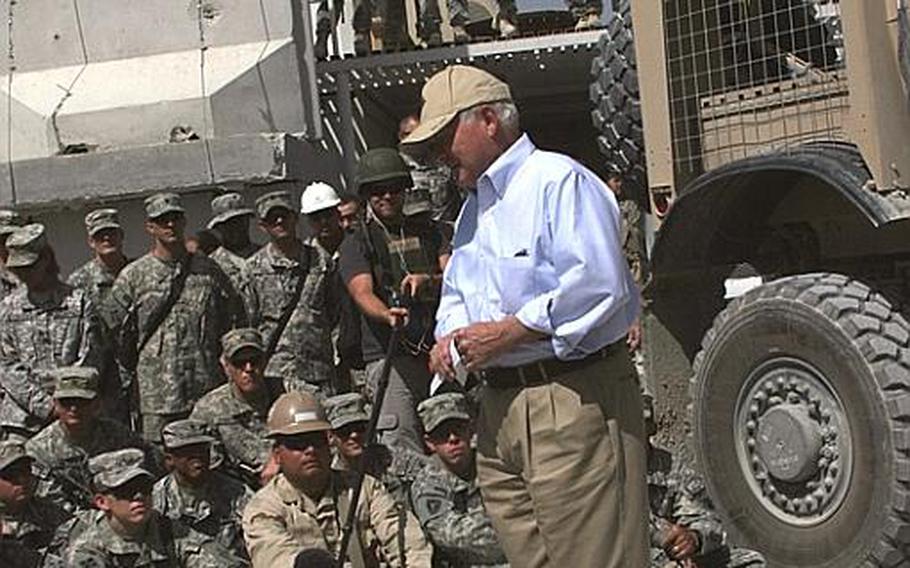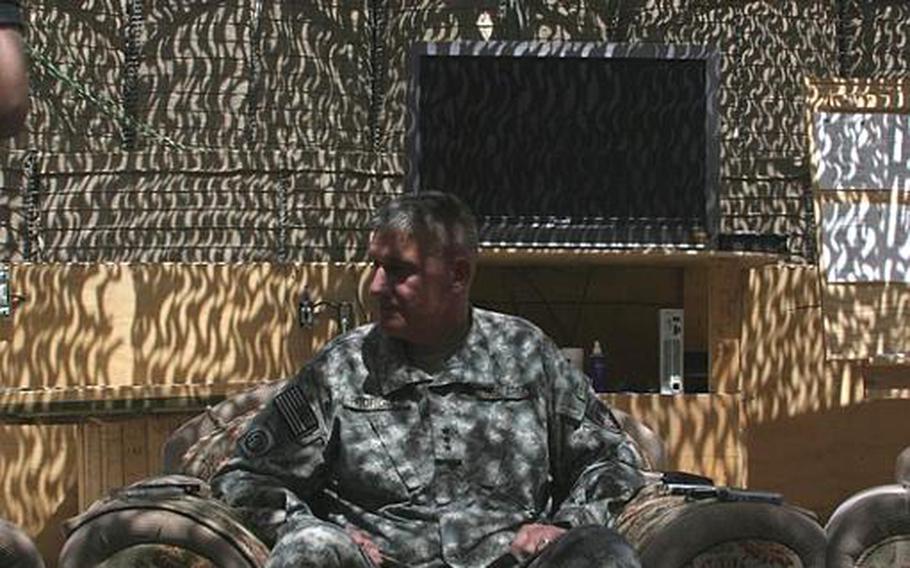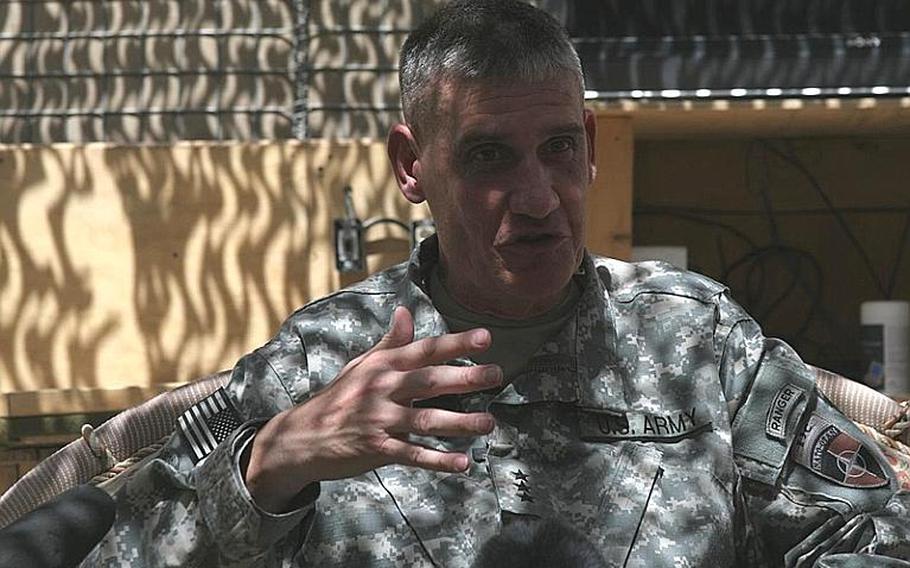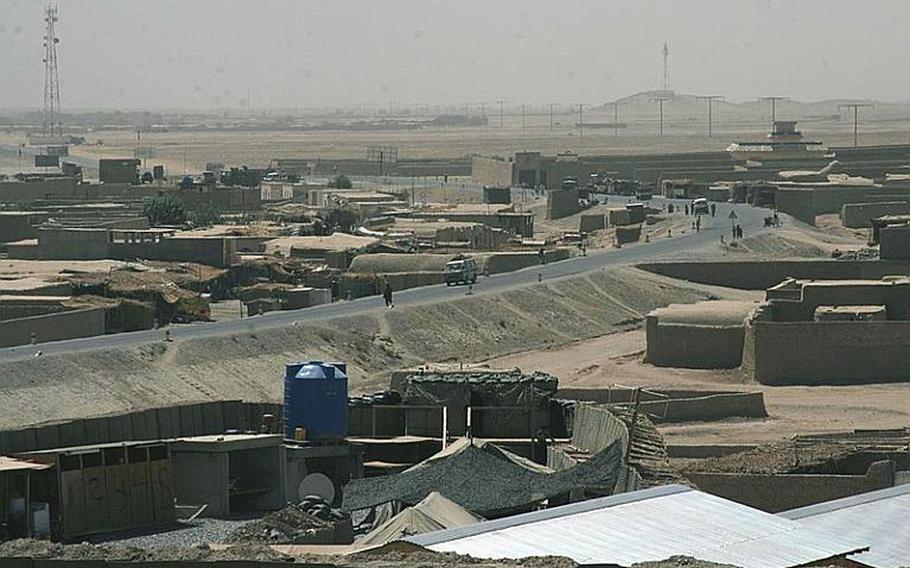 SENJARAY, Afghanistan — Atop a sun-bleached rock pile in the eagle's nest of Combat Outpost Senjaray, surrounded by protective snipers, Defense Secretary Robert Gates on Friday stood just 50 yards from the road that edges Taliban territory in this small valley city and faced the front line of the war in Afghanistan.
"Anytime you cross that road, you're likely to get shot at — or hit with a hand grenade," said Sgt. Dennis Gibson, of Campbell, Mo., pointing down at Route 1, the famous "ring road" that cuts through the Kandahar province town.
But don't come to any conclusions on this place just yet.
"The town is really on the fence," Gibson said.
Residents on one side seem content having U.S. troops — particularly the kind who work through enemy fire to build a school — for neighbors. But Gates learned it's a daily struggle to cut off the enemy supply line running through the opposite side of the valley, where a Taliban-run white, arch-fronted mosque stares back at the Americans tauntingly.
The scene capped Gates' two-day visit to Afghanistan, a trip clouded by uncertainty among top commanders from Kabul to those in southern outposts.
With nearly all of the 30,000 "surge" troops now in country, commanders and troops unanimously expressed high confidence that the strategy is understood and the surge will begin to take hold. None would predict how long it will take or how much ground could be gained before the December strategy review due to the White House or the July 2011 deadline to begin handing security over to more Afghan units.
They would only say that it would not be easy.
On Friday, Gates flew to see firsthand the surge troops that arrived in Kandahar, traveling via Black Hawk to visit Camp Nathan Smith and Senjaray. Gates said he left feeling encouraged.
"They know what they're doing here," he said.
But at both locations, the locals are unsure what to make of these Americans, ground commanders said, and undecided on whether they should back the foreigners or submit to the Taliban.
For their part, Gibson and his unit say they're unsure how long it will take to evict the Taliban, much less secure Senjaray and the population's allegiances, and hand over security to Afghan forces and government officials.
During Gates' visit, the secretary as well as Gen. David Petraeus and his deputy, Lt. Gen. David Rodriguez, laid out for reporters a daunting to-do list: chase away, kill or capture Taliban fighters; reintegrate or reconcile others; recruit, educate and train Afghan soldiers and police; create reliable government institutions; and convert skittish locals.
Commanders hedged their answers on strategy questions and rejected any sense things weren't going as advertised.
Petraeus, Rodriguez and their ground commanders in the south insisted locals in Kandahar and Helmand provinces increasingly are welcoming Americans. Petraeus criticized as too narrow a recent survey of Marjah residents by the London-based International Council on Security and Development that found most do not want U.S. forces there and do not trust the local government.
"They're warming up to us," said Maj. Earl Brown, a spokesman for the 1st Brigade Combat Team, 4th Infantry Division, which arrived at Camp Nathan Smith three months ago. "My understanding is that they're ready for some change."
Soldiers from that unit late last month fought their way into Malajat, "a rough area for many, many years," Rodriguez said, speaking to reporters sitting on faded overstuffed chairs outside under a camouflage netting. It is a rural suburb where Taliban launched attacks on the city and planted rings of bombs.
"They put in a systematic murder-and-intimidation campaign," Rodriguez said. "It's a very important place to get."
Two Americans were killed during dismounted raids, Brown said, and some civilians — including two brigade interpreters — were wounded. He would not say what numbers of insurgents were killed because it is considered an ongoing operation. Afghan forces have arrested 30 people.
While Rodriguez hailed that operation, when asked if he would be able show significant progress in the rest of Kandahar province by the December review, he said: "I think we'll be able to show progress. Significant? I'm not sure that's the right word."
On reconciliation and reintegration, Gates and Petraeus both proudly said Afghans increasingly are abandoning enemy groups to rejoin normal society. But while Petraeus noted on Thursday in Kabul that "very senior level" talks were occurring between Afghan Taliban and the government, Gates said Friday at Senjeray that he felt it was too soon for high-level reconciliation to occur.
On Afghan recruiting, Petraeus said he was confident in Lt. Gen. William Caldwell's prediction they will meet next year's ambitious goals for the Afghan army and police, who are taking the lead in greater numbers every day despite crippling illiteracy and high attrition rates persisting in some units. Petraeus then tempered the assertion, saying, "It's just tough to raise your hand in some of the more difficult areas of the south."
Although another round of fresh corruption allegations was leveled at Afghan President Hamid Karzai in recent weeks — Gates discussed the issue with Karzai in their private meeting — Petraeus stuck by the president, saying he heard Karzai assure President Barack Obama and Sen. John Kerry, D-Mass., chairman of the foreign relations committee, that Karzai would strengthen anti-corruption institutions.
At the local level, the U.S. needs Afghans to trust their governments, from representative councils to parliamentarians, for the counterinsurgency to work, Rodriguez said. Coalition forces anticipate greater participation and less fraud in national elections featuring 2,500 candidates.
Nobody would say how much time they have to accomplish those goals, but on Thursday Gates said during a press conference at Karzai's palace, "The American people need to know that 15 years from now we are not still going to be fighting this fight."
Atop the eagle's nest at Senjaray, a commander briefing Gates said they were making headway with the locals, but did not know if they would still be fighting eight months from now.
After Gates' party departed, the battalion turned its attention back to building the school. The unit now must leave 24-hour sentries at the work site to fend off attackers. Last month, a man threw a hand grenade at troops sitting in their M-ATV. The grenade did no damage, and the man was killed.
---
---
---
---