Obama administration to seek more money for Afghan forces
by
Jon Harper
March 24, 2015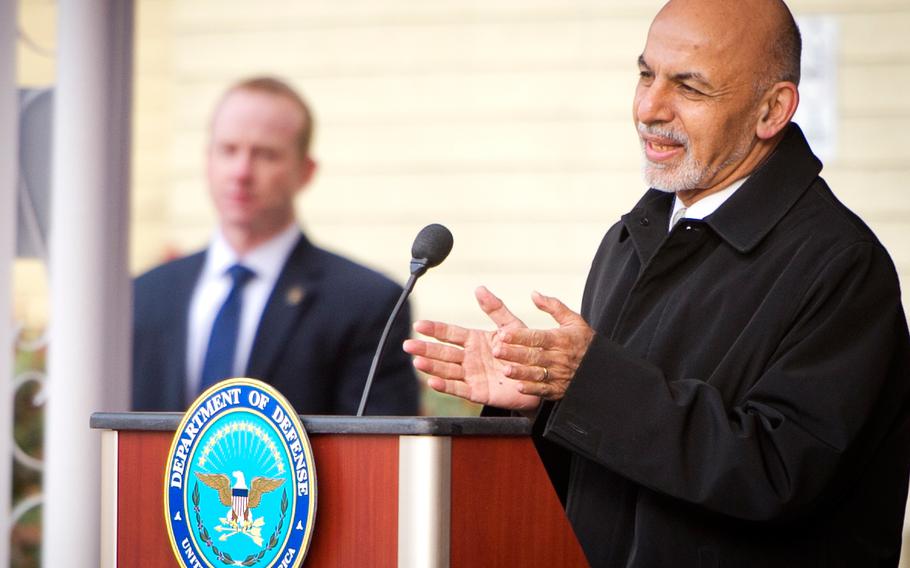 WASHINGTON — The Obama administration will ask Congress for more money to help sustain the Afghan National Security Forces in the years ahead, Defense Secretary Ash Carter announced Monday.
Carter said the Pentagon will ask lawmakers for an unspecified amount of funding to support an ANSF end strength of 352,000 in the coming years.
"Afghan and coalition military commanders have jointly recommended this force size, at least through 2017, to ensure that the security gains we've made together are lasting," he told reporters at a news conference at Camp David, Md., following meetings with Afghan President Ashraf Ghani and other senior U.S. and Afghan officials.
The Afghan government is heavily reliant on the international community to bankroll its security forces as they battle a resilient Taliban insurgency. For fiscal 2015, the U.S. is providing $4.1 billion to fund the ANSF at the authorized end strength of 352,000.
The Pentagon chief did not provide a dollar amount for the new initiative but said that maintaining a 352,000 ANSF force level would come at "significant cost" to Afghan government and its international partners.
Ghani praised Carter's announcement.
"This is a major statement of support. Our armed forces and our security forces are going to greet this with enormous welcome because it gives them the assurance that the Resolute Support mission is continuing and that we are able to focus on our key priorities," he told reporters.
Earlier Monday, during a speech at the Pentagon, Ghani promised that Afghanistan was "not going to be a burden" on American taxpayers over the long term.
Maintaining an Afghan force that is capable of holding the Taliban at bay is the centerpiece of the Obama administration's strategy in Afghanistan. The U.S. combat mission in Afghanistan officially ended at the end of last year, and the approximately 10,000 U.S. troops there now are primarily in a train, advise and assist role. Under the current plan, that number is slated to decrease to 5,500 by the end of this year and drop to an embassy presence by the end of next year.
Meanwhile, the ANSF has been plagued by high casualty and desertion rates, and some experts have questioned whether 352,000 Afghan troops will be sufficient to thwart the Taliban in the years ahead.
While he's in Washington, Ghani is hoping to persuade President Barack Obama to slow down the pace of U.S. troop withdrawals. The two leaders are slated to discuss the timetable during a meeting at the White House on Tuesday.
harper.jon@stripes.com Twitter: @JHarperStripes