Numbers on US counterterrorism efforts in Afghanistan don't add up
by
Chad Garland
March 6, 2018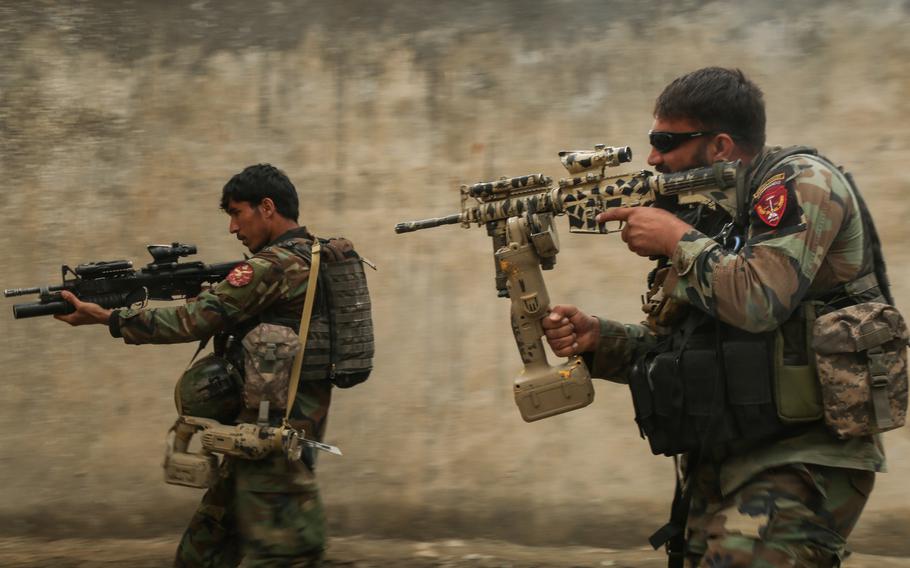 KABUL, Afghanistan — Data the Pentagon issued last year to spotlight the success of operations against militant groups in Afghanistan were inaccurate, raising questions about the real progress of the secretive counterterrorism campaign being conducted by the U.S. and Afghan military.
Key figures in the by-the-numbers look at U.S. and Afghan counterterrorism missions in the second half of 2017, which have been published by prominent news outlets, were wrong, defense officials confirmed after Stars and Stripes pointed out discrepancies. The incorrect data — including a breakdown of independent and joint raids and a body count of enemy fighters — were released in an unclassified December report to Congress titled "Enhancing Security and Stability in Afghanistan."
A corrected report was quietly issued in late January, though it also appeared to include errors, such as missing or conflicting data.
Weeks later, the cause of the mistakes remains unclear — at least some could be the result of editing mistakes — but the episode highlights increasing difficulties in obtaining data about U.S. and Afghan operations, even from records meant to hold the military accountable to the 16-year war's congressional overseers.
"There are no precise numbers in Afghanistan," said Jonathan Schroden, a researcher at Arlington, Va.-based CNA and director of the nonprofit research organization's special operations program. "It's the nature of what you're dealing with over there."
Schroden has crunched Afghanistan numbers for years. In this case, he said, the information may be off because the Pentagon relied on "notoriously inaccurate, delayed, miscategorized, mislabeled" Afghan military reports. "Trying to make sense of all that is a very challenging prospect."
Lt. Col. Kone Faulkner, a military spokesman in Kabul, acknowledged that something was "lost in translation" when raw figures were formulated into a two-paragraph snapshot of the battle against terrorists.
However, weeks after Stars and Stripes raised questions about the supposed fixes, officials in Washington have been slow to make further changes.
The report's two versions were on the Pentagon's website Tuesday, and there appear to be no markings identifying the revised one. Only by delving into the data do the differences become apparent.
'Significant growth'The original data showed, for example, that despite years of close U.S. mentoring, Afghanistan's most-elite units conducted missions on their own only about 17 percent of the time. The later version upped that share to 53 percent, suggesting a more capable force, but it, too, included contradictory numbers.
The mix-up comes as the military withheld details in January's quarterly Special Inspector General report on U.S. efforts in Afghanistan, such as security forces casualty and attrition data. Measures of insurgent-held territory were also redacted, though officials later said that was done in error.
The U.S. commander in the country, U.S. Central Command's top general and other defense officials signed off on the December report, which Congress has required twice a year since 2015. It provides detail on U.S. strategy, outlines threats and assesses the Kabul government's security forces.
A detailed summary of counterterrorism operations was added this time to highlight the recent operational success of Afghan special security forces — elite U.S.-trained army, police and air units — said Air Force Lt. Col. Mike Andrews, a Pentagon spokesman.
They "demonstrated significant growth and increased capability (and) defeated the enemy during every one of their combat engagements," he said. That was the "impetus" for expanding U.S. training and advising efforts, part of the Trump administration's more aggressive regional strategy announced in August.
But the original data understated the presumed success story of those special units, which the report said made up "a small fraction" of the country's security forces but conducted the bulk of the offensive operations last year.
Initially, data showed they operated on their own on just 1 in 6 missions between June and December. Some 1,200 operations seemed to have been omitted, though, casting doubt on that ratio's accuracy.
The corrected report nearly tripled the number of independent Afghan operations. Despite that better ratio, the numbers mean that U.S. special operations troops were still assisting their most capable local partners on the battlefield nearly half the time.
Most of the 14,000 Americans deployed here support NATO's Resolute Support train, advise and assist mission, largely away from the battlefield. Under a separate counterterrorism mission, a special operations task force of about 2,000 troops trains the elite government forces and accompanies tactical-level units on "certain missions," the report said.
Officials believe it cements security gains and builds better partnerships, the report said. They believe similar methods soon to be adopted within the broader Resolute Support mission will "replicate our past success with the Afghan special forces."
Some observers doubt the long-term success of that approach, which will put advisers closer to fighting than most have been in recent years.
"All it's doing is pushing American enablers forward," said Jason Dempsey, an adjunct senior fellow at the nonpartisan Center for a New American Security in Washington. The former Army officer was doubtful it would do more than give a false picture of Afghan competence, while leaving them dependent on U.S. capabilities.
Faulkner, the military spokesman in Kabul, said operational data such as those in the December report had not been collected during earlier periods, making it difficult to measure progress in weaning Afghans off U.S. assistance.
'Not particularly illuminating'The Pentagon's later tweaks to the data, meanwhile, seem to have introduced new errors and confusing gaps, making it hard to draw firm conclusions.
It says U.S. special operations troops "advised or enabled" 2,450 Afghan ground operations, contradicting another line that says the Afghans conducted 1,301 of those 2,450 operations without help. That line also lists a lower number of ground operations, without explaining the reason for conflicting tallies.
In another case, counts appear to be off by some 400 operations in a line breaking down how many of the total ground raids and supporting U.S. strikes targeted each of four groups: an Islamic State affiliate, the Taliban, the Haqqani network — an especially brutal arm of the Taliban — and "other insurgent networks." More than 20 such groups operate in the region.
"The difference in the numbers is the fact that there are other enemy in Afghanistan besides (ISIS, the Taliban and the Haqqani network)," Andrews said of about 135 missing U.S. strikes. The list of ground operations seemed off by almost 280 from the total. "Within the operational reporting there are some missions that do not designate the (targeted) organization."
The report did have a category for "other" enemies but not one for unspecified targets.
After several inquiries for more than a month, Andrews confirmed or clarified a few key figures in late February, including that the Afghans conducted 2,450 ground operations, fewer than half with the U.S. task force's support. The task force also conducted about 560 precision strikes to support them.
Pentagon officials have not said whether the report will be corrected again for clarity.
Beyond being erroneous, the numbers don't seem to say much about progress in defeating the militant groups, analysts said.
The data are not "particularly illuminating," Schroden said. Both versions list 450 enemies killed and more than 300 captured but lack context, such as the size of the enemy force or its ability to regenerate after such losses.
"I don't think the numbers that they cite are any more useful than body counts were in Vietnam, for example," he said. They're "indicators of activity," not measures of progress.
Kill counts give the "illusion of success," Dempsey said, but he wouldn't discourage disclosure of those and the other numbers in the report.
"The public deserves to know what's being done in their name," Dempsey said.
garland.chad@stripes.com Twitter: @chadgarland