Analysis
NATO watchers ask what's next following planned Afghanistan cuts, Syria pullout
by
John Vandiver
December 21, 2018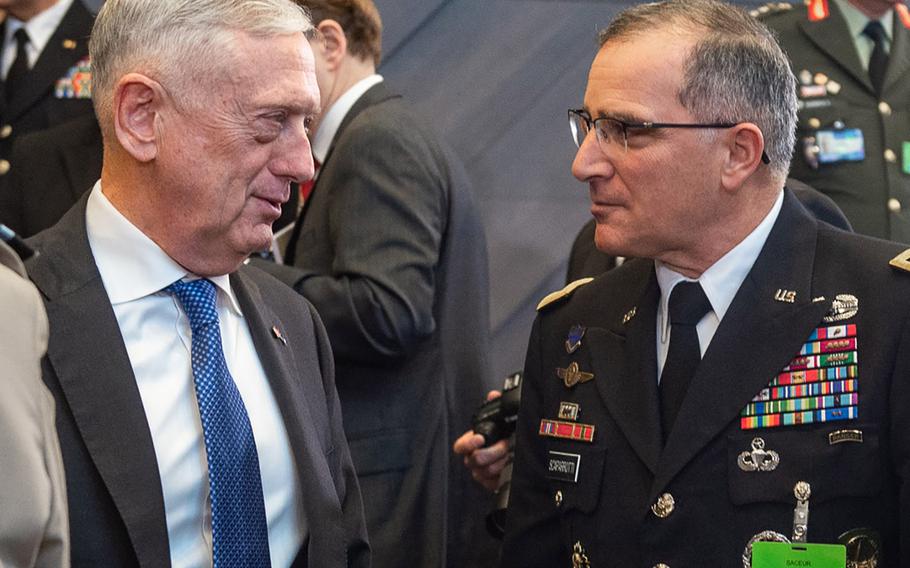 STUTTGART, Germany — Following President Donald Trump's unexpected decision to pull troops from Syria and reports of a plan to cut half the number of U.S. forces in Afghanistan, the question now swirling in security circles is what mission could be next.
"Yesterday: Syria. Today: Afghanistan. Tomorrow: South Korea? Germany? It all fits a pattern and it shouldn't be surprising," said Ivo Daadler, a former U.S. representative to NATO in a tweet Friday. "Trump has said he would since the day he ran for President."
The White House intends to pull 7,000 U.S. troops out of Afghanistan in a move that would bring force levels to their lowest levels since the early days of the 17-year-old war. The decision, reported by The New York Times, came to light hours after Defense Secretary Jim Mattis resigned over the Syria pullout.
Derek Chollet, a Pentagon official during the Obama administration, warned that Trump could now turn his attention to NATO in an attempt to make good on past threats to both quit the alliance and cut back in South Korea.
"He sees both as antiquated missions and examples of allies ripping off the American taxpayer, and he has repeatedly threatened to pull the plug on both, only to be walked back by his advisers," Chollet wrote in Defense One this week. "There is no reason to expect the pattern to change. So with Syria behind him, those missions are up next. Don't be surprised."
In Europe, policy makers are likely reeling from Trump's sudden reversals on Syria and Afghanistan and what the longer term implications could be for NATO after the resignation of Mattis — the alliance's chief defender in Washington.
"Mattis has a steady hand at NATO, and there is no doubt the Europeans will be pretty battered and demoralized with his exit," said Judy Dempsey, an analyst with Carnegie Europe. "This leaves NATO without an anchor. It is quite worrying."
Jorge Benitez, a NATO expert with the Atlantic Council think tank in Washington, said allies need to brace for more threats from Trump regarding U.S. support for the alliance.
"President Trump already threatened to withdraw some U.S. support for NATO and without Mattis, he is more likely to carry out his threat," Benitez said. "Also, Trump's decision to withdraw U.S. forces from Syria and plan to cut U.S. forces in Afghanistan, show a dangerous trajectory that he is likely to continue and will lead to reducing U.S. support for NATO."
Meanwhile, a large U.S. pullout in Afghanistan would likely result in similar cutbacks from allies there and run "counter to Trump's objective of improving burden sharing," Benitez said.
German government spokeswoman Ulrike Demmer told reporters in Berlin on Friday that it was not informed in advance about Trump's decision to pull forces from Syria, where Germany conducts surveillance operations.
"As an ally and member of the anti-IS coalition we would have considered prior consultation by the U.S. government about the withdrawal of U.S. troops helpful," Demmer said, adding the Islamic State group remains a threat.
For now, Berlin plans to continue its surveillance and reconnaissance mission in Syria, officials said.
Carl Bild, the former prime minister of Sweden, reacting to Mattis' resignation, said he feared the U.S. would become more unpredictable with the pro-NATO defense secretary gone.
"A morning of alarm in Europe," Bild said on Twitter. "SecDef Mattis is the remaining strong bond across the Atlantic in the Trump administration. All the others are fragile at best or broken at worst."
In his resignation letter to Trump, Mattis emphasized the decision to quit centered on the value the former Marine general places on maintaining alliances. Trump, meanwhile, has frequently expressed disdain for multinational organizations like NATO.
"My view on treating allies with respect and also being clear-eyed about both malign actors and strategic competitors are strongly held and informed by over four decades of immersion in their issues," Mattis wrote.
Mattis said his last day will be Feb. 28, which means he will likely attend NATO's defense ministers meeting in Brussels earlier that month.
For allies, the prospect of a major U.S. drawdown in Afghanistan could have major implications for the NATO mission in the country, which is focused on training Afghan security forces. In addition to the 14,000 U.S. troops deployed to Afghanistan, there are an additional 8,000 servicemembers operating under the alliance's "Resolute Support" mission.
NATO forces rely heavily on the logistical capabilities the Americans bring to bear in the country. In Brussels, officials were digesting the latest developments Friday morning.
"We have seen the reports. For any comments, I refer you to the U.S. authorities," "NATO spokesperson Oana Lungescu said in statement.
However, NATO emphasized that just last month, alliance foreign ministers gathered to reaffirm that mission in Afghanistan and in July also agreed to extend funding for the Afghan security forces until 2024.
"Our engagement is important to ensure that Afghanistan never again becomes a safe haven for international terrorists who could threaten us at home," Lungescu said.
Still, critics of the campaign say allies have little to show after nearly two decades in the country. While Afghan security forces are responsible for leading most combat missions, U.S. military leaders have acknowledged that local forces would likely collapse if left to battle the Taliban on their own.
"The mission has been in trouble for many, many years in Afghanistan. It's understaffed and doesn't function properly. NATO was always in self-denial about the goal and the implementation," Dempsey said.
vandiver.john@stripes.com Twitter: @john_vandiver