NATO promises Afghans air support after 2014 as it shuts key base
by
Josh Smith
October 26, 2014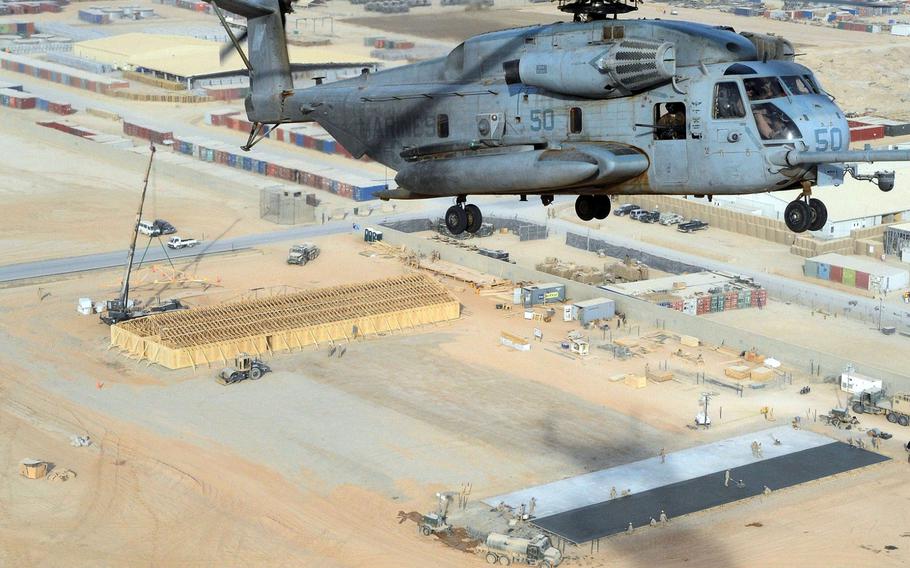 KABUL, Afghanistan — The international military coalition said Sunday it would continue to provide air support to Afghan forces after the scheduled end of combat operations in December, even as it shuttered a major regional command in the violent Helmand province.
Maj. Paul Greenberg, a spokesman for NATO's International Security Assistance Force, said in a statement to Stars and Stripes that cooperation with the Afghan police and military after the transition to Afghan control "will include continued aviation support" by the coalition.
The framework for the continued air support was laid out in a recent agreement between Afghanistan and NATO, said Afghan Defense Ministry spokesman Gen. Zahir Azimi.
"According to our new agreement, the NATO air forces will support Afghan security forces until the Afghan air force is sufficient," he told Stripes in a phone interview. He said the current goal is to have the Afghan air force fully operational by 2016.
That news came as the United Kingdom essentially ended its combat mission in Afghanistan by handing over control of Camp Bastion to the Afghan forces in Helmand. Neighboring Camp Leatherneck was also formally transferred, signaling that the mission for U.S. Marines in the province is also nearing its end.
The planned American drawdown announced by President Barack Obama calls for about 9,800 U.S. troops to remain in Afghanistan next year for a "noncombat train, advise, and assist mission." Other NATO partners have pledged to send about 2,000 troops. It is not clear whether coalition air forces will be counted in those numbers.
Continuing violence in the country has led the Afghan government to retain a massive national security force and to seek additional support from NATO.
There has been much speculation about the exact nature of future international military backing. Now ISAF says combat aviation forces may be part of that support.
While he said the past two years have seen "exponential growth of the Afghan Air Force and the ability of the ANSF to operate independently," Greenberg said military support will continue.
"Upon the request of the Afghan National Security Forces (ANSF), the International Security Assistance Force has provided robust aviation support to the ANSF throughout Helmand Province in the form of close air support and intelligence, surveillance and reconnaissance aircraft," he said in the statement to Stripes. "This support has been provided consistently over the past two years. Upon request of the ANSF, NATO will continue to provide aviation support to Afghan forces during Resolute Support."
He confirmed that the support would apply to all of Afghanistan.
According to statistics released by the U.S. Central Command, American aircraft dropped 436 bombs and other weapons in August, the most in two years.
Officials are keen to avoid a repeat of the disaster in Iraq, where Western and allied countries have been forced to launch a new air war to try to roll back gains by Islamic State militants.
ISAF on Sunday announced the end of its mission in Regional Command Southwest, an area of Afghanistan that included Helmand province. British troops and U.S. Marines lowered their flags at a ceremony at camps Bastion and Leatherneck, a massive combined base in Helmand that has been a fixture in the region for most of the war.
The base was turned over to Afghan National Security Forces, which have been tasked with providing security in the country as ends its combat operations.
Greenberg said that because of efforts by Afghan forces, "insurgent networks have become ineffective in Helmand province." Still, he said, coalition support will continue under the Resolute Support mission, which begins next year.
Forward Operating Base Dwyer, which includes an airfield remains in ISAF control in Helmand, the coalition said.
"The formal end of U.K. combat operations in Afghanistan marks the final step in a deliberate, responsible and measured handover to the ANSF," Brigadier Rob Thomson, the top British officer in Helmand, said in a statement. "They are more than ready to take on responsibility for security in Helmand."
The long summer in Helmand was marked by heavy fighting in some districts, however. There were reports that the Taliban had gained control of territory and threatened government centers. Afghan forces are said to have sustained heavy casualties in the fighting, which has recently subsided.
Zubair Babakarkhail contributed to this report.
Twitter: @joshjonsmith