NATO: Afghan army will hit target troop number ahead of schedule
by
Stars and Stripes Kevin Baron
June 7, 2010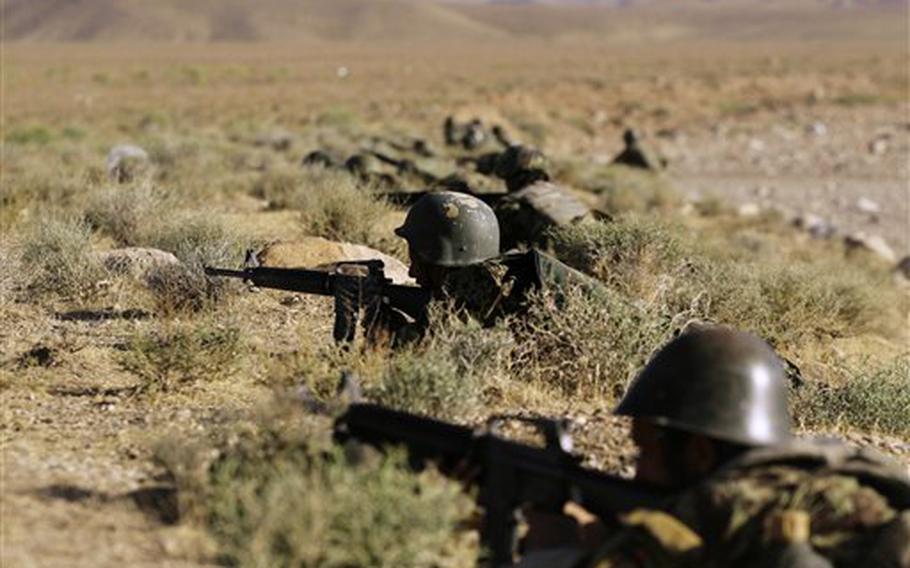 ARLINGTON, Va. — The Afghan army will reach its target of 134,000 troops by August, three months ahead of schedule, U.S. and NATO officials said Monday.
"We set up the NATO Training Mission about six months ago, building on the substantial U.S. effort," said NATO Secretary General Anders Fogh Rasmussen. "And it is already delivering. The Afghan Army will reach this year's target of 134,000 members three months ahead of schedule."
Rasmussen was briefed on the mission last week by Afghan Defense Minister Abdul Rahim Wardak, the secretary general's spokesman told Stars and Stripes. In Kabul, U.S. officials confirmed it -- with a caveat.
"Yes, if all the trends we are seeing now for recruiting, retention and attrition continue, the Afghan National Army will reach its goal of 134,000 soldiers sometime in August," said Lt. Col. David S. Hylton, spokesman for NATO Training Mission-Afghanistan in Kabul.
"But those are big 'ifs,'" he added. "The summer is traditionally the hardest time to recruit for the Afghan National Security Forces and retention and attrition have been very significant issues for the ANSF," or Afghan National Security Forces.
The training mission "is not declaring victory at this time, but the indicators are very positive," Hylton said.
The development would be welcome news for President Barack Obama's war strategy. Whether U.S. forces will begin any transfer of power or redeployment in July 2011 largely depends on the ability of Afghan forces to secure the country.
"Training is, in a word, key," Rasmussen said. "And amongst the very many challenges we face in Afghanistan, training is turning out to be one of the real success stories."News accounts from Afghanistan continue to portray national troops who steal fuel and supplies, desert their posts and are unable to do what they're being asked to do.
But just more than a week ago, Lt. Gen. William Caldwell, head of NATO's training in Afghanistan, told The Washington Post that a review of the prior 180 days found their efforts were improving after a nefarious start, thanks in part to the arrival of 1,000 additional trainers.
In December, Caldwell told Pentagon reporters in Kabul that he had added reading classes because so many new recruits were illiterate. Basic literacy enrollment has doubled since last fall, the Post reported, as other training courses have been lengthened or improved.
Defense Secretary Robert Gates is expected in Brussels later this week for a regular meeting of NATO defense ministers.
---
---
---
---