Mattis: 'We've got to replace combat with compromise' in Yemen
by
Caitlin M. Kenney
October 31, 2018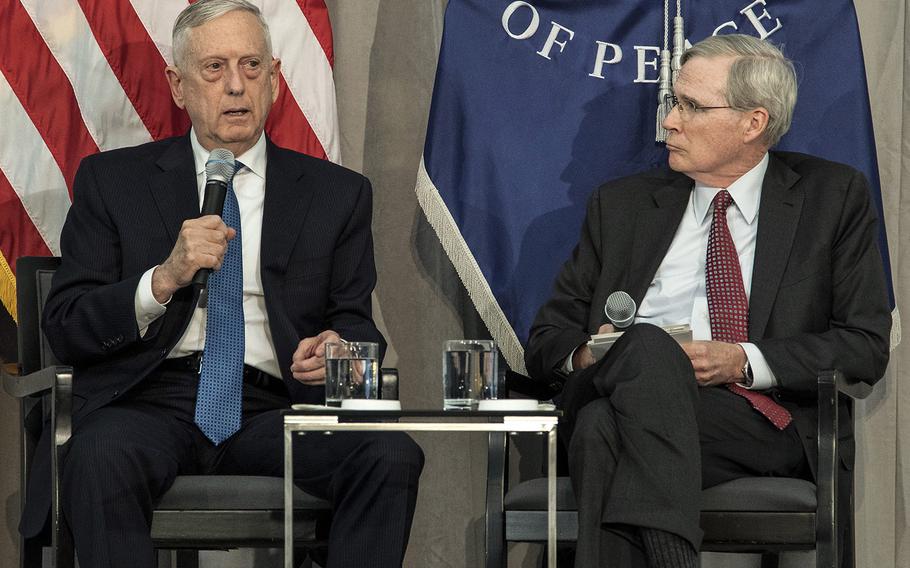 WASHINGTON — Secretary of Defense Jim Mattis on Tuesday called for an end to the civil war in Yemen and for both sides to begin talks within the next month to end the fighting.
Speaking at the United States Institute of Peace, a government-funded think tank, on the topic of the National Defense Strategy, Mattis said Yemen "has had more problems than any people deserve to carry."
"This has got to end. We've got to replace combat with compromise," Mattis told the gathering.
The civil war in Yemen, which started in 2014, has killed an estimated 16,200 civilians since 2015, according to the Council on Foreign Relations, another Washington think tank. More than 22 million people are estimated to need assistance.
U.S. forces have provided support for Saudi Arabia and the Yemen government in their fight against Iran-backed Houthi rebels in the civil war. The U.S. forces have assisted in coordinating, refueling and providing target guidance and intelligence to the Saudi-led coalition in Yemen.
The Saudi airstrikes in Yemen are under international scrutiny for killing civilians, including an airstrike in August that hit a bus and killed 51 people, according to CNN.
Mattis said he wants Saudi Arabia, the United Arab Emirates, and the Iranian-backed Houthis to come to Sweden in November to discuss solutions to the conflict, including demilitarizing the border between Yemen and Saudi Arabia and setting conditions for a government in Yemen that will give local autonomy to the Houthis.
The defense secretary blamed Iran for exacerbating the conflict, including its supply of missiles to the Houthis, which he wants moved and monitored as part of the peace discussions.
"So we've got to move toward a peace effort here and we can't say we're going to do it sometime in the future," Mattis said. "We need to be doing this in the next 30 days."
He said he believes the Saudis and Emiratis are ready to negotiate.
kenney.caitlin@stripes.com Twitter: @caitlinmkenney