Mattis: North Korea missile test meant to 'provoke' response
by
Corey Dickstein
April 18, 2017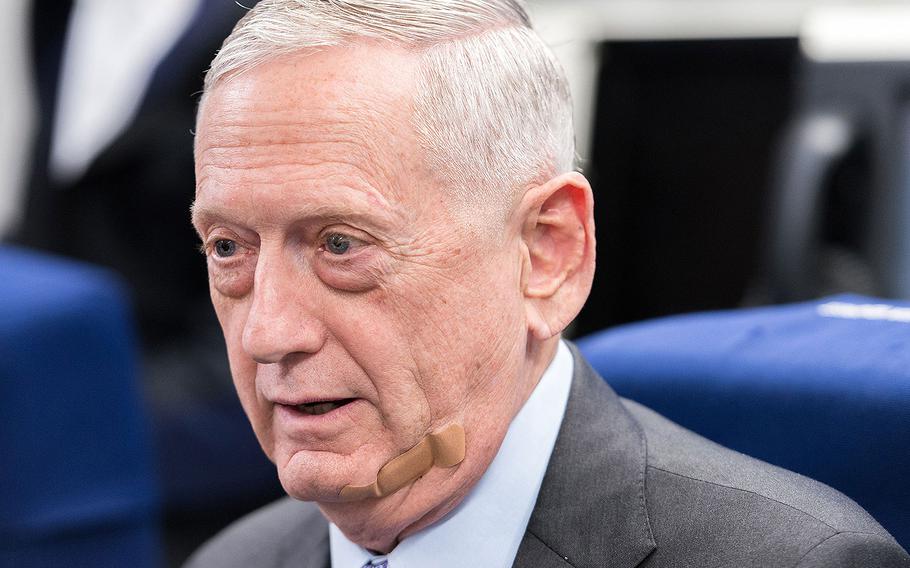 RIYADH, Saudi Arabia — North Korea's latest attempt over the weekend to launch a missile aimed to elicit a response from the United States, Defense Secretary Jim Mattis said Tuesday.
"The leader of North Korea, again, recklessly tried to provoke something by launching a missile," Mattis told reporters aboard a military aircraft bound for Saudi Arabia.
The attempted missile launch failed, exploding immediately, he said, declining to describe what kind of missile North Korea attempted to fire. However, he did say it was not an intercontinental ballistic missile and it posed no threat to the mainland of the United States.
Mattis vowed to continue to work with China to reduce tensions on the Korean Peninsula and reach a peaceful agreement to end North Korea's nuclear program.
"It shows why we are working so closely with the Chinese right now coming out of the Mar-a-Lago meeting [in Florida] between the two nation's leaders … to try to get this under control and aim for the denuclearized Korean Peninsula," Mattis said.
North Korea attempted the missile launch on Sunday as Vice President Mike Pence arrived in South Korea during his tour of the east Asian region.
President Donald Trump's administration has taken a hard line on the North Korean regime, but has stopped short of indicating it would launch a pre-emptive military strike to stop the reclusive nation from testing nuclear weapons or missiles that don't directly threaten the United States or its allies.
On Monday, Pence said "all options" remain open but the administration seeks "peace through strength." He added "the era of strategic patience is over."
White House spokesman Sean Spicer said Monday that the recent U.S. missile strikes on a Syrian government air base following President Bashar Assad's use of chemical weapons should be a warning to the North Koreans that Trump is prepared to use force if he must.
"I think that the action he took in Syria shows that when appropriate this president will take decisive action," he said.
North Korea blames joint U.S.-South Korean war games for increasing the tension in the region. The country's deputy UN ambassador, Kim In-ryong, warned his country was prepared to respond to "any mode of war desired by the U.S.," during a news conference Monday, according to ABC News.
He warned the United States had created "a dangerous situation in which a thermonuclear war may break out at any moment."
dickstein.corey@stripes.com Twitter: @CDicksteinDC