Marines killed in Afghanistan blast died only days before they were to come home
by
Claudia Grisales Chad Garland
April 10, 2019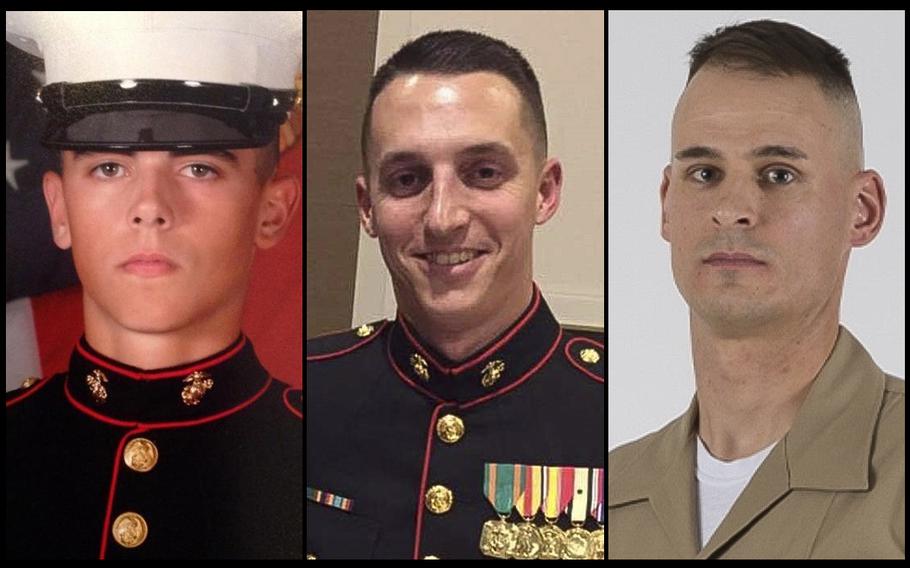 The three Marines killed Monday in a car bombing outside Bagram Air Field died only days before there were expected to return home from Afghanistan.
Now friends and family of Cpl. Robert A. Hendriks, 25, of Locust Valley, N.Y.; Sgt. Benjamin S. Hines, 31, of York, Pa., and Staff Sgt. Christopher K.A. Slutman, 43, of Newark, Del., are left with memories and grief.
Officials are still investigating the incident, which wounded three other Americans, an Afghan contractor and five Afghan civilians. No specific details were available, Marine Forces Reserve said in a statement.
"Our focus in the wake of this attack is to support the family, friends and loved ones of our fallen Marines," said Maj. Roger Hollenbeck, a Marine Forces Reserve spokesman. "These Marines are honored for their extraordinary bravery and for their direct contribution to the defense of this nation."
The fallen Marines were assigned to 25th Marine Regiment, 4th Marine Division. They deployed to Afghanistan in October 2018 as part of a program in which Marines train and advise Georgian infantry troops that the former Soviet republic contributes to the NATO mission there.
Slutman and Hines were expected back in the United States in a week and a half, said Kyle Moyer, a friend and Marine veteran.
Two uniforms
News that Slutman and Hines were among the dead left family and friends in their hometowns reeling. Both were assigned to a unit based in Harrisburg, Pa.
"They were very close since ... a lot of people in our unit were from the East Coast," said Moyer, of Morgantown, Pa. "I just really hurt for their families. I'm really sad. If their families need anything, myself and other Marines, we'll be willing to do anything to help them."
Slutman, an infantry rifleman, leaves behind a wife and three daughters, a former Marine in his platoon said.
As a fireman in his civilian career, Slutman was "truly one of New York City's bravest." He was decorated for that bravery in 2014 after rescuing an unconscious woman from a burning building in the South Bronx, Mayor Bill de Blasio said in a statement.
"Firefighter Slutman bravely wore two uniforms and committed his life to public service both as a New York City firefighter and as a member of the United States Marine Corps," said Fire Commissioner Daniel A. Nigro. "The hearts and prayers of the entire department are with his loved ones and with the families of his fellow servicemembers who lost their lives in service to our nation."
Slutman joined the Marine Corps in November 2005 and deployed to Iraq for about 11 months in spring 2008, Marine Force Reserve said. He also served in Mozambique for a month in 2010.
Moyer served with Slutman in Echo Company, 2nd Battalion, 25th Marines. They were in the same platoon and deployed overseas to Iraq together.
Moyer said the other Marines often joked with Slutman about his age — he was in his 30s at the time — and he in turn would "rub it in our faces" by challenging everyone else to keep up.
"Christopher, he was a very caring person. He was older than everyone else, so we called him 'the old man,'" Moyer said. "He never let things bother him."
Slutman's awards and decorations include two Iraq Campaign Medals, a Military Outstanding Volunteer Service Medal and four certificates of commendation.
'The center of it all'
The Afghanistan deployment, which followed about two months of training with the Georgian infantry outside Tblisi, was the second for Hines.
He joined the Marines in October 2006 and served in Iraq from September 2008 to April 2009. Described as a jokester by his friends, Hines was always cracking jokes and ready to reenact a scene from a movie. He was a glue that brought Marines together, they remembered.
"Ben was really a fun person. He was always around when we were having fun," Moyer remembered. "He was involved in everything, he was just the center of it all, all the time."
Moyer remembers Hines, who was in his early 30s, as someone who got along with everyone and spread his positive attitude among the Marines and friends.
Marine veteran Sam Belli, 27, of Pipersville, Pa., said he served in Hines' squad.
"He was all around a great guy with an upbeat attitude who loved the Corps through and through," he said. "He never treated you like a subordinate. You were always an equal and friend."
Belli said Hines would lift morale by doing his version of funny lines from movies.
"He would know how to get everyone's morale and attitude back on track," he said.
Sam's brother John Belli, a Marine veteran who also served in the same platoon, said he and Hines hit it off quickly.
"I was pretty fresh in the Marines and he was an unbelievable leader, a natural born leader," said John Belli, 29. "He was very attentive to his Marines and always put everyone else's needs first."
Hines' awards and decorations include a Navy and Marine Corps Achievement Medal, an Afghanistan Campaign Medal, two Iraq Campaign Medals and a Meritorious Mast — a form of Marine Corps recognition for noteworthy performance.
'Heaven gained another Devil Dog'
Hendriks joined the Marines in October 2012 and served as an infantry machine gunner, Marine Forces Reserve said. The deployment to Georgia and Afghanistan was his first.
"Merry Christmas from the best company you can ask for when [you're] away from home," he wrote on Facebook on Dec. 25, along with a photo of seven Marines holding stockings and standing in front of a Mine-Resistant Ambush Protected vehicle.
He was "the perfect son," Erik Hendriks, his grieving father, told The New York Post on Wednesday.
"He never caused me one problem," he told the newspaper. "I am the proudest dad on earth."
Hendriks and his brother, who also serves in the Marine infantry, were deployed, his mother said on Facebook a few days before Hendriks' death.
Also on Facebook, a friend shared a photo of Hendriks and said he was a great Marine with "great potential."
"Heaven gained another Devil Dog due to a heinous attack," wrote Jerome Tam, whose profile and photos indicate he served in the Marines and is now a sergeant in the Army National Guard.
The deaths bring the number of American troops killed in Afghanistan this year to seven. Last year, 13 U.S. servicemembers were killed in combat there.
Bagram is home to thousands of U.S. and allied troops and contractors. U.S. and other coalition troops routinely patrol the area surrounding the airfield in armored vehicles and sometimes on foot.
The Americans opened fire immediately after the convoy was bombed, Abdul Shakor Qudosi, the district administrative chief in Bagram, told The Associated Press.
Four of the wounded civilians were passersby and the fifth was driving a car down the road, Abdul Raqib Kohistani, the Bagram district police chief, told the AP.
The Afghans were treated for their injuries, including the contractor who initially was mistaken for a civilian.
"We feel and mourn the loss of these Americans with their families and loved ones," said Gen. Scott Miller, commanding general of the Resolute Support mission and U.S. Forces-Afghanistan. "They volunteered to protect their country. We will continue our mission."
Stars and Stripes reporter Caitlin Kenney contributed to this report.
garland.chad@stripes.com Twitter: @chadgarland
grisales.claudia@stripes.com Twitter: @cgrisales