Marine veteran calls for reform following sexual abuse arrest of top Afghan soccer official
---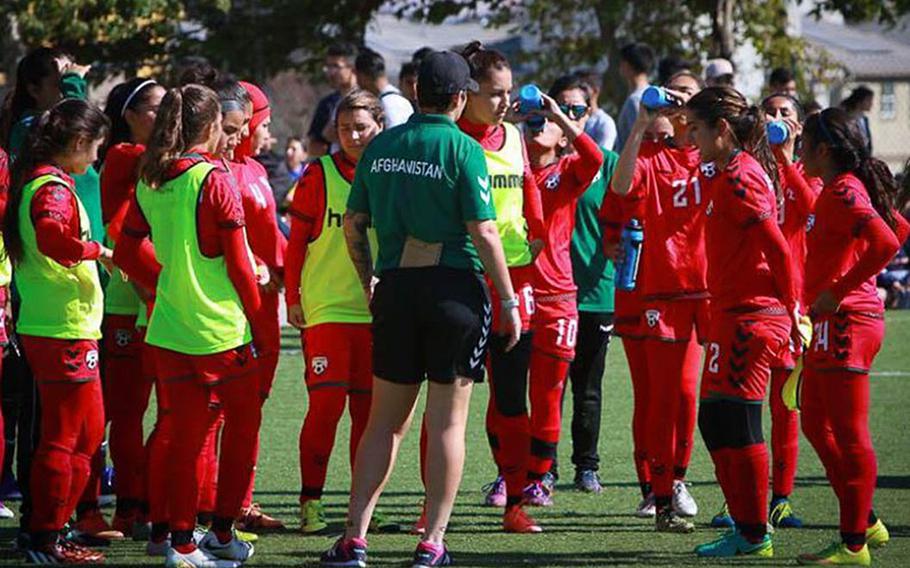 KABUL, Afghanistan – A former Marine who worked with the Afghan women's soccer team says the government in Kabul needs to do more to protect players from sexual abuse by male officials.
On Sunday, Afghan police issued an arrest warrant for former national soccer chief Keramuudin Karim after FIFA, the world soccer governing body, ruled that he had used his position to sexually abuse players.
FIFA leveled an approximately $1 million fine and a lifetime ban on Karim, a former high-ranking government official.
The FIFA ban and arrest warrant are "a major step in the right direction, but the work is not done," said Haley Carter, 34, who worked as an assistant coach on the Afghan women's soccer team beginning in 2016.
"He did not act on his own but rather allowed a culture of abuse within the entire federation," Carter told Stars and Stripes. "Those staff members who were aware of and allowed the abuse are complicit and they should also be held accountable."
Carter became a goalkeeping coach for the Afghan women's team after service in the Marine Corps had brought her to Iraq and Southeast Asia. Carter had played goalkeeper as a cadet at the U.S. Naval Academy and as a professional for the Houston Dash in the National Women's Soccer League.
The country's women's soccer team had been celebrated as a symbol of hope for an Afghanistan more tolerant of women's freedoms.
U.S. military and diplomatic efforts have made education, opportunity and justice for women priorities through the nearly 18-year war. But entrenched beliefs, particularly within areas where the Taliban holds influence, make it uncertain whether those efforts will result in long-term gains.
The sexual abuse allegations were made public in November by Britain's The Guardian newspaper after the soccer players spoke out about widespread sexual and physical abuse.
Women on the team said Karim had a locked room in his office in Kabul where he would sexually assault players.
Karim, a former provincial governor and high-ranking military official in Afghanistan, would label women who did not comply with his wishes as lesbians, a label which could lead their parents to disown them, women said to The Guardian.
"It's disappointing … for the girls from Kabul who are fighting against officials, who were playing political games with them," said Carter, who did not go to Afghanistan but coached the team on trips out of the country,
At a training camp in Jordan in 2018, two men from Karim's sports federation sexually harassed women on the team and tried to force players into sex, said Khalida Popal, a former team captain who spoke to The Guardian.
When players on the team complained, Karim beat one of them with a snooker cue, Popal said.
Another former team captain, Shabnam Mobarez, told Stars and Stripes that she had heard about abuse from her teammates and said she went to head coach Kelly Lindsey and others like Carter with her concerns.
"My coach told everyone, 'it's up to you guys what you want to do, but we will support you no matter what,'" Mobarez said.
Karim's sports federation also forced players to sign contracts that players felt were meant to silence them, but Mobarez quit rather than sign a coercive contract.
"I don't want to be part of a team where I don't know if my teammates are safe," Mobarez, 24, said in a phone interview.
Afghanistan is not alone in allegations of sexual abuse by FIFA officials such as Karim.
Female athletes have come forward with claims of abuse in Canada, Colombia, Ecuador and Gabon, according to the New York Times.
"We still need systemic change in FIFA so that this does not happen again to other players," Carter said in an email. "There have been multiple examples this year, around the world, of abuse of women and women footballers at the highest levels, and this cannot continue. Until FIFA addresses this systemically, instances of abuse will remain."
Fallout from the scandal has devastated team morale. Coaches and players still try to stay in contact over Skype, Carter said. Still, many players on the team have stopped training and parents have told their children to quit the team.
For Mobarez, representing her home country on the pitch had been an emotional highlight after being raised in Denmark. She still remembers hearing the Afghanistan national anthem during her first match with the team.
"I started crying," Mobarez said. "Because I was looking toward the flag, and I was seeing all the young girls who had had their dreams crushed. There was no door given to them. It killed me inside. And this was something me and my teammates wanted to change."
What's unfair, Mobarez told Stars and Stripes, is that acts by men like Karim may further hurt his victims by destroying the image of women's soccer in Afghanistan.
"This should not be something that stops us!" Mobarez said. "That's what they tried to do, to ruin Afghan women's soccer. We can't let them do that."
Carter said that while the scandal is a setback for the program, she is encouraged by how the players persevered.
"The best part for me," Carter said of the women, "they're coming together and they're demanding better for themselves."
Zubair Babakarkhail contributed to this report.
lawrence.jp@stripes.com Twitter: @jplawrence3
---
---
---
---