Marine killed in Iraq was once Corps' top commando; Pentagon probes possible friendly fire
by
Corey Dickstein
August 12, 2019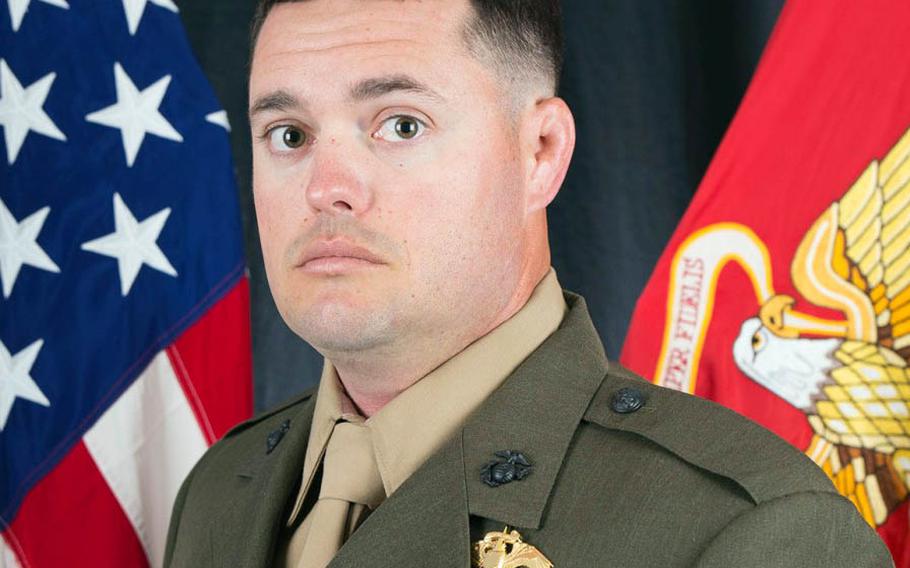 WASHINGTON — The Marine killed in action Saturday in northern Iraq alongside Iraqi forces was a 35-year-old father of two who last year was named the Marine Raider's top commando.
Gunnery Sgt. Scott A. Koppenhafer was killed during operations against an Islamic State group in the expansive Ninevah province, where efforts are ongoing to clear the remnants of the terrorist group, Pentagon officials said Sunday.
Koppenhafer was the first combat death of an American servicemember in Iraq since October 2017, but defense officials said Monday that the Pentagon was probing the possibility that he was killed by friendly fire.
The Defense Department initially announced Koppenhafer was killed by "enemy small arms fire," however two defense officials said the investigation was examining the possibility that he had been accidentally struck by Iraqi or American fire. The officials spoke on condition of anonymity. The Wall Street Journal first reported the possibility of a friendly fire incident.
Koppenhafer spent the last decade serving in the elite Marine Corps Special Operations Command after he completed the grueling Marine Raider training in 2009, according to the Corps. He was a veteran of three combat deployments as a Raider, serving as a commando in Iraq and Afghanistan. At the time of his death, Koppenhafer was assigned to the 2nd Marine Raider Battalion at Camp Lejeune in North Carolina.
On Facebook, family members described Koppenhafer as coming from a large, close-knit family in southwestern Colorado. He was the son of a veterinarian and a stand-out high school wrestler who continued the sport in college.
Thad Koppenhafer, who described himself as the Marine's cousin, wrote in a public post that the fallen servicemember was "a great man." He added he was "very heart broken at this news!"
Koppenhafer enlisted in the Marine Corps in 2005 after graduating from Colorado's Adams State University with a degree in business marketing. He served as a machine gunner and then a scout sniper with 1st Battalion, 5th Marines and deployed twice before entering Raider training, according to his Marine biography.
Last year, MARSOC named him its critical skills operator of the year, at least in part for his role leading a Raider team as the unit worked hand-in-hand with elite Iraq troops battling ISIS during grueling combat in northern Iraq in 2017, according to an award citation. It stated Koppenhafer "masterfully orchestrated" operations that would lead to the defeat of ISIS in areas of northern Iraq.
Koppenhafer was the recipient of at least three valor awards. He received two Bronze Stars, including one with combat "V" device for valor. He was also awarded two Navy and Marine Corps Commendation Medals with combat "V" device for valor, according to his biography. His other awards included two Combat Action Ribbons and six Sea Service Deployment Ribbons.
He left behind a wife and two children, according to the Corps.
He was a 2001 graduate of Mancos High School in his hometown of the same name where he played football and wrestled. Colorado state wrestling records indicate Koppenhafer was a standout wrestler, placing among the state's top wrestlers in each of his four years.
Koppenhafer continued wrestling at Adams State, according to university records and news reports.
The fallen Marines' high school wrestling coach described him as an excellent student and a driven athlete.
"He is an awesome leader and a hard worker at practice," then-Mancos High coach Travis Bryant told the local Cortez Journal newspaper in 2001 announcing Koppenhafer's decision to wrestle at Adams State. "He has great values and morals."
Koppenhafer is the 14th American servicemember killed in action in Iraq or Syria during combat operations under the umbrella of Operation Inherent Resolve, the mission to defeat ISIS in Iraq and Syria launched in 2014.
While ISIS has been declared defeated in Iraq and Syria, where its so-called caliphate once stretched across an area the size of the United Kingdom, the group has retained an underground presence in both countries. A Pentagon report this month by the lead inspector general for Operation Inherent Resolve warned of a recent ISIS resurgence as the group seeks to launch an insurgency in Syria and Iraq.
The United States has retained some 5,200 troops in Iraq, most of whom work from bases where they train Iraqi soldiers and police forces. However, some U.S. special operators continue to accompany Iraqi forces as they target ISIS cells throughout the country, one of the defense officials said Monday.
dickstein.corey@stripes.comTwitter: @CDicksteinDC