Local official: Coalition member kills Afghan approaching Bagram
---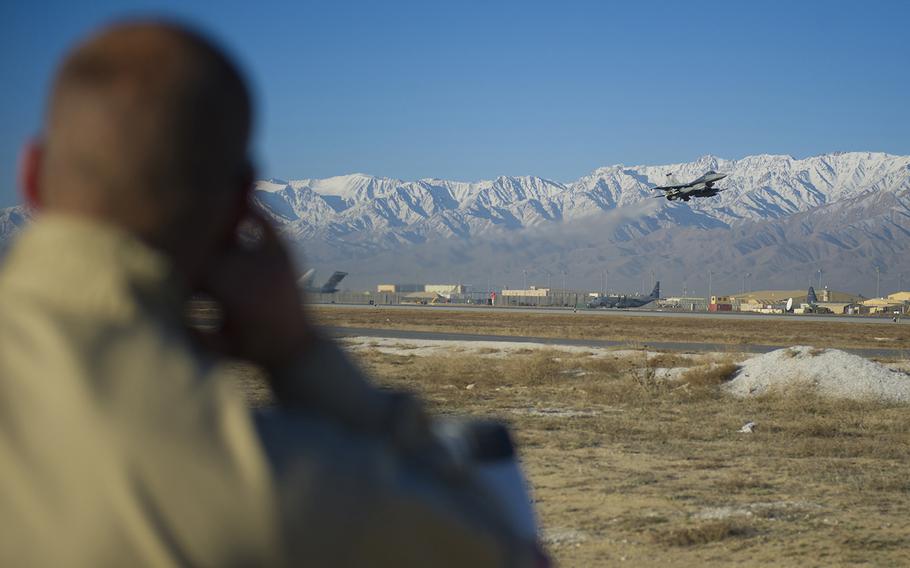 KABUL, Afghanistan — A member of the U.S.-led coalition shot and killed a 22-year-old Afghan on Monday as he approached Bagram Air Field, ignoring repeated warnings to stop, a local official said.
The governor of Bagram district in Parwan province, Abdul Shuqoor Qudoosi, said the man was approaching the base when he was warned off by a servicemember in a guard tower.
The Associated Press reported the servicemember was American, but Qudoosi said that he was a member of the coalition and did not give the nationality.
"We contacted the foreign forces and they said, after continuous warnings, the boy continued to come closer to the tower and that's why he was attacked," Qudoosi said.
He said the man may not have understood the warnings.
The AP, citing the police chief in Parwan province, reported the Afghan was carrying what appeared to be an automatic rifle.
Qudoosi said he was unarmed.
The body was taken for examination, Qudoosi said. Then a group of people carried the body to the provincial governor's house in the provincial capital in protest.
When they were told the death would be investigated, they dispersed, Qudoosi said.
"We are aware of the reports and are looking into it," said Brig. Gen. Charles Cleveland, spokesman for U.S. Forces-Afghanistan and the coalition.
Earlier in the day, the Taliban fired at least two rockets at Afghanistan's new parliament building, causing minor damage but no casualties.
The attack occurred as top defense and intelligence officials were preparing to speak to the assembly about the country's security situation.
Abdulghafar Ghorzang, the head of security at the parliament, said three rockets were fired at the compound, but Sediq Sediqi, spokesman for the Interior Ministry, said two rockets were used in the attack.
The Taliban claimed responsibility on their website.
They said they also fired rockets at a nearby Afghan military base and caused casualties. The group often exaggerates casualty claims.
Afghan army officials would not confirm one of their bases was hit.
The Taliban routinely target government and diplomatic areas in Kabul; however, there have been few attacks this year that have caused casualties.
In southern Afghanistan, eight police officers were killed at two checkpoints in Helmand province on Sunday night, the AP reported.
Local officials blamed the Taliban, but the group did not immediately claim responsibility, the AP said.
Helmand, a Taliban stronghold, has been the site of intense military activity in past months, with government forces withdrawing from some districts in a move they say is designed to concentrate forces.
Afghanistan is bracing for the start of the spring fighting season. The Taliban, who have kept pressure on Afghan forces in the months since the international coalition formally ended its combat role, have threatened increased attacks this year.
Zubair Babakarkhail and Stars and Stripes reporter Corey Dickstein contributed to this report.
---
---
---
---