Large portion of additional 250 US troops going to Syria may be Green Berets
---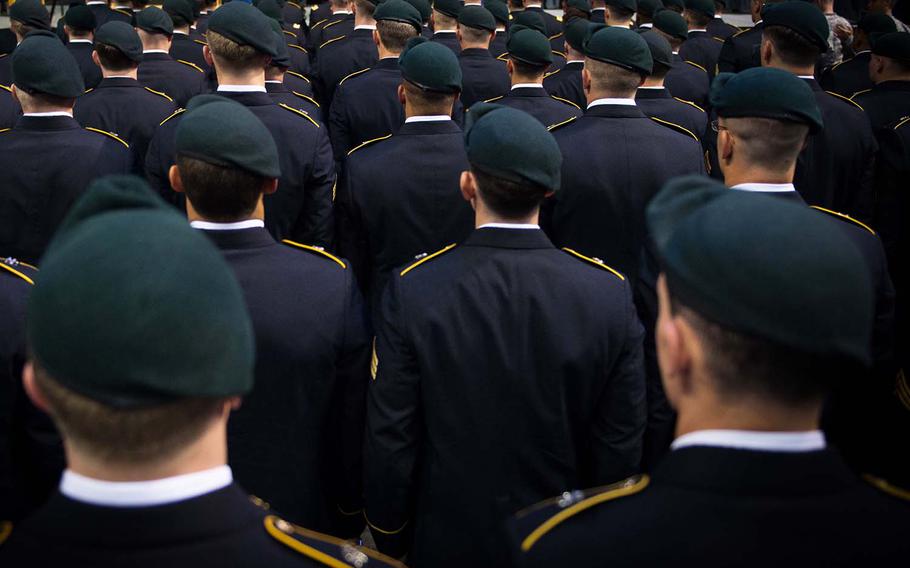 WASHINGTON – Green Berets will likely make up a large portion of an additional 250 troops being deployed to Syria to help in the fight against the Islamic State group, a U.S. defense official told Stars and Stripes on Monday.
President Barack Obama's announcement in Germany that the United States would send more troops to Syria comes less than a week after Defense Secretary Ash Carter announced in Baghdad that another 217 soldiers, also primarily Green Berets, would be deployed to Iraq to advise Iraqi Security Forces as they fight to recapture Mosul from Islamic State militants.
"Just as I approved additional support for Iraqi forces against [the Islamic State], I've decided to increase U.S. support for local forces fighting [the Islamic State] in Syria," Obama said Monday in a speech in Hannover, where he met with German Chancellor Angela Merkel.
The Green Berets headed to Syria will be inserted into elements of the Syrian Democratic Forces, a 20,000-strong unit of primarily Kurdish fighters in the northern portion of the country. The United States has already been working with this force to attack Islamic State fighters in Syria, the defense official said.
The additional 250 troops, which also will include medical and logistical support, will join 50 operators already working in Syria. The operators are providing tactical guidance to Syrian Democratic Forces and are moving across the battlefield with them as they position themselves to retake Raqqa, the Islamic State's headquarters in Syria since 2013.
Col. Steve Warren, a Baghdad-based spokesman for Operation Inherent Resolve, said Monday that the strategy is to further weaken the Islamic State group by forcing it to fight in both areas at once, instead of allowing the terrorist group to pull fighters from one country to defend the other.
"The idea is simultaneous pressure," Warren said.
In Iraq, the added U.S. forces are also expected to be moved closer to the fighting to give tactical guidance to Iraq's 15th Army Division as it clears villages south of Mosul, the terrorist group's headquarters in Iraq.
Obama said the additional forces are "not going to be leading the fight on the ground, but they will be essential in providing the training and assisting local forces that continue to drive [the Islamic State] back."
Sen. John McCain, R-Ariz., chairman of the Senate Armed Services Committee, said Obama's decision to send more troops to Syria is good, but not enough.
"The deployment of 250 additional U.S. military forces to Syria is a welcome development, but one that is long overdue and ultimately insufficient. Another reluctant step down the dangerous road of gradual escalation will not undo the damage in Syria to which this administration has borne passive witness," McCain said in a prepared statement.
In Damascus, there was no official reaction to Obama's announcement, but a prominent politician who often speaks for the ruling Baath party dismissed the move's significance.
"The U.S. intervention will not succeed, simply because it's being done without coordination with the Syrian government," said Sharif Shehadeh, a member of parliament. "The U.S. has been talking about attempts to drive [the Islamic State] out of Raqqa province, but there has been no effect yet on the ground … because of this lack of cooperation."
Obama said he made the decision to support the momentum that local Kurdish and Arab forces have gained in Syria. In recent months, those forces, supported by coalition airstrikes, have recaptured Syria's Tishreen Dam, and the Syrian towns of al-Shadadi and al-Hal from the Islamic State group.
The new forces in Iraq brings the number of U.S troops deployed there to at least 4,087 – not counting up to an additional 1,000 who are only considered rotational forces and not counted in the official total. Obama's announcement Monday brings U.S. forces in Syria to about 300.
Carter's announcement of another 217 U.S. troops to support Iraqi units included sending Apache attack helicopters to assist the battle for Mosul. Special forces operating in Syria will have support from MV-22 Ospreys based in Erbil, Iraq, the defense official told Stripes on Monday.
The Pentagon has leaned on its Army special forces to accelerate the campaign in Iraq and Syria and carry out military operations in both countries instead of sending conventional ground forces.
"We are looking to this particular personnel to use their unique capabilities in these particular circumstances both in Iraq and in Syria," Pentagon Press Secretary Peter Cook said Monday. "But we feel we have the resources to carry this out."
There are five active units of Army special forces, or Green Berets, according to the Congressional Research Service, a federal agency that provides research for Congress. The units, which include about 1,400 soldiers each, are located at Fort Bragg, North Carolina; Joint Base Lewis-McChord, Washington; Fort Campbell, Kentucky; Fort Carson, Colorado, and Eglin Air Force Base, Florida.
Last week, after additional troops for Iraq were announced, Lt. Gen. Sean MacFarland, who leads the counter Islamic State campaign, said if the 217 additional troops aren't sufficient to assist the Iraqis in recapturing Mosul, he and other top leaders were open to discussions on sending more U.S. forces.
Cook on Monday called the possibility of sending more forces to fight the Islamic State group "the next steps." He said the Pentagon would "continue to look for opportunities where we might be able to accelerate this campaign."
Stripes correspondent Slobodan Lekic contributed to this report.
Copp.tara@stripes.com Twitter:@TaraCopp
---
---
---
---