Jordan assumes leading role vs. Islamic State militants
by
Slobodan Lekic
February 23, 2015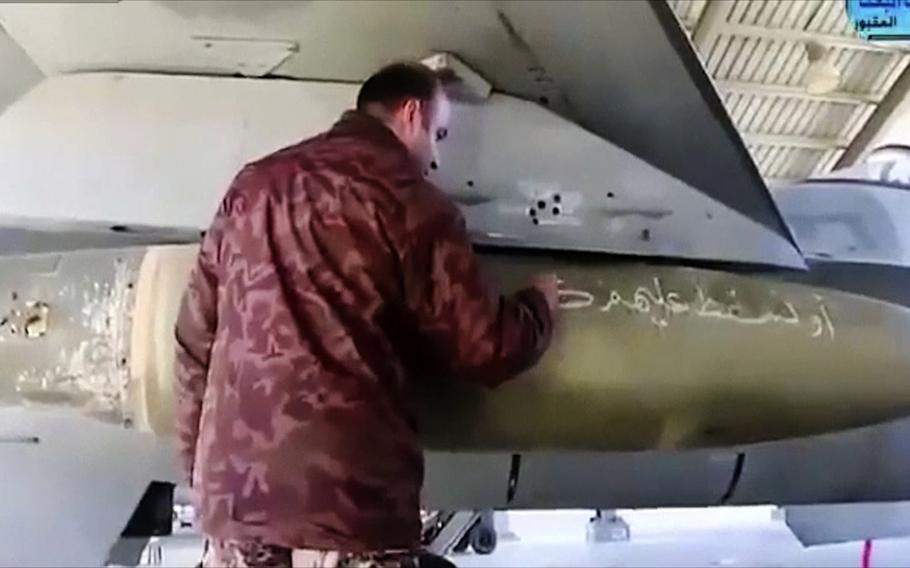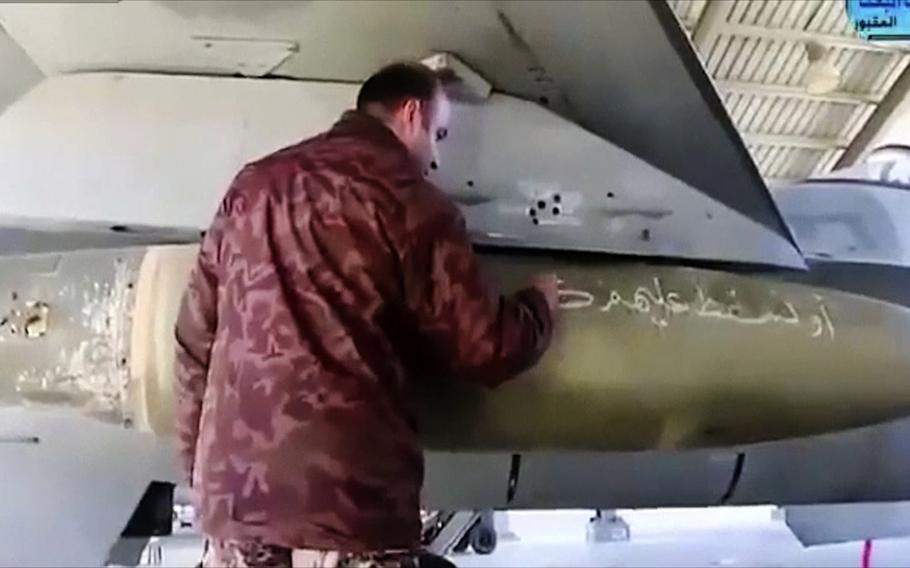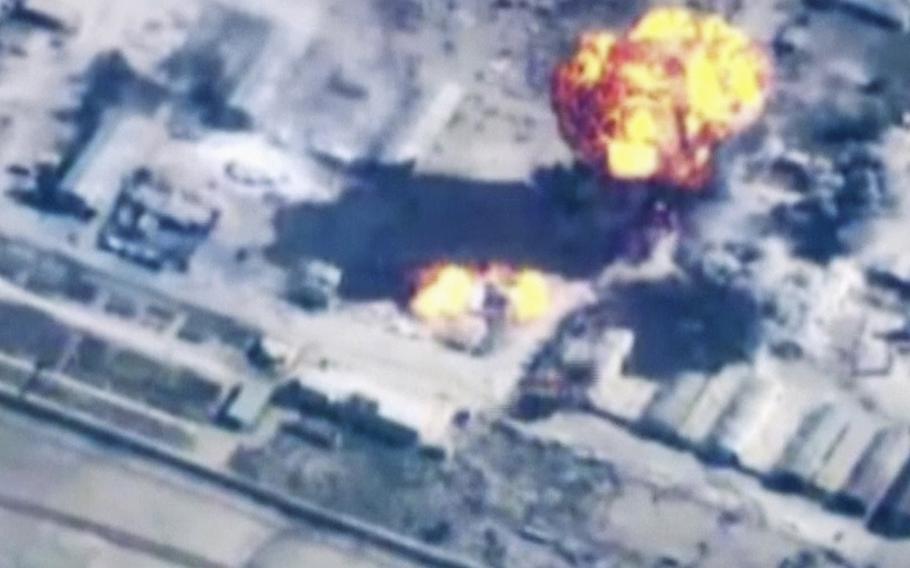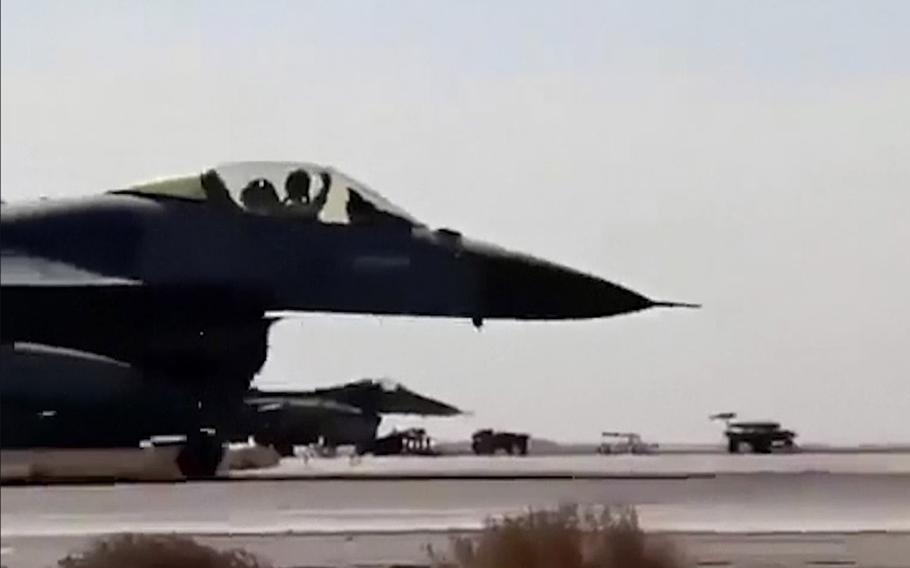 Jordan's small air force has been playing an outsize role in the U.S.-led bombing campaign against the Islamic State group, not only flying more missions than any other partner nation but also opening its bases to other allies to allow them to mount more sorties.
After the release this month of the video showing the immolation of a captured Jordanian pilot, the Royal Jordanian Air Force unleashed a ferocious bombing campaign against Islamic State forces in Syria — unprecedented in the service's 60-year history. Dozens of targets have been struck and hundreds of militants killed in the retaliatory attacks, Jordan's military said.
After the initial flurry of activity, however, the pace appears to have fallen off and Jordan has asked for help from its allies, said Paul Floyd, a military analyst with Stratfor, an Austin, Texas-based global intelligence firm.
"If Jordan is to be an active partner, they will need considerable help to keep up this rate of sorties," Floyd said. "They have a very limited budget, and this is their Achilles' heel, because they cannot really be self-sustained in military operations."
The intensified campaign has made Jordan a top contributor to the nations participating in Operation Inherent Resolve, second only to the U.S. military in number of airstrikes on militant targets. The United States, which initiated the bombing campaign in September in Syria and Iraq, still conducts the overwhelming majority of attacks.
Jordanian commander Gen. Mansour al-Jbour said his air force had carried out one-fifth of all sorties by the U.S.-led coalition against the Islamic State in Syria so far. "We are determined to wipe them from the face of the earth," he said.
'We need warheads'
Jordan, which is also saddled with the costs of caring for more than 2 million refugees from Syria and Iraq, has already run up an external debt of $28 billion, or about two-thirds of its annual gross domestic product. It has a defense budget of just $1.5 billion, making it difficult to pay for large amounts of expensive munitions, such as precision-guided bombs.
"If we're to do the job, we need warheads," said a recently retired senior RJAF officer. "Missiles are just too expensive."
He said Jordan's King Abdullah II approached the Obama administration earlier this month, "seeking cheap, or free munitions."
Abdullah has also contacted other Western allies, mainly France, seeking such items, another security official said. "Since [the Islamic State] is a danger to global security, we need the support of our allies to do the job," he added.
Both officials spoke to Stars and Stripes on condition that they not be identified, citing the sensitive nature of information that might embarrass their allies.
Jordan will receive about $1.3 billion this year in U.S. military and economic aid and in financial guarantees. Much of the military's equipment is of U.S. origin, donated under the assistance program. Some of the equipment was given to Jordan when U.S. forces left Iraq a few years ago.
Some analysts have suggested that the kingdom will need $5 billion this year to be able to continue the war.
"In purely military terms, you have to ask yourself whether the RJAF has the stocks of ammunition needed to continue its attacks at the tempo we've seen recently," said Douglas Barrie, a military aerospace specialist at the International Institute of Strategic Studies, a London-based think tank.
Barrie said television footage showed that quite a few of the jets taking off on anti-Islamic State raids were carrying simple gravity bombs rather than precision munitions such as laser- or GPS-guided smart bombs. "The Jordanian F-16s also aren't the most modern type in service by some considerable distance (and) they seem to have only a small number of laser designation pods they would need for precision munitions," he said.
The RJAF had only 75 combat-capable aircraft in its inventory last year, according to Military Balance 2015, an authoritative assessment of the global armed forces. That puts it far behind regional partners in the coalition, such as Saudi Arabia — with its hundreds of fighter-bombers — or other countries in the Persian Gulf.
The air force, set up in the 1950s, consists of 15 squadrons based at six main operating bases and a half-dozen dispersal fields situated around the country, which is roughly the size of Indiana. Its warplanes include 29 Northrop Tiger II light tactical fighters dating from the 1970s, along with 38 General Dynamics F-16AM/BM fighter-bombers donated over the years by a number of friendly countries that had been using them since the early 1980s.
Most of the jets have been upgraded at least once during their service lives. The RJAF is well-known for its excellent maintenance facilities, routinely servicing F-16s from other Arab air forces.
Jordanian fast jet pilots average about 180 flying hours per year, considered adequate by Western military standards.
The RJAF's inventory also consists of 75 helicopters, including 29 Bell AH-1F Cobra attack helicopters, according to IISS, the British think tank.
Best trained in Arab world
Although relatively small by regional standards, Jordan's all-volunteer military — founded immediately after World War I as the "Arab Legion" — has long been considered the best-trained in the Arab world. It also has some of the best special-operation forces in the world, who routinely operate together with their U.S. counterparts. Jordan also boasts a top training facility for such elite units from the entire region on the outskirts of Amman, the capital.
"If you look at the Jordanian armed forces as a whole, they`re widely considered to be one of the best professional forces, especially in special operations which have a high degree of interoperability with U.S. forces," Floyd said.
Jordan has been one of Washington's key Middle Eastern allies since the early 1950s, and the U.S. military conducts regular large-scale exercises with its Jordanian counterparts. Washington has deployed about 1,600 servicemembers to the kingdom since the civil war in neighboring Syria erupted four years ago.
About 400 of those are accompanying a contingent of 12 late-model F-16s deployed to a base in north-central Jordan; another 400 are manning a Patriot battery based near the northern border with Syria. A further 800 are engaged in training and other operations with the Jordanian military, said a government official in Amman who asked not to be named because he wasn't authorized to discuss military matters.
Other countries, including the United Arab Emirates, Bahrain and Britain have based smaller contingents of warplanes at RJAF facilities, diplomats said. Most are housed at the Muwaffaq Salti Air Base at the desert oasis of Azraq, about 80 kilometers east of Amman, where Lawrence of Arabia had his headquarters during World War I.
Among the additional military equipment that Abdullah requested during his visit to Washington were more smart munitions that would allow the air force to accurately hit pinpoint targets. Also, according to congressmen briefed by Abdullah, Jordan wanted Predator XP drones to conduct surveillance flights over Islamic State territory and to hit targets of opportunity with its Hellfire air-to-ground missiles.
After Abdullah's visit, all 26 members of the Senate Armed Services Committee urged the administration to expedite the delivery of specialized equipment to the Jordanian military.
"I just couldn't believe what I heard yesterday — all the red tape that they have to go through to get something on the front lines to help them defend themselves," Sen. Joe Manchin, D-W.Va., was quoted by The Associated Press as saying. "They just need the weapons to do the job."
Jamal Halaby in Amman contributed to this report.lekic.slobodan@stripes.com
---
---
---
---